Best SEO Company vs SEO Freelancers – Who is Right for Your Business?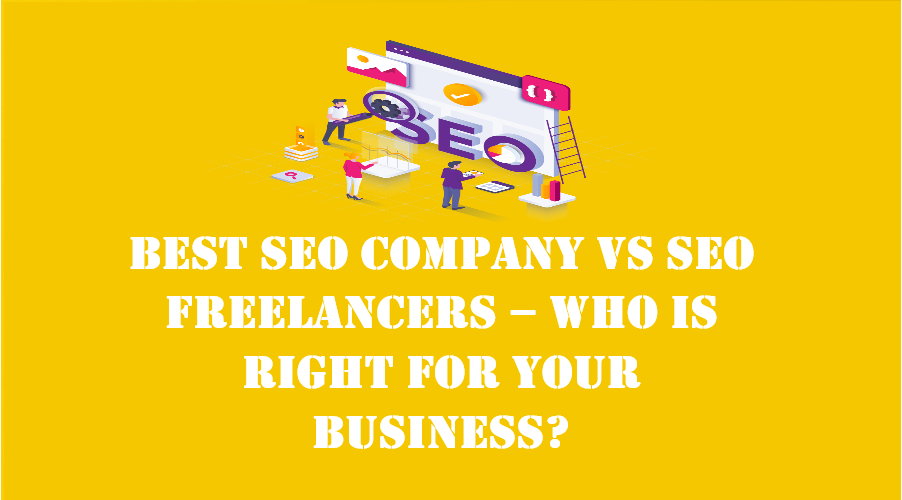 In the ever-changing world of marketing, digital channels are becoming increasingly important. Whether small or large businesses want to get their message out there and make an impact on consumers in today's fast-paced environment – online advertising can help them do just that!
The SEO industry is dynamic and rapidly changing, and no one can do it all. The fact that right SEO offers a greater return on investment than PPC or any other tactics is one reason it's so fruitful in the long run.
The modern world of SEO is not a one-handed game. To get great results such as higher search engine rankings and traffic, you need an expert team that specializes in your specific area for the best possible output.
That's why this brings up the question in the mind of whether to hire a top SEO agency Sydney-wide or a freelancer for your business. Both have their pros and cons. However, if you choose the right SEO firm or freelancer, you'll be on your way to ranking on page 1 of Google.
The Importance of SEO for Small Businesses
It is a common misconception that SEO is only important for large companies. In fact, small businesses can benefit from improved search engine rankings just as much as larger companies. The reason for this is simple: if you are a small business, you need to make sure that your website ranks high in Google's organic results so that potential customers will find it when searching for your service or product.
The importance of SEO for small businesses cannot be overstated; it is vital if you want to increase traffic to your site and ultimately increase sales. This article will explore some of the benefits of hiring an expert in this field and why they may be worth their salt (or lack thereof).
The Differences Between an SEO Company and SEO Freelancers
So you want to hire an SEO company? Well, this is a bit tricky. Recognizing what makes an agency, you should look for a team with experience in all aspects of search engine optimization. A good SEO company will have specialists who are knowledgeable about keywords and content writing as well as site design so they can provide their clients with the best service possible by combining talents from each sector into one enterprise.
Most freelancers are typically independent, so you must be careful who they work for. Whereas working with a reputed SEO company offers their services endorsing them as skilled or trustworthy individuals in your community – which means that if hired this way, then it would probably just come down to how much time someone has available at any given moment!
It will be up to you to manage the consultant – but you need to be careful when hiring freelancers because they may not work as efficiently or effectively without supervision.
So, you've learned about the principles of SEO and its benefits. Now it's time to choose whether or not to invest in this marketing strategy for your business!
Factors to Consider
Now that we know the differences between each model, there are a few things to consider before making a final decision. We'll go through some crucial points you should think about, starting with the first.
–
Work Experience and Expertise
One of the most important factors to consider when deciding between SEO companies and freelancers is experience. A company with years of experience working on a variety of projects can provide you with a broader perspective and better insight into a long-term strategy. In contrast, a freelancer may not have the same wealth of knowledge or background in the industry.
Consider how much time has passed since their first project when evaluating your options. If they've been doing this for several years (and they're still in business), then they're likely doing something right! In addition to that, look at their past work: Do they have any testimonials from previous clients? How many projects do they say that they've completed?
Asking questions like these will help you determine whether or not someone is qualified to work on your project—and if so, what type of expertise would benefit it most!
–
In-time project delivery
The importance of meeting deadlines cannot be understated. The amount of time and money that can be lost as a result of missing a deadline or delivering late is tremendous, so it's critical that you choose a company that has experience and processes in place to ensure you get your project done on time.
Working with a top seo agency Sydney wide to be able to handle all aspects of the project: managing multiple writers, managing their writing schedules, communicating with them effectively and efficiently, keeping track of deadlines across projects etc. It's hard enough doing these things yourself when you have just one team member working on one project at a time; imagine trying to juggle multiple team members in multiple locations at once!
–
Quality services
When it comes to SEO, quality is what matters most. You need an expert who can analyze the needs of your business and provide the appropriate solutions. When you hire an SEO company or a freelancer, you want to make sure that they have vast experience and expertise to deliver results for your business.
The best way to determine whether someone has what it takes is by looking at their past work – like case studies and testimonials from previous clients. These will tell you about their work ethic, how fast they are able to produce results, and how easy or difficult it was for them to implement changes based on feedback from customers (or potential customers).
While quality services are important in any industry, they're especially critical when dealing with online marketing because there are so many variables involved: keyword research, website optimization; social media marketing; backlinking strategies – each requires unique knowledge sets!
–
Technical challenges
Technical challenges can be an issue for outsourced teams and agencies, so it's important to understand why they arise, how they can be solved, and how cloud solutions can help you stay on top of your SEO game. So, technical challenges faced by a small business are often the same as those faced by a freelancer or in-house team.
SEO is a complex process — getting all of the moving parts working together is not always easy. A lot goes into making sure that search engines are able to crawl and index content effectively, show high-quality results with great user experience (UX) and have content updated regularly.
So it doesn't get stale or outdated over time, and build links that will boost rankings without risking penalties from Google updates.
–
Budget and Cost
You should first consider your available marketing budget, especially SEO.
An outsourcing freelancer can cost per month; however, if you hire a top SEO agency Sydney-wide, then many affordable options will fit into even smaller budgets (who we recommend).
The costs may also depend upon how much work needs doing in house versus outsourcing certain tasks like content writing which would be done through freelancers with no experience, and than they're better to go for in house skillsets.
–
Dynamic Working Process
Where you see working with an SEO company's expert team approach is dynamic. Freelancers will work according to hours. They plan everything thoroughly but are fluid enough to make tweaks to their strategy on the go to ensure the best results for their clients.
Also, always be safer investments and will almost always provide satisfactory returns. So, to avoid costly mishaps, the business owner should have a good understanding of what their contractor is doing.
–
Quality Assurance
Working with a top SEO company work according to your standards. When their quality assurance is the top priority, they will work tirelessly to ensure that you get the quality result, you want before putting anything out there.
However, you must know freelancers work on hours and based on pay, so you must need to be sure from your side to get work done according to your standards.
In essence, using an SEO service allows you to avoid all of the dangers associated with hiring a freelancer. Your money and your website will be safe in our hands.
Conclusion
There will be no and never a perfect answer to this question in the end. Ideally, working with an in-house team is like an investment, and it will always remain to be the best choice, offering you have an unlimited budget. You can't just pay someone to work on your website and get the best results.
You need investment, not a favour- so treat it as such. So, whenever a question arises which one will give you your money's worth? It's important to assess all available factors depending on your business model and industry when deciding on options that will give you the best ROI. If there are any mistakes, they could cost an arm and leg!