Everything You Need to Know About Rich Snippets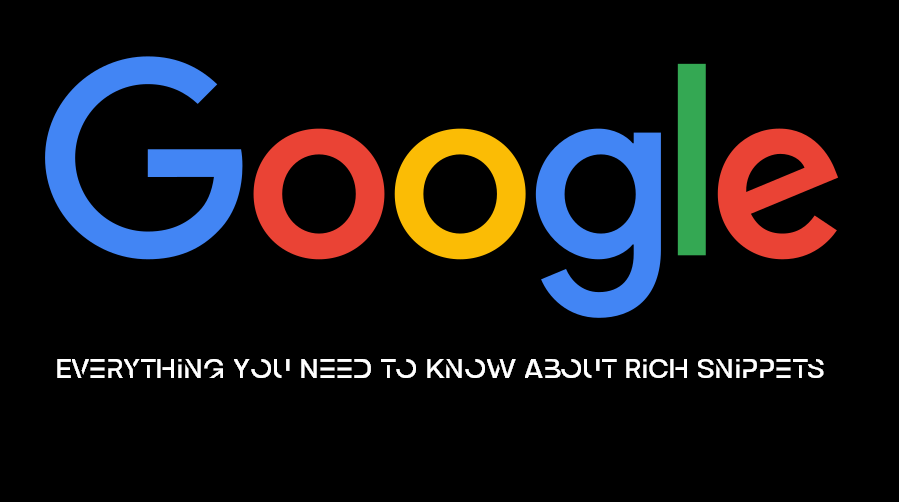 Google has lately made significant modifications to the style and layout of Google sites, which have been in place for some time. Google's customer-centric strategy,
which aims to improve and optimize the user experience, motivates these improvements.
When you searched for a good, service, or other information a few years ago, you may have observed that all you would get was a list of websites with a short meta description. You have to click the website to find more information about the subject.
However, this trend has changed as a result of Google implementing features such as "rich snippets," "featured snippets," or "rich results."
Rich Snippets
—————————-
Rich snippets are a new and popular Google feature that enables websites to display more extensive and comprehensive details about their content in search results. Website owners can add extra features like product details, reviews, Questions, photos, videos, tables, and much more with the help of rich snippets.
This additional information enables users to quickly understand what a website or web page is about without having to click through to the website.
When a user searches for a certain product, for example, they may find rich snippets that include a product image, price, and rating, helping them to make a more informed decision about whether to go through to the website.
Optimizing your profile by including correct and current information is extremely important to improve the likelihood that your business profile will appear in search snippets. Making sure that your company's name, address, and phone number are uniform throughout all internet directories and social media sites is a part of this.
Positive reviews can help you rank higher in search results and enhance the likelihood that your profile will show in snippets, so encourage your customers to post reviews on your Google My Business page.
Importance of Rich Snippets
—————————-
Your company's Google business profile may directly impact the snippets in search results. When someone searches for your company or closely similar keywords, Google may show information from your business profile, such as your business name, address, phone number, and reviews.
Rich snippets allow website owners to stand out from their rivals and enhance their exposure in search results, making search results more informative and user-friendly.
Rich pieces of relevant, high-quality information can help websites get more clicks, visitors, and conversions.
Rich snippets are a great tool for website owners that want to improve their online presence and give their users a better user experience.
By utilizing this capability, companies may exhibit their goods and services more effectively and raise their chances of success in the cutthroat internet market.
It's important to remember that Google uses a sophisticated algorithm to decide which search results in snippets to show. So, various factors affect whether or not your company profile shows in snippets.
But, you can increase your chances of appearing in search results and making yourself more visible to potential consumers by optimizing your profile and producing high-quality content.
Types of Snippets
—————————-
With Google, various snippet types are designed to give users certain information. Here are some of the most typical snippet types:
Rich Snippets
Featured Snippets
Knowledge Panels
Local Snippets
Video Snippets
Image Snippets
– Rich Snippets
'Rich snippets' refers to search results that include additional details, like ratings, reviews, or photos.
– Featured Snippets
A featured snippet is a search result directly related to the user's query and is prominently displayed at the top of search results.
– Knowledge Panels
A knowledge panel provides an overview of data on a particular subject and photographs, descriptions, and links to related resources.
– Local Snippets
A local snippet comprises reviews, ratings, and contact information for nearby companies.
– Video Snippets
Video snippets are search results with a thumbnail and summary of a video associated with the user's search.
– Image Snippets
An image snippet is a search result providing a gallery of photos related to a user's query.
Google provides snippets to give the most relevant and valuable information for each user's search query. Users find what they're looking for more quickly and simply, while businesses have fresh chances to market their goods and services.
More About Rich Snippets
—————————-
Rich snippets are often displayed when a website's HTML contains structured data markup. This markup gives search engines a consistent way to interpret the information on a page, making it simpler to extract pertinent data to show in search results.
Businesses can increase the likelihood of rich snippets appearing in search results by including structured data markup into their websites. That can result in better click-through rates, visibility, and more traffic and sales.
Rich snippets are useful for companies trying to enhance their web presence and give prospective clients more detailed information. Businesses can differentiate themselves from their rivals and draw more customers by adding extra information like ratings, reviews, and images.

Types of Rich Snippets
—————————-
Rich snippets come in many different varieties, and they may be used by businesses to improve their search engine visibility and give users more in-depth information. Here are a few examples of frequent rich snippet types:
Review Snippets
Product Snippets
Recipe Snippets
Review Snippets
Events Snippets
Videos Snippets
Article Snippets
Review Snippets
These snippets show the number of reviews and the star ratings for various goods, services, and establishments. With the help of these review snippets, users can easily decide the quality and popularity of a product.
They can assist companies in gaining the confidence and credibility of prospective clients by showcasing positive ratings. It is especially used for reviews of movies, products and many more.
Product Snippets
These snippets include details on a particular product, such as cost, availability, and customer feedback. The user can easily learn about the product without clicking the website link. Thanks to them, users can compare products more easily and judge their purchases more accurately.
Recipe Snippets
These snippets list the ingredients, cooking timings, and ratings for a particular recipe. Users can utilize them to locate the best recipe for their requirements and tastes.
Events Snippets
These snippets list details like dates, times, and locations. Users can use them to identify local events and organize their schedules.
Videos Snippets
These snippets show the thumbnail and summary of a relevant video to the user's search. These may make it simpler for visitors to find pertinent video content.
Article Snippets
These snippets show the title and a summary of an article pertinent to the user's search. Users can utilize them to locate pertinent articles and news stories.
Rich snippets allow businesses to present visitors with more thorough and pertinent information in search results, enhancing click-through rates, increasing website traffic, and eventually boosting conversions and sales.
Conclusion
Rich snippets allow businesses to present visitors with more thorough and pertinent information in search results, enhancing click-through rates, increasing website traffic, and eventually boosting conversions and sales.
Rich snippets are search results with information beyond the typical meta description, such as ratings, reviews, and photos. Users will receive more thorough and educational search results from them, enabling them to choose websites to visit with greater knowledge.
FAQs of Rich Snippets
—————————-
Q: What are Rich Snippets, exactly?
A type of structured data markup called Rich Snippets is something that publishers may incorporate into their HTML to give search engines more context and information about the content on their website.
Q: What role do Rich Snippets play in SEO?
A: Rich Snippets can enhance the look of search results on a website by adding extra details like reviews, ratings, and prices. Boosting exposure in search engine results leads to higher click-through rates.
Q: What varieties of Rich Snippets are offered?
A: Rich Snippets come in various forms, including reviews, recipes, events, goods, etc. Each kind of Rich Snippet offers various details about the website content.
Q: How can I add Rich Snippets to my website?
A: You must include structured data markup in your HTML to add Rich Snippets to your website. You can use programs like Google's Structured Data Markup Helper to create the code for your Rich Snippets.
Q: Do Rich Snippets in search results come with a guarantee?
A: Rich snippets' appearance in search results is not guaranteed. The quality and relevancy of the information on a website are several variables that search engines consider when deciding which Rich Snippets to display.
Q: Can Rich Snippets raise the position of my website in search results?
A: A website's position in search results is unaffected by Rich Snippets, even though they can enhance their appearance and boost click-through rates.
Q: Do Rich Snippets have any rules or recommended methods of use?
A: Using Rich Snippets is subject to rules and best practices. They consist of adhering to Google's structured data recommendations, employing only pertinent Rich Snippet types, and ensuring the data in your Rich Snippets is correct and current.
Q: Do Rich Snippets work in all search engines?
A: Rich Snippets are not supported by all search engines. Nonetheless, the most widely used search engines, Google, Bing, and Yahoo, all support Rich Snippets.