Top 10 Magento 2 Extensions To Boost An ECommerce Website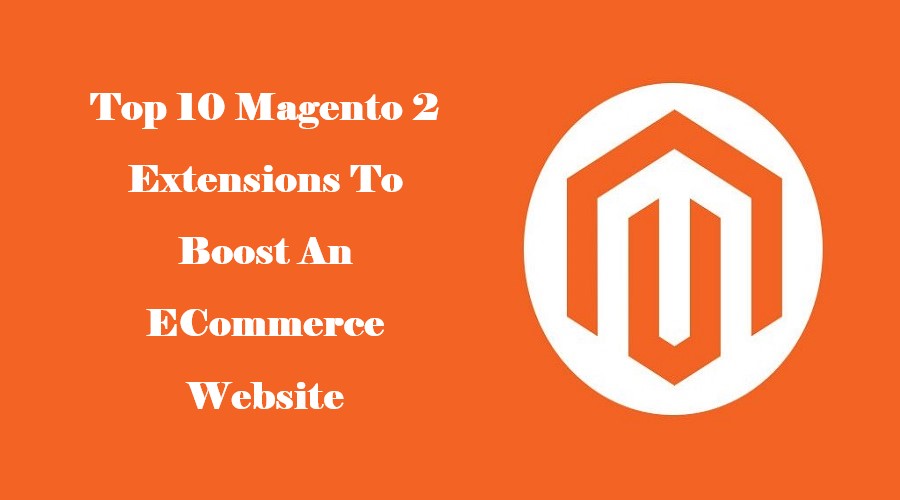 In terms of eCommerce platforms, Magento is known as one of the most robust and dependable ones. Businesses across a variety of industries rely on it as the preferred platform for building successful online stores. And Magento 2 is the most commonly used version. It provides the latest extensions and themes for an online store, all of which come with amazing features. The extensions and themes aid in the management and optimization of the website.
With the emergence of the digital era, eCommerce stores are facing increased competition. The digital world has reached an entirely different level with the use and purpose of digital media. It is imperative that, if you plan to enter the eCommerce world, you build a strong web presence and create strong website interest. This will enable you to compete with the top Magento 2 extensions.
Currently, Magento is among the most popular e-commerce platforms. Therefore, Magento 2 stores are increasing in number. Therefore, Magento2 is considered to be the most effective and useful marketing tool you can ever obtain for free. In addition to increasing traffic and improving SEO, a Magento 2 Blog helps create a community that customers want to be part of. The customers will return again and again.
Set up your online shop with the best Magento 2 extensions and add extra functionalities that will help you develop your e-commerce website. Customers will appreciate the ease with which they can shop and check out.
Even though e-commerce sites each have unique requirements and require specific extensions to accomplish them,
In order to enhance the performance of Magento 2 stores, store owners must use a few best extensions. These extensions will help you manage your online store more effectively. From tracking sales and invoices to improving checkout and displaying related products, these extensions can assist you in a variety of ways.
Criteria For Choosing The Best Magento Extensions
Magento Marketplace contains more than 3,000 plugins, and finding the ideal ones for your business may not be as easy as it seems at first glance. To make life easier, you should create a criteria list that outlines your needs.
Which factors should be taken into account when choosing Magento extensions?
Reliability: Adobe offers various levels of partner participation for its solutions, starting with community partners and ending with premium partners. In order to increase their ranking, Magento extension providers must pass examinations and demonstrate customer satisfaction. As a result, their plugins should be of high quality and should serve the needs of Magento owners.
Social proof: A variety of review platforms, including Trustpilot, provide information about Magento extensions. You can use these sources to judge the overall quality and the pros and cons of the products.
Functionality: Extensions should positively impact the performance of your website. We have compiled a list of plugins that provide a wide range of functionality that has been proven to be beneficial for eCommerce stores in driving sales.
Support: When an extension is integrated, it necessitates changes to the Magento backend, which may lead to errors. You may also want to customize the Magento extension and need support as a result of Magento's open-source nature. As a result, the best extensions should include various forms of assistance (e.g. free installation, free updates, refund guarantee, free support for a certain period of time).
Top 10 Magento 2 Extensions to Boost  an Ecommerce Website
Make your e-commerce website more functional with Top Magento 2 extensions and use them to increase functionality. Customers will find it easier to shop and checkout with these extensions.
While every online store has unique requirements and needs specialized extensions in order to fulfill them,
There are a few best Magento 2 extensions that every store owner must use to enhance the functionality of their Magento 2 stores. From tracking your sales and invoices to making your checkout easier and from getting product reviews from customers to displaying related products, the following extensions will help you a good deal to better manage your online store.
1. WebP Images by FME Extensions
Convert your image files to the next-generation WebP image format and enable lazy loading with the Magento 2 WebP images extension. The extension allows users to reduce the size of images by nearly half when they convert them from .png, .gif, and .jpg to WebP format.
WebP is a new image format, developed by Google, which allows images to be compressed without sacrificing quality. Magento users may automate the conversion of images to WebP, set image quality levels, exclude specific folders, and enable lazy loading of images for their stores.
People who are seeking the most effective ways to optimize a website's performance are likely to have heard of it. This is a modern file format developed by Google and supported by several browsers. Its popularity is due to its large file size. It is significantly smaller and consequently takes less time to load, which is particularly important for Magento 2 websites with a great deal of imagery.
The extension speeds up the loading process of your website. Considering the importance of performance for both User Experience (UX) and SEO rankings, stores should not overlook this optimization opportunity. Especially now when Google emphasizes performance as well as mobile experience for mobile/low bandwidth users.
2. One Step Checkout by Amasty
In order to transform your Magento 2 store's checkout page into a real attention-grabbing one, One Step Checkout by Amasty is an extension that allows store owners to do so. It not only speeds up the page loading process but also improves the customer experience. It is essentially a tool that allows customers to make purchases easily and quickly, which can be used to turn buyers into loyal consumers. The tool can also be used to optimize and customize the checkout process.
3. Google Tag Manager by Magefan
Google Tag Manager is a service that allows you to manage and update tags, code snippets, and code for marketing optimization and increased traffic.
With Google Tag Manager, you can also use Facebook Pixel to track visitors, log the actions they take on your store, and generate reports that are sent to Google Analytics to identify your customers' purchase and payment behavior, product performance, and sales performance.
Ads will be displayed to the correct audience, you will be able to build targeted audiences, and you will have access to additional Facebook advertising tools.
4. Magento 2 Live Chat By Webkul Store
Consumers expect real-time interaction with representatives from companies they are investing in, driving the growth of e-commerce.
Offering a consistent level of service that meets the needs of your customers is a great way to set your business apart and gain a competitive advantage. We can accomplish this through live chat support, in which consumers may inquire about any issue they may have.
Using the Magento 2 Chat Extension, you can easily integrate a chat interface into your website. Whenever customers encounter difficulty, they can communicate in real-time to resolve the issue and avoid abandoning their shopping cart.
The chat can even be customized to appear anywhere on your website as well as keep a record of all conversations so you can refer back to them later on.
5. SEO Ultimate Pack by FMEextensions
True to its name, this extension combines 8 SEO tools and provides the ultimate solution to automate all your Magento ON-page SEO tasks.  This is specifically for a multilingual website. It starts with basic SEO templates that help you configure the format once to keep replicating the meta title, descriptions, and keywords for each product. You can configure the creation of image alt tags, and add more details about business and products to the search snippet. The extension does include tools for creating hreflang tags, HTML, and XML sitemaps.
This all-in-one solution enables you to tackle various on-page SEO elements and ultimately increase your store's visibility. The extension helps you improve the technical SEO and credibility of your store, which leads to higher traffic and conversions. By using these different tools, you can take care of every major to minor detail on any specific product or category, or selected CMS pages.
Getting higher rankings in search engines today is critical, as it will drastically improve your bottom line. You can take care of advanced SEO elements, such as cross-linking, rich snippets, duplicate content, and SEO redirects, using this extension.
6. Two-Factor Authentication By Xtento
Unauthorized login can be a very serious problem in an online store. Two-factor authentication by Xtento is therefore a suitable solution if the owners of eCommerce channels want to secure their channels and prevent unauthorized logins.
The use of Xtento two-factor authentication can therefore make Magento store backends more secure. When a user logs in to the backend, he is required to submit a one-time password (OTP).
7. Google One Tap Login By Meetanshi
Customers can log in using their Google account by using the Google One Tap Login extension. A reduction in the time required to register and the steps involved in logging in will result in a more substantial number of registered customers. Installing this extension on your Magento store will lead to a better user experience and a lower bounce rate.
8. Mobile App Builder By MageComp
Mobile users are increasing, making it increasingly difficult for online store owners to avoid entering the mobile commerce world. In fact, 69.4% of mobile phone users access shopping applications through their mobile devices. As a result, mobile-friendly websites are not sufficient. Using these apps can have many benefits for your business, including improved customer experience, increased conversions, decreased cart abandonment, brand awareness, and grabbing new customers.
MageComp's Magento 2 Mobile App Builder makes it easy to build a business-ready mobile application for your Magento 2 store, available to both Android and iOS users. It allows you to quickly upload your application to both the Google Play Store and the App Store.
9. Pre-Order & Backorder By BSS Commerce
Customers usually order their favorite items prior to the release of the item. A preorder facility is a good way to increase sales by increasing your customer base. You offer your customers the opportunity to place an order before the listed item is available for shipment. Easily integrate this extension into your e-commerce platform and make your website stand out from the others by allowing pre-ordering options for your listed products. Customers may be able to place orders up to the maximum and minimum amount allowed by the merchant. Furthermore, with each product associated with the preorder, the customer may specify custom messages.
10. FAQ Extension By MagePlaza
A Magento extension is an essential component and is vital to the development of an online store. This is when the business owner engages a Magento development company to design and develop the website. Besides convenience and ease of service, customers are provided with a hassle-free shopping experience. Consequently, it is a valuable resource for generating higher sales and revenues and is also a useful tool for customers.
Wrapping Up
Magento is one of the most popular platforms in the world for e-commerce. With the help of flexible extensions, an online business can be offered a variety of tools. Featuring a variety of features, these extensions extend the functionality and capabilities of an e-commerce store. Searching for the most functional extensions can be a challenge. There are numerous extensions on this list that are cost-effective ways of enhancing your online business's productivity.
We hope you find this list of Magento Extensions helpful in selecting from the extensive selection available in Magento's marketplace. If you implement a Magento store, you can save both time and money in comparison with the development of custom solutions.