Why You Really Need A Magento 2 Out Of Stock Notification Extension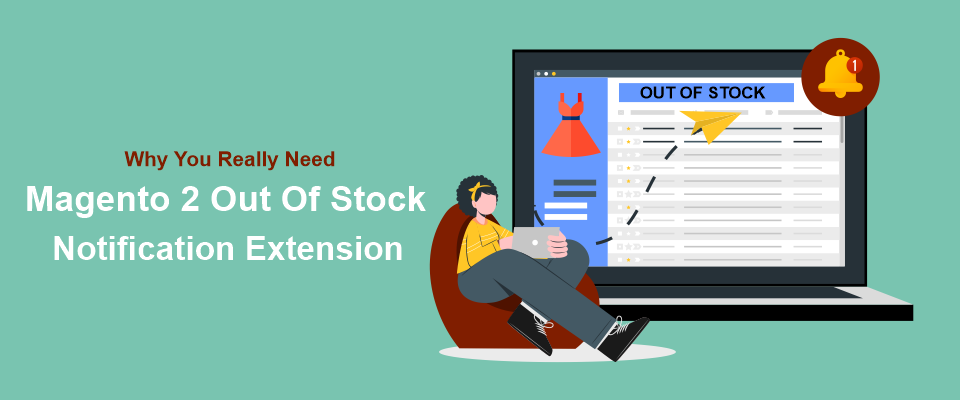 In 2015 the merchant Beta version of Magento 2 was launched, and in 2018, Adobe acquired Magento and announced they would stop upgrading and supporting Magento 1 as of June 30, 2020. As a result, many have been upgrading to Magento 2, but it has been quite a challenge since upgrading to Magento 2 means developing it from scratch. However, those using Magento 2 have also become privy to using a host of added features and extensions like Magento 2 Out of Stock Notification. These features have proved quite beneficial for the flourishing of the eCommerce sites using Magento 2.
This blog will look into the benefits of using Magento 2 and focus on its unique extension, Out of Stock Notification Magento 2.
Why Do Store Owners Need Magento 2 Out Of Stock Notification Extension?
For any business, whether it's a physical shop or an online store, stock management is essential. As an online retailer, you do not have the opportunity to convince your customer to come back if the product is not there. While there can be many reasons that a product is out-of-stock, the threat of adverse effects on business is still there.
Out-of-stock Notification for Magento 2 can help you in resolving this issue. Here are five reasons why an eCommerce retailer must use this extension when upgrading to Magento 2.
1.  
UpTo Date Inventory 
Waiting for stocks to be refilled means a waste of time, money and reducing customers. The Out of stock extension provided by Magento 2 allows you to run a smooth business by replenishing the stock when it is low.
2.  
Improve Business 
You can refill them immediately when you have a full inventory and are immediately notified if some products are low on stock. This will allow you to provide customers with prompt delivery, thus improving customer satisfaction and loyalty. It will also discourage them from visiting other stress, thus enabling you to build your business.
3.  
Cost-Effective Solution 
You can save money and time with the extension because irrespective of whether you have a stock or not, you have to pay a fixed rent at a warehouse, labour, and equipment. With proper refilling of the stock, you can ensure a cost-effective business plan.
4.  
Reduce Customer Churn 
Targeting new customers to increase the business is important but turning existing one-time visitors into loyal customers is vital to keep the business flourishing. Magento 2's out-of-stock notification alerts the customer about when the product will be back in stock, and the purchasing department gets Magento 2 low stock notification with the extension. Thus, ensuring the customers get better service while reducing the churn.
5.  
Get An Edge 
With the Magento 2 Out of Stock Notification extension, you can notify your customers about the availability of the product. It will reduce the chances of the customers going to your competitors to get the service. The extension automatically will send an email to the customer when the stock is available.
Some of the Benefits of using the Magento 2 Multiple Wishlist Extension:
Even when a product is out of stock, you can still engage your customer with Magento 2 Multiple Wishlist Extension. The extension offers quite a few benefits to your business. Some of them are:
Allow your customers to plan future purchases in advance, and they can create unlimited wishlists which can be customized too.
Products can be moved from one wish list to the other and quickly conduct their shopping.
Repeat purchase option is available for easy shopping
Organize the wishlist with preferred products being saved
Your customers can share the wishlist with others and get a review of the products purchased before them.
As an admin, you get to know which products are in demand and completely control the wishlists.
The feature ensures reduced shopping cart abandonment
Increase customer conversion rate
Boost overall sales.
Key Features Of The Out Of Stock For Magento 2
Apart from Magento 2 Notify when in stock, the extension offers fantastic features to the retailer and the customer.
As a retailer, you have complete control of tracking and filtering subscriber's information on understanding which products are in demand.
You can easily configure your customer's subscription routing, thus allowing them to manage the products and the numbers they have subscribed to, and receive an email automatically when it is in stock.
Customers can click on the Notify Me button on any page without switching between Home Page, Product Page, and Category Page.
The extension can be used to receive notifications by customers who are logged in, not logged in, wholesalers, general viewers, and retailers.
The feature ensures that when visitors look for a product and are not there, they just have to leave their email id to get the notification.
Top 3 Magento 2 Out Of Stock Notification Extensions
There are several Magento 2 Out Of Stock Notification providers available in the market. Here are top 3 service providers.
1)
MageAnts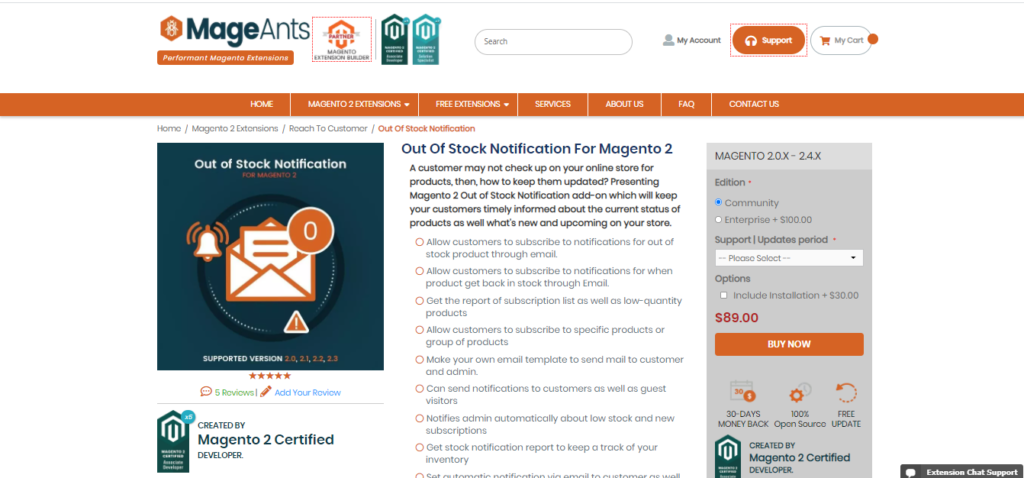 MageAnts have been in the business for over seven years who specialize in providing 85+ Magento 2 extensions. In addition, they are well-known for creating responsive Magento Design integration, extension and theme customization, and security patch installation.
Out of Stock Notification Extension Features Offered
Notification alerts can be set for bundle products with the message displayed on the subscription box
You can disable or enable the notification for certain customers
Keep your customers up to date about your products with automatic stock email alerts
Get daily reports about the product demands as store admin.
     2) MageArray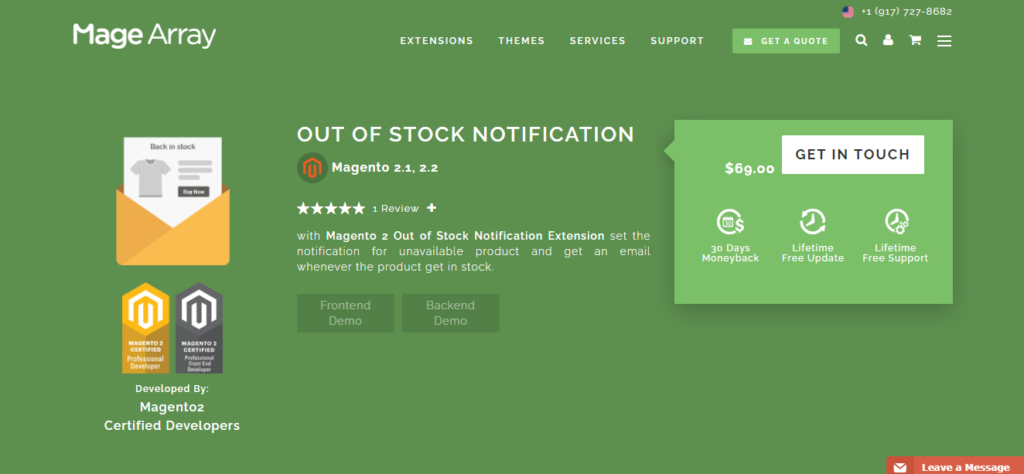 They provide support to all versions and platforms of Magento, with a primary focus on Magento 2 extension development which warrants improved user and admin experience. Also, customization of websites with different Magento 2 themes to stand out in the crowd.
Out of Stock Notification Extension Features Offered
Admin can filter customers based on product choice to offer a better shopping experience
Admin has the option to remove a customer from the subscription and/or notification list
Enable product stock notification to customers on customized email template
Allow customers to add products on wish lists that are out of stock.
   3) Magetrend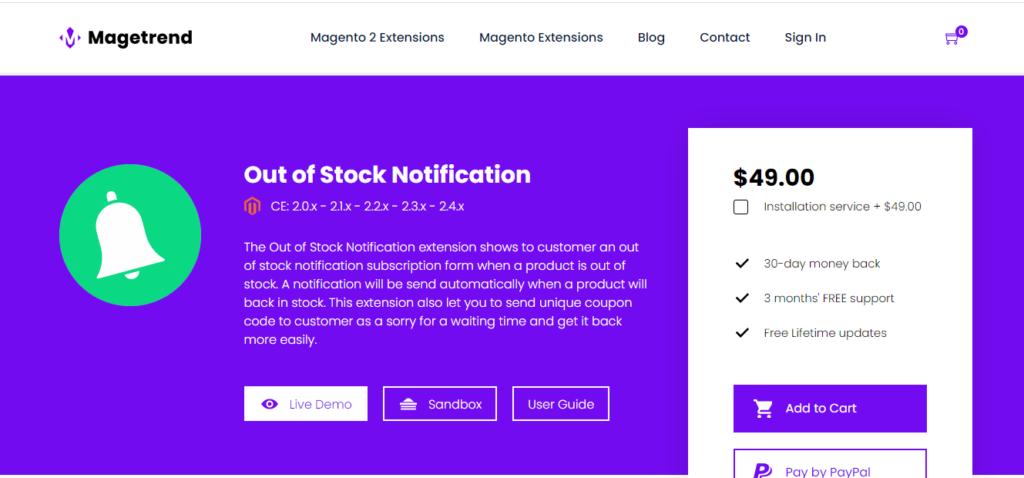 Working on this platform for quite a while now and have been gathering knowledge on website development since 2012. They are skilled and specialize in Magento and Magento 2 extensions.
Out of Stock Notification Extension Features Offered
Enable a full form or pop-up window to offer an out-of-stock notification form.
Customers can select product specifications when subscribing to an out-of-stock notification.
Notification can be sent to the customers automatically or manually by the admin
Customers can manage their subscription with an auto-fill feature when logged in
Final Words
Magento 2 Out of Stock Notification enables the retailer to provide better service to the customer and, in the long run, engage and improve customer loyalty. This eventually translates into better business and boosting the ROI of the company.