Best Taxi App Development Companies 2022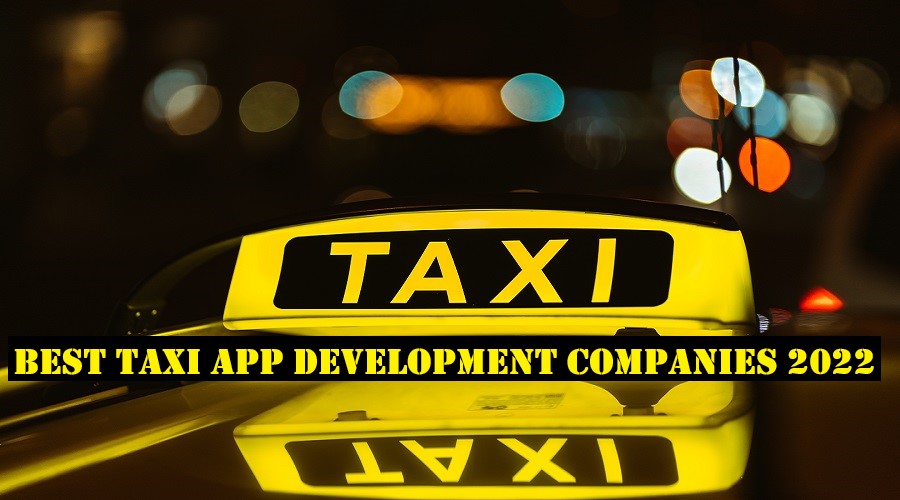 Just a few taps and swipes on a smartphone, and in minutes a cab arrives offering competitively priced rides. Taxi booking apps have revolutionized the way we hire our rides, and in the process shaped an industry with an estimated revenue of US$314,224m in 2022.
According to Statista, the revenue is further expected to show an annual growth rate (CAGR 2022-2026) of 5.30%, amounting to US$386,274m by 2026.
Competitively priced, flexible, and convenient rides for the customers; seamless business operations, quantitative and qualitative business value transactions, and the option to operate independently for the drivers; and lastly a lucrative business for the owner with no need to maintain their own fleet of taxis. The business model of taxi apps is a win-all scenario for all involved 一 catalyzing the growth of the industry.
But, to gain traction in the market as a leading taxi-app services provider, you would need an app that is purpose-built to the needs of all involved 一 the customers, partner drivers, and business managers.
To build apps that meet the desired objectives, partnering with the best taxi-app development companies will be a top priority.
In this blog, read about the features that can be prioritized to drive success for the business and a thoroughly researched list of the best tax-app development companies.
Features integral to a taxi-app
Led by successful Taxi-apps like Uber, Lyft, and other successful taxi businesses, the customers, and drivers have grown accustomed to the taxi-app ecosystem 一 with the features that are offered on these platforms.
This familiarity has meant enhanced opportunities for new ventures to follow suit. Additionally, the path to tread is also easier. Startups in this domain can analyze features offered by established businesses and can tailor their platform accordingly.
Discussed below are some of the top features that will help new businesses in the taxi-app development process.
Features for customers:
The following features can make it easy for the customers to avail of taxi – services.
Ease of use: Taxi apps will be used by the customers on the go, most of the time. Ease of use will be integral to their success and popularity amongst the users. Some important considerations are.

Easy signup and faster login subsequently 一

with the option of signing up with social media accounts, mobile numbers, and other convenient ways.

Preferred driver and shorter route suggestions: Ride customization options can make the customer look forward to avail of the ride from your app, preferring it over apps that don't give such options.
Fare estimate and driver communication 一

will help foster transparency and convenience for the passengers.

Multiple Payment methods: The option to pay with a preferred payment method can ease the payment process. Faster payment with multiple options can help customers avail of the services in a quick time 一

enhancing the appeal of the taxi services.

Safety and security: Features that give riders peace of mind whilst availing of the services will make them reach out for the services again. Some considerations for enhancing the security of the taxi app are:

Share ride status: Sharing ride status can be an important feature for some passengers.
Features for the drivers:
The following features can be of use for the drivers offering their services for the business:
Ease of business: Features that allow the drivers to gauge the health of their business will help them plan better, and consequently remain committed to the business for long term.

Track earnings: A cumulative data regarding the earnings made by the driver for a specified time period.
View customer ratings: The drivers can best gauge their services from the ratings put up by the customers.

Ease of providing services: The more convenient it is for the drivers to provide services to the clients, the better they will be able to accomplish those goals.

Navigation: An imperative, that helps the riders to find their way.
Availability hours: This will help the drivers in scheduling their workday, giving them the necessary flexibility.
Features for the admin of the Taxi-app business:
The following features will assist the admin to conduct business operations:
Ease of operations: The features that help the admin manage operations better

Data analytics: The overall health of the business helps in setting data-driven long-term objectives.
Fare Management: The admin can set fares according to the driver's vehicle setting tiered fares. They should also be able to introduce surge pricing to help transparency in pricing.
The marketing features: The features that help the business owner to push the USP of the business will help in gaming traction among the target customers. Discount coupons can further help in this regard.

Better services: Features that help the admin in providing better services can help them in defining the end value to the customers and gaining a competitive advantage in the market.

Geofencing: The admin can broaden the scope of the business by setting pricing and other parameters based on the location the services are being offered in.
These are the top features that will in designing apps that can lead to a successful taxi-app business launch.
But in order to get the features right, and build a robust, secure app based on latest technologies and developed using collaborative and best development practices, you will have to identify an ideal mobile app development partner.
Based on internet research, development portfolios, market reviews, and other parameters, we have listed the top taxi-app development companies that can help you with this decision.
Top Taxi-app development companies
The top 10 taxi-app development companies are as follows.
FATbit Technologies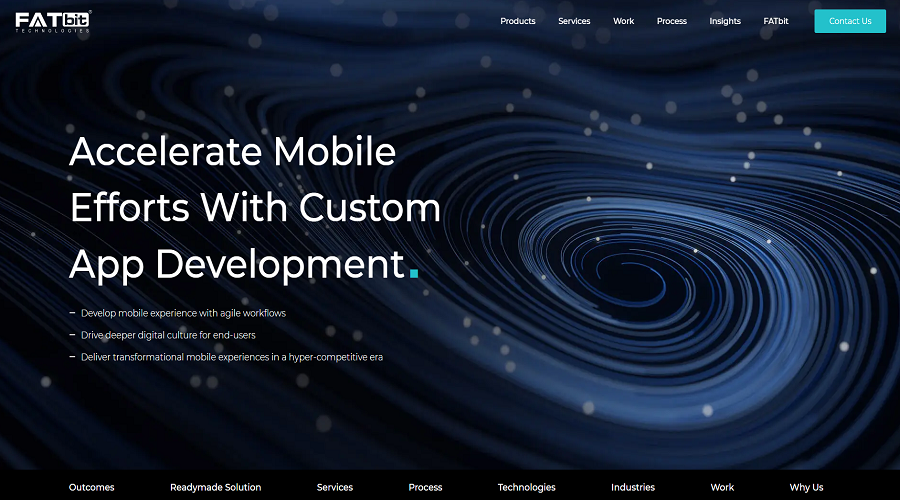 FATbit is a leading software and mobile development company that provides services and readymade products for both mobile and web ecosystems. It offers analysis-driven Agile development services that range from mobile apps for iOS and Android, MVP, custom CMS, enterprise apps, and UI/UX to digital marketing and business consultation.
The company is in business since 2004 and has worked for a global clientele. Its area of expertise lies in the eCommerce domain. It has been rated highly on websites like Clutch(4.9/5) which even included the company at the 18th rank in the list of top software development companies in India.
What makes FATbit stand apart is that it has readymade turnkey solutions for multiple eCommerce niches that includes a scalable and secure readymade Taxi-development app.  The self-hosted and scalable app is built from scratch and comes with many of the required features and functionalities out of the box.
A readymade app that is built specifically to start the business will not just cut short time to market but will also save resources spent by a huge margin.
Space-O Technologies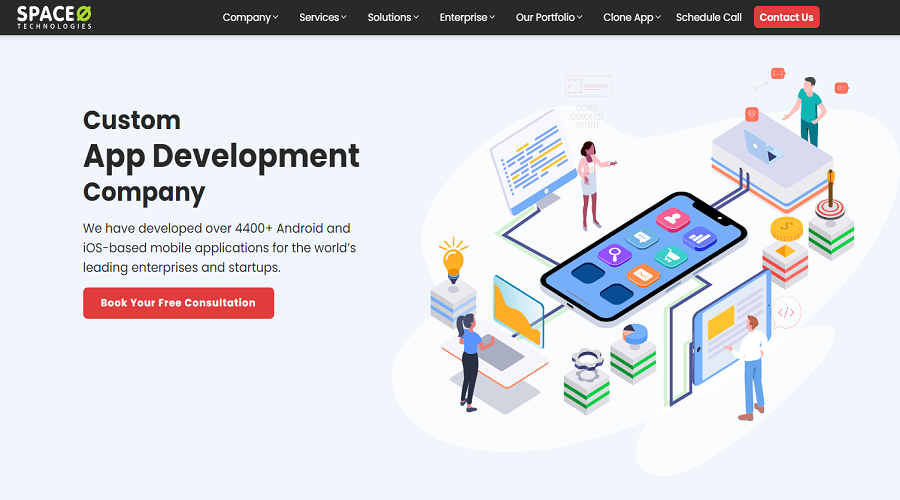 Space-O Technologies is a custom app development company. They have a team of thinkers and doers that strives for innovation. Founded in 2010 the mobile app development company has worked primarily in the mobile app development ecosystem. Additionally, they provide services for web development and UI/UX design.
The apps developed by Space have been featured in EveningStandard, Mixmag, and more. Space-O technologies is also a taxi-app development company. They design, develop, and deploy taxi-app booking solutions for Android and iOS platforms.
The company can also work towards validating your app idea and discuss advanced features for your app before proceeding forward with the development.
Aglowid IT solutions Pvt Ltd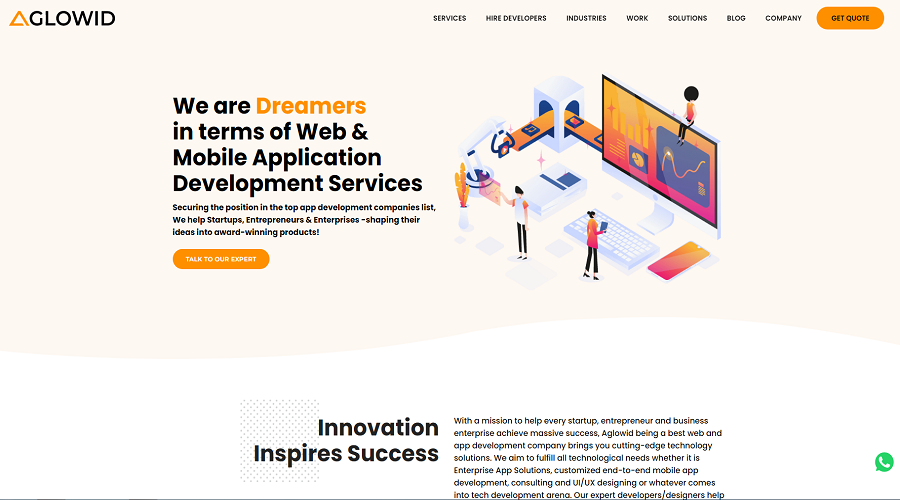 Aglowid is a cost-effective web and mobile development company that has a rating of 4.8/5 on Clutch. Founded in 2013, the taxi-app development company has worked with clients from multiple industries including automotive, eCommerce, Information Technology, and more.
They have a mission to provide success to clients they work with. Apart from mobile app development, Aglowid also provides web app development, eCommerce & CMS development, enterprise, and MVP development services. Additionally, they also provide IT consultation and dedicated teams for hire.
Aglowid provides services for taxi booking apps for multiple niches like taxi-booking services, car rentals, VIP corporate taxis, limousine & chauffeur services, air taxis, and paratransit taxis. They have separate development models for each of the apps from the niches listed.
Mobisoft Infotech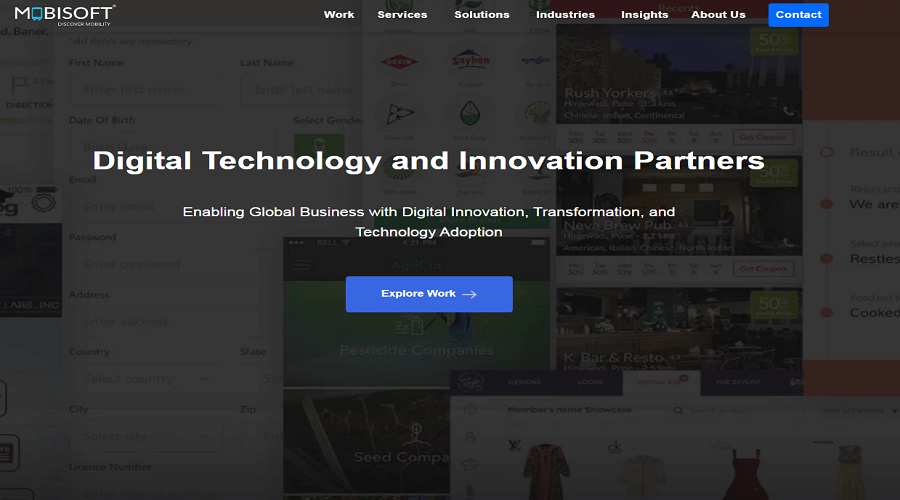 Mobisoft Infotech is an India(Pune)-based mobile application development company. It commenced operations in 2010 and has been proving solutions to businesses of all sizes, although the main focus is on mid-market clients.
They have experience in working with clients from multiple industries like consumer products and services, Education, Information Technology, and more. Their portfolio houses 240+ apps developed and successfully delivered. They utilize cutting-edge platforms and technologies.
Mobisoft also offers a custom taxi-app development solution with some nifty features. Just like FATbit Technologies software, theirs' is also an on-premise solution, that gets deployed on clients' servers.
Damco Group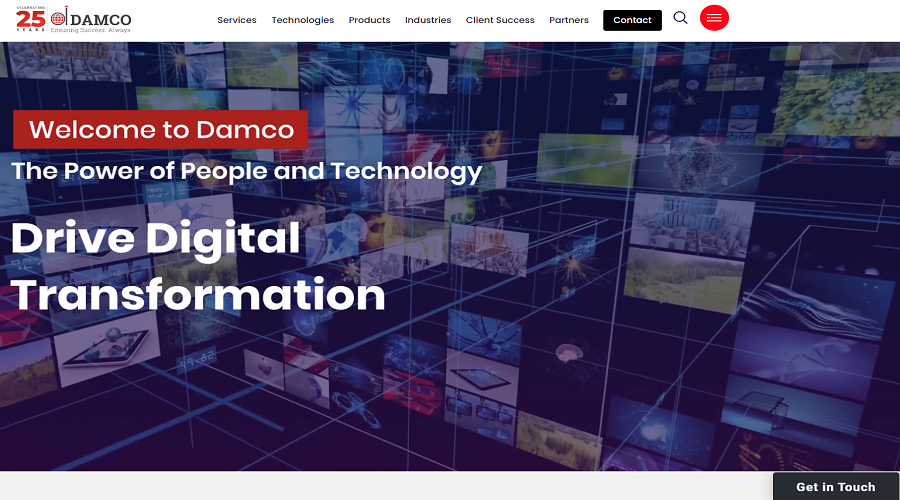 An on-demand taxi-app development company, Damco also provides IT services for blockchain development, data processing, and mobile app development. They work towards digital-first products and also transform the legacy systems of companies.
From commencing operations in 1996 to serving clients in 32+ countries, Damco has equally worked with small, midmarket, and enterprise-level businesses. Among others, the taxi-app development company has worked in the Financial, Information Technology, and business services industries.
Damco provides solutions for entrepreneurs to launch their taxi-app booking business or existing owners to manage their operations in real-time with the use of an app. Moreover, they offer a range of app development services for carpooling, taxi sharing, uber clone apps, and others according to client requirements.
Uplogic Technologies Pvt. Ltd.
Founded in 2010, Uplogic Technologies, is a Web, IT, and Mobile App outsourcing company. It provides services for mobile apps for Android and iOS platforms. They also offer full-stack app development, blockchain development, and business consultation services.
They focus on building client-centric solutions that drive value with result-oriented development. They concentrate on fostering the brand image of the client with unique design language.
Being a taxi-app development company as well, Uplogic provides services for developing Uber clone apps with a unique design signature.
BR Softech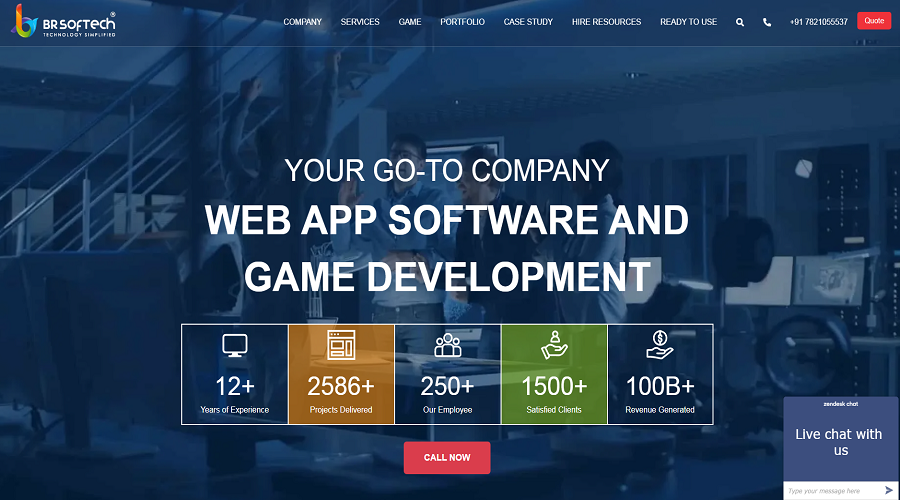 BR Softech is a web app software and game development company. It is an ISO:9001:2008 accredited company that is headquartered in India but has worked with clients all over the world. The company has offices in the USA, and Australia as well.
The web app and taxi-app development company was established in 2010. It has worked equally with small, midmarket, and enterprise-level businesses. Its industry focus is on gaming, gambling, business services, and others.
The company offers analytics-driven solutions like clone apps of popular players like Uber and Ola. Additionally, they can also provide client-centric services for taxi-app development.
Elluminati Inc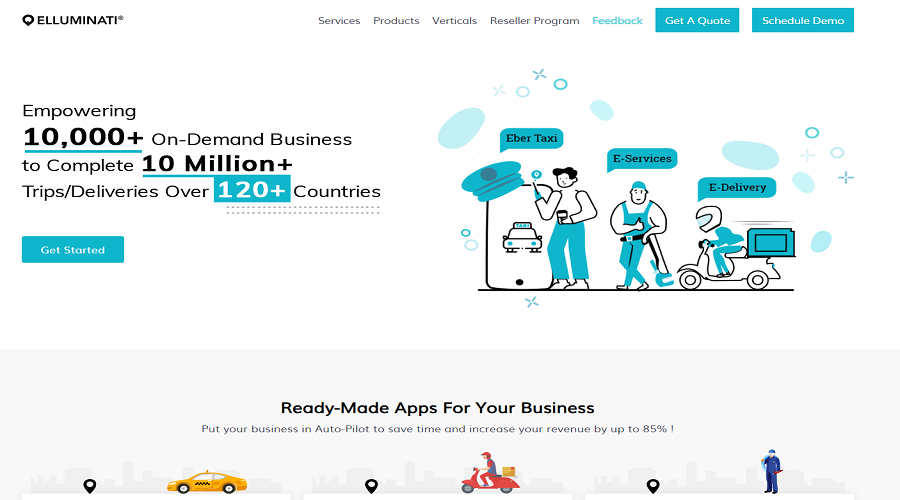 Elluminati is a mobility solution provider with over 10+ years of experience. They cater to businesses of all sizes and provide scalable solutions. They meet their clients' expectations by providing reliable solutions. They have worked with clients all across the globe and have been rated highly on Clutch (4.5/5)
Elluminati provides readymade apps and services. They provide services for taxi-app development as well.
JetRuby Agency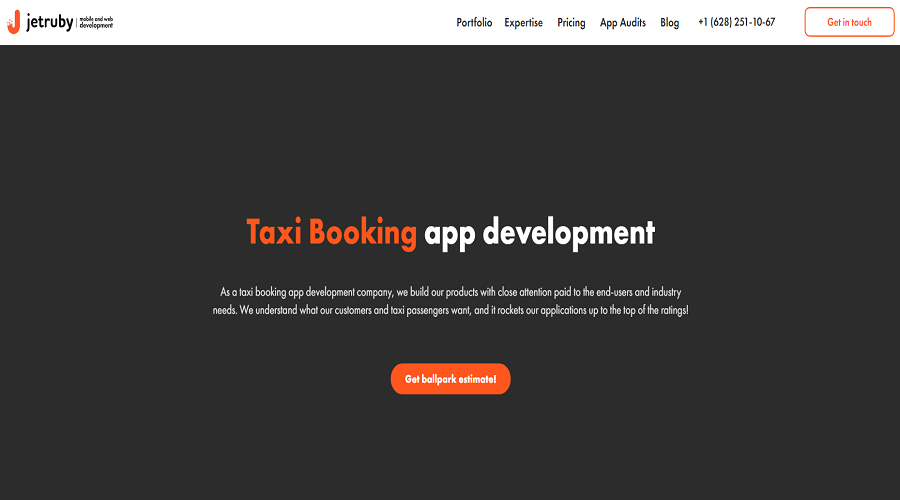 A mobile and web development company, Jetruby provides services to develop mobile apps for both Android and iOS. They also offer QA project management, UI/UX design services, and a dedicated team for hire.
The company has been in business since 2010 and has delivered 250+ projects within 16 industries, which include healthcare, education, real estate, food delivery, taxi-booking, retail, and more. The company was also recognized as the top 1000 companies by Clutch.
Being a taxi-app development company as well, Jetruby can provide services for taxi businesses ( commercial as well as corporations ), car rental, and air taxis.
Smarther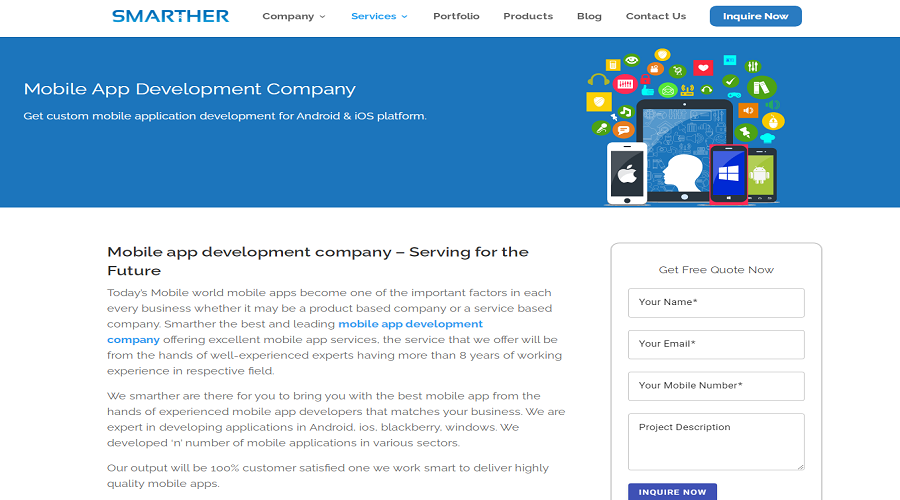 Smarther provides services for custom Android and iPhone app development, Game & Web Development, SEO, marketing consultancy, and more. Commencing operations in 2011, the company has focused its work primarily on SMBs and some enterprises as well. They have worked with clients in Medical, Information Technology, Automotive, Manufacturing, Sports, News, business services 一 industries, and others.
The company has worked with clients in 30+ countries. They are technology-oriented and have an experienced team.
Smarther provides Uber-clone apps with easy interfaces that can lead to higher revenues due to clean designs.
The above-stated list was among the top 10 Taxi-app development companies that can help you with the decision to partner with a company for your taxi-app needs.
To sum it up
Taxi-app business is on the rise opening up opportunities for entrepreneurs and enterprises to plan and launch a business. Partnering with a taxi-app development company that works in collaboration with clients can help you with ideation to include the most desired features in the solution based on the target audience.
Alternatively, you can start with companies that provide readymade solutions with the best set of features out of the box. These solutions can help you to get started quickly with a business that can get instant market traction, and create a good first impression.
Additionally, faster time-to-market can let you cash in on the opportunity faster 一 before being shadowed by another startup with a similar market strategy, operating in your targeted space. 
Another consideration could be opting for self-hosted solutions, that come with source-code ownership. This will help you to cut down on overheads that come with SaaS solutions and secure long-term business goals.