Can Digital marketing Replace Traditional Marketing?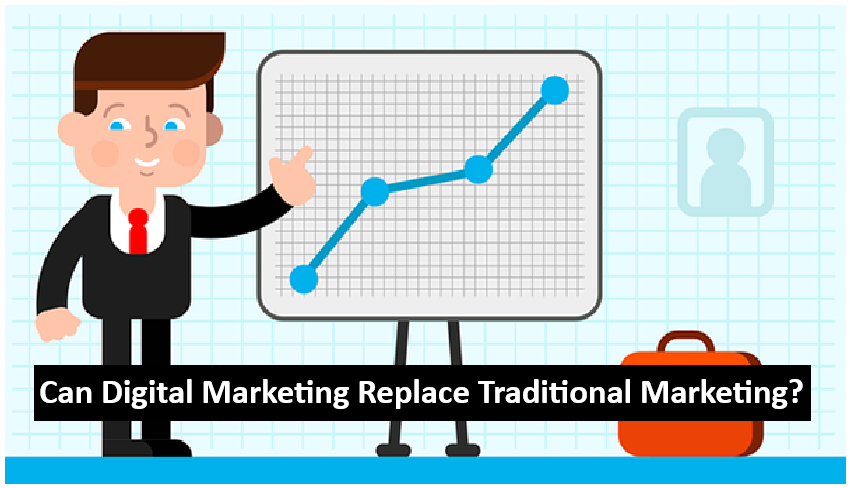 Marketing is an integral part of a company. Without proper marketing strategies, a company cannot rise and shine. However, when they consider marketing, they have to deal with digital or traditional marketing. Therefore, one has to know the details of both traditional and digital marketing. Later, we will also discuss whether digital marketing is great compared to traditional marketing. At some of time all business houses need to choose marketing because it impacts greatly in our lives. It will definitely give you a better understanding of the marketing field and this will create impact in your business in a positive way. But before that you have to know about the two incredible marketing fields.
What do you mean by digital marketing?
Digital marketing happens in the internet world, and the company's presence is much more visible. These are the following strategies for digital marketing: social media marketing, SEO, Affiliate marketing, website optimization, marketing automation, PPC and SEM marketing, and email marketing. It uses many routes to help users check the website online. For example, with proper SEO, the website's content will appear in the topmost ranking of search engines.
Also, it targets the users of social media that even sponsor or promote content and even run different ads on Facebook and Google. Also, email marketing is another great method of the campaign. Digital marketing focuses on the four Ps like Product, Price, Place and Promotion, and it happens with internet interaction.
In traditional marketing, one has to meet the customers via phone, home or even by road. It is more like a physical connection, whereas digital marketing is more like an online connection. Today, more people are spending too much time online, and hence digital marketing is gaining tremendous popularity. Now, most businesses shift their service to digital platforms.
With the help of digital marketing, a business can reach fast and easy to large audiences. It makes you maximize the target of the business. Digital marketing is growing rapidly, and it is crucial for businesses, whether it is small or big.
What do you mean by traditional marketing?
Traditional medium comes through different mediums, like they also want to target big markets. Before the internet, traditional marketing is the best medium to let the world know about business strategies. Print, broadcast, direct mail, telephone and outdoor are the different types of traditional marketing.
Different types of traditional marketing
Print – the ads are placed in newspapers, magazines, and print publications. The ROI of the newspaper and magazine is 125%, which you can compare to other traditional formats.
Broadcast – TV, radio or podcast commercials come under this. Initially, businesses were speculative about whether it would be an effective marketing medium. But broadcast marketing well adjusts to the digital space.
Direct mail – for old generation target, this is the best marketing format. It is a trustworthy format for the old generation where you can rely on the marketing trick and people to know about your products and services.
Phone – marketing through phone or SMS is the best form of marketing. Many people get convinced and have time to listen to the ads and will get effective. It makes the marketing prominent when the customers respond to the phone marketing.
Outdoor – the ads you see in posters, flyers and billboards are the oldest form of advertising. But it is still the effective one. When the audience commute and the eyes fall on the ads, it fulfils the ad's purpose. In addition, people make buying decisions by checking the video on the billboard.
Benefits of digital marketing
Consumer- specific targets – digital ads provide data about companies based on their interests, lifestyle, preferences and beliefs. When Google and Facebook run these ads, it catches the audiences' attention. It is a customized ad world where customers will see what they prefer in their real lives.
Affordable – marketing always takes a big budget, and it can take a lot of money for a small business. Digital marketing is an affordable concept. The marketing plan in digital marketing is low, but it has a significant role. It helps to gain online visibility, and that will increase website traffic. An increase in traffic means an increase in sales, and you can do it at affordable prices.
Easy-to-measure success – with the help of a digital marketing campaign, you can measure the ROI. Once you launch the campaign online, you can easily track the measures with the help of technology. The software helps you do the same. Taking the help of Google Analytics, you can measure the marketing goal and see the change and profit.
Global response – the internet is the global village, and uploading an ad in the global village. People from all walks of life and community can see and take action after watching the ad.
Success rate – there are still some people who love traditional marketing. Hence, if you compare the success rate, you will notice that it is still less than traditional marketing. Therefore, you should always look for ways to choose both marketing mediums to get guaranteed success.
Immediate feedback – It is hard to know how the target consumers are feeling in traditional marketing. But on a digital platform, you get instant feedback through comments and personal experience stories. Through these comments, you can improve your products, ads and services. Of course, the feedbacks are often harsh and rude, but you have to take the good part of these comments and move on with your services. Hence, make sure you make the best use of the comments and see what changes, improvisation and improvement you can bring to your marketing tactics.
Cross-platform sharing – in digital marketing, cross-platform sharing becomes easy; only the one thing you need is the dimension of each platform. Likewise, you can cross-promote your ads in the forums, social media, website and email. Cross-platform sharing makes it easy for you to let the world know about your business. It makes the work easy for the business' owners, and they do not have to pay separately for each ad. Digital marketers help promote the ad easily without much of a problem.
Refine strategy – in digital marketing, strategies play an important role. You can measure digital marketing. Hence you can refine the strategy. For example, you can boost the good area with the highest engagement of the posts during a particular time. Therefore, it gives you more visibility and makes you properly work on digital marketing.
The confusion between both forms of marketing
Many business houses have a mix of old and new generations, and hence the ideology of both segments of people is also different. Some old generations believe and rely on traditional marketing concepts. But people from the new generation believe in digital marketing. Which one is right? To balance a company and satisfy the needs of the customers, every business house must follow both forms of the marketing concept. You cannot choose one over the other. The consumers are there still preferring traditional ads. Hence, if you only focus on new age digital marketing, then you will miss that part of consumers who love traditional marketing. Hence, if you run an ad that caters to a big part of consumers, choosing traditional and digital marketing is the best idea. It will not lead you to any confusion and will give you great services.
Will digital marketing take the place of traditional marketing?
Today, traditional marketing is not relative as it impacts the golden era. But, in some cases, it can still create a good impact. If you have a budget, market goals, and location, then the traditional form of advertising still works for you. Billboard advertising still holds a strong position in the advertising world. People love to spend their hours in the outdoor world, which is why; outdoor advertising is so popular.
Billboard advertising blend with digital marketing to form a hybrid form of advertising. You will see digital billboards where the technology gets high priority and ads run through the billboards.
Many people still love traditional marketing like TV ads or print ads. Seeing these ads make them most nostalgic. But no one can say what the future will bring to us. Though many businesses are taking up digital marketing, they still do not neglect the importance of traditional marketing.
Conclusion
In short, digital marketing will never take the place of traditional marketing. On the contrary, it has taken a huge portion of the market for a new future. Whether a start-up company or a big organization, hiring digital marketing services from a reputed digital marketing agency is the best idea. An agency has many talented digital marketers who work with different clients to improve the business presence in the digital world.
You can easily talk about your business marketing, which will give you exposure to what your business needs. They will help your business grow and market the products in a great way. However, you must rely on the digital marketing agency and let them do their work in a better way.