Creating a Strong Brand Identity through Web Design: Strategies for Success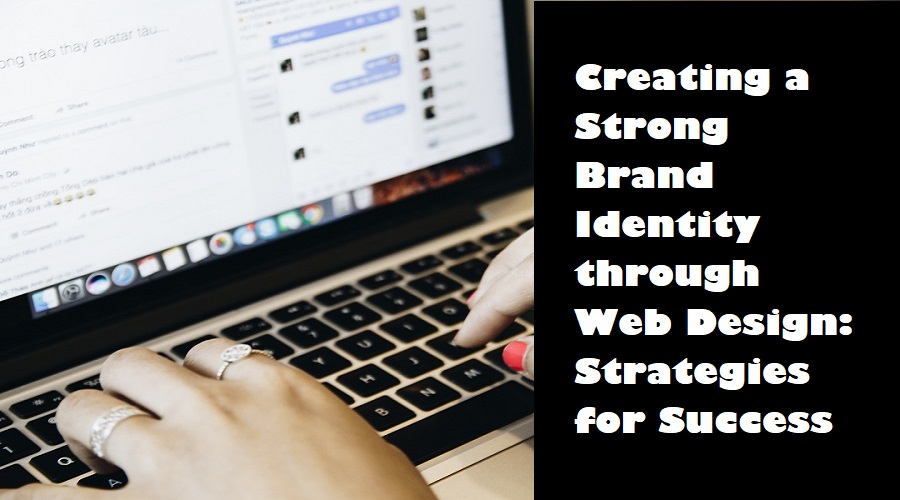 In today's digital landscape, web design plays a crucial role in shaping a brand's identity and influencing how it is perceived by the audience. A well-designed website not only provides a visually appealing user experience but also communicates the brand's values, personality, and purpose. It helps establish a strong brand identity that resonates with the target audience and sets the brand apart from competitors. In this blog, we will explore effective strategies for creating a strong brand identity through web design, with a focus on key elements and considerations that contribute to success.
Understand Your Brand
————————————-
Before diving into the web design process, it's essential to have a deep understanding of your brand. Define your brand's values, mission, and unique selling proposition (USP). Identify your target audience and their preferences. By having a clear understanding of your brand's identity, you can align your web design choices with your brand's essence and personality.
Consistent Visual Elements
————————————-
Visual elements are the building blocks of a strong brand identity. Consistency is key when it comes to colors, typography, and overall visual style. select the a color scheme that shows the identity of your company and appeals to your target market. Select fonts that are legible and align with your brand's tone. Develop a visual style guide that outlines the usage of logos, images, and other graphic elements. Consistency across all visual elements creates a cohesive and memorable brand experience.
Reflect Brand Personality
————————————-
Web design should reflect your brand's personality and create an emotional connection with your audience. Consider the tone and voice of your brand and translate it into design choices. For example, a playful and youthful brand may incorporate vibrant colors and dynamic animations, while a luxury brand may utilize elegant typography and sophisticated imagery. Infuse your brand's personality into every aspect of your website, from the layout to the language used. By aligning the design with your brand's personality, you establish a consistent and authentic brand image.
User-Centric Design
————————————-
A strong brand identity is built on delivering a positive user experience. User-centric design focuses on understanding the needs, preferences, and behaviors of your target audience. Conduct user research to gain insights into their expectations and pain points. Use this information to inform your design choices, such as navigation structure, content hierarchy, and interactive elements. Optimize your website for easy navigation, intuitive interactions, and fast loading times. By putting the user at the center of your design process, you create a positive brand experience that fosters engagement and loyalty.
Compelling Brand Storytelling
————————————-
A powerful brand identity is supported by compelling storytelling. Use your website as a platform to tell your brand's story and convey its values. Incorporate storytelling elements into your content, visuals, and user experience. Share your brand's journey, mission, and impact. Use engaging copy and visuals to create an emotional connection with your audience. Integrate storytelling elements into your website's design, such as interactive features or immersive multimedia experiences. By leveraging the power of storytelling, you differentiate your brand and make it more relatable and memorable.
Mobile-Friendly Design
————————————-
With the majority of internet users accessing websites through mobile devices, mobile-friendly design is essential for brand identity. Ensure that your website is fully responsive and optimized for different screen sizes and resolutions. Use a mobile-first approach, designing for mobile devices first and then scaling up for larger screens. Consider the user experience on mobile devices, including touch-friendly elements, simplified navigation, and fast-loading pages. By prioritizing mobile-friendly design, you create a positive brand experience across all devices, reaching a wider audience and enhancing your brand's identity.
Integrate Social Media
————————————-
Social media has become an integral part of brand identity and web design. Integrate social media elements into your website to strengthen your brand's online presence and connect with your audience. Incorporate social media sharing buttons to encourage visitors to share your content. Display social media feeds or links to your social profiles to increase engagement and foster a sense of community. Utilize social media widgets or plugins to integrate live social media updates into your website. By seamlessly integrating social media into your web design, you extend your brand's reach and provide additional avenues for audience interaction and brand promotion.
Clear Call-to-Actions
————————————-
A strong brand identity is supported by clear and compelling call-to-actions (CTAs) throughout your website. CTAs direct visitors toward desired activities, like buying something, subscribing to a newsletter, or contacting your business. Design visually appealing buttons or banners that stand out and communicate the desired action. Use persuasive language and a sense of urgency to motivate users to take action. Place CTAs strategically, such as on product pages, at the end of blog posts, or in prominent positions on the homepage. By incorporating clear CTAs, you facilitate user engagement and conversions, strengthening your brand identity.
Regularly Update and Maintain
————————————-
A strong brand identity requires ongoing attention and maintenance. Regularly update your website's content, design elements, and functionalities to reflect any changes in your brand's identity or market trends. Stay updated with the latest web design practices, technologies, and user expectations. Monitor your website's performance and user feedback to identify areas for improvement. Conduct regular audits to ensure consistency in visual elements, content, and user experience. By investing in regular updates and maintenance, you demonstrate your commitment to providing a seamless and relevant brand experience.
Seek Professional Web Design Assistance
————————————-
Creating a strong brand identity through web design can be a complex task. If you're unsure about how to approach it or need assistance, consider seeking professional web design assistance. Web design experts can help you translate your brand's identity into a visually appealing and user-friendly website. They can guide best practices, offer design insights, and help you stay updated with the latest trends. Collaborating with web design professionals ensures that your brand identity is effectively communicated through your website, setting you up for success.
To further enhance your brand identity through web design, consider the following additional strategies:
1. Implement Personalization
Personalization can significantly enhance the user experience and strengthen your brand identity. Utilize data and analytics to tailor the website experience to individual users. Display personalized product recommendations based on browsing history or purchase behavior. Customize content and messaging to address the specific needs and preferences of your audience. By providing a personalized experience, you create a sense of relevance and connection, fostering brand loyalty.
2. Incorporate Brand Elements into the Design
When it comes to brand identification, consistency is important. Incorporate your brand's visual elements, such as your logo, colors, and typography, into your web design. Use your brand's logo consistently across all pages and ensure that it is prominently displayed. Apply your brand colors throughout the website, both in the background and in design elements. Use fonts that align with your brand's personality and maintain consistency across different sections. By infusing your brand elements into the design, you reinforce brand recognition and create a cohesive brand experience.
3. Focus on Accessibility
Accessibility is an essential aspect of web design and an integral part of a strong brand identity. Check to be sure that everyone, including those who possess difficulties may access your website. Follow accessibility guidelines, such as the Web Content Accessibility Guidelines (WCAG), to make your website inclusive. Provide alternative text for images, captions for videos, and clear headings for easy navigation. Use color contrast that is accessible for individuals with visual impairments. Implement keyboard navigation and ensure that interactive elements are easily accessible. By prioritizing accessibility, you demonstrate inclusivity and reinforce your brand's commitment to equal access.
4. Incorporate Testimonials and Social Proof
Testimonials and social proof are powerful tools for building trust and establishing your brand's credibility. Incorporate customer testimonials and reviews on your website to showcase positive experiences and feedback from satisfied customers. Display social proof elements, such as user-generated content or endorsements from influencers or industry experts. By featuring testimonials and social proof, you demonstrate the value and quality of your products or services, strengthening your brand identity and encouraging potential customers to trust your brand.
5. Optimize Website Speed and Performance
Website speed and performance are crucial for user experience and can significantly impact your brand identity. Optimize your website's loading times and ensure fast and smooth performance across devices. Compress images, minimize code, and leverage caching mechanisms to reduce load times. Use a reliable hosting provider that offers fast server response times. Regularly monitor your website's performance and address any issues that may affect speed. A fast and efficient website not only enhances user experience but also reflects positively on your brand's professionalism and reliability.
6. Engage with User Feedback
Listen to your users and engage with their feedback to further refine your brand identity. Encourage users to provide feedback through surveys, comment sections, or contact forms. Actively respond to user inquiries, concerns, or suggestions. Take user feedback into account when making design or content decisions. By engaging with user feedback, you show that you value your audience's opinions and are committed to continuous improvement. This fosters a positive brand image and strengthens the relationship between your brand and its customers.
7. Monitor Analytics and Conversion Metrics
Regularly monitor website analytics and conversion metrics to gain insights into user behavior and the effectiveness of your web design. Track metrics such as bounce rate, time on page, conversion rates, and exit pages. Analyze data to identify patterns, areas for improvement, and opportunities for optimization. Use this information to make data-driven decisions and refine your web design strategies. By continuously monitoring analytics and conversion metrics, you can make informed adjustments that enhance your brand identity and drive better results.
Incorporating these additional strategies will further strengthen your brand identity through web design. By implementing personalization, incorporating brand elements into the design, focusing on accessibility, showcasing testimonials and social proof, optimizing website speed and performance, engaging with user feedback, and monitoring analytics and conversion metrics, you can create a website that not only reflects your brand's identity but also enhances the overall user experience. Remember to stay consistent with your brand messaging and values throughout the design process. With a strong and cohesive brand identity reflected in your web design, you can establish a memorable and impactful online presence that resonates with your audience and sets your brand apart from the competition.
In conclusion, creating a strong brand identity through web design involves understanding your brand, using consistent visual elements, reflecting brand personality, prioritizing user-centric design, incorporating compelling storytelling, ensuring mobile-friendly design, integrating social media, incorporating clear call-to-actions, regularly updating and maintaining your website, and seeking professional web design assistance when needed. By implementing these strategies, you can create a compelling and impactful brand identity that resonates with your audience and sets your brand apart in the digital landscape.