Do Shopify Apps Collect Your Customer's Data?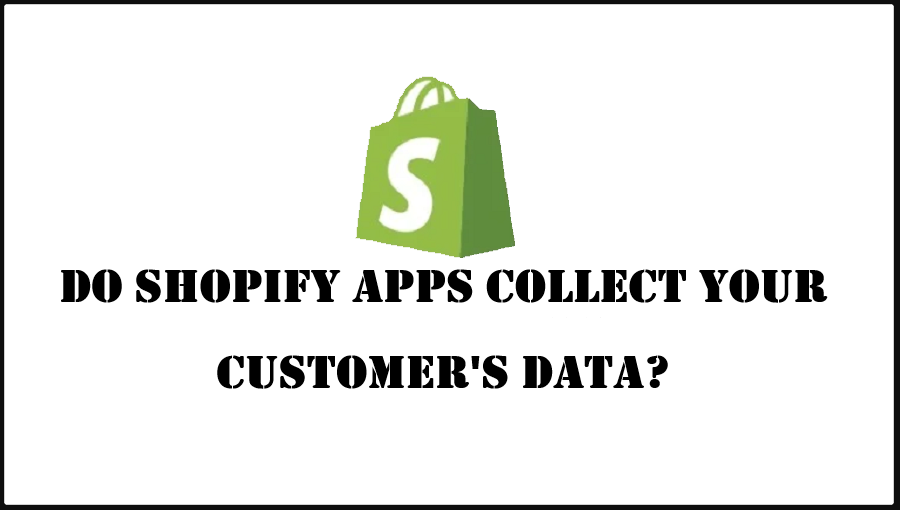 When it comes to setting up online stores on Shopify, one of the most common concerns is security. Without a doubt, security is extremely important in the world of eCommerce because it deals with consumers' personal information such as payment information and addresses.
Third-party apps offered in the Shopify store can help you expand your business to new heights, by providing interactive pop-ups and a customer-friendly live chat. The question is whether these apps collect your customer's data and, if yes, how they do that.
The majority of third-party apps acquire data about your clients, which may include the following:
Email address
IP address
Customer account data, such as phone number, mail address, etc.
Device ID
You are legally responsible under the General Data Protection Regulation (GDPR) for ensuring that personal data is gathered and used in accordance with the GDPR standards when third-party Shopify apps acquire and use your customers' data.
What Data Do Third-Party Shopify Apps Gather?
No matter if it's a live chat or product recommendation app, any Shopify app you install on your store will require access to certain data types to perform particular functions. For instance, if you create email marketing campaigns with Shopify third-party apps, they will need access to your customer's email address and country to create a proper customer profile. The customer data that they may collect can also include:
Demographic data
Shopping history
Contact information
Behavioral data
Customer names
So, you need to read their privacy policy to learn which personal data they need to acquire for better results and offerings, such as referral bonuses, discounts, etc.
You, as the Shopify Store owner, select what kind of client data is gathered, for what purposes, and how it is managed. Under GDPR, you will be considered the data controller. You must ensure that the third-party app providers you use are GDPR compliant and that all relevant security measures are taken to secure data.
Shopify has taken a lot of steps to protect consumer data in recent years, particularly with the adoption of GDPR in Europe. To reduce data leakage, these methods include limiting login attempts and ensuring app developers only access the information they need to run the apps.
Privacy Laws to Consider
Now it's time to understand what kind of privacy law issues you need to know to understand what kind of measures to take to save your customers' personal data.
1. What Data is Collected
Some types of data collected by third-party apps may be personal or unnecessary, putting you at risk of GDPR violations.
For instance, if  you want to install an app to design the sidebar menu of your store, your third-party app may not require access to your client's contact details for helping you design a smooth and user-friendly app.
While, if you need to build an email campaign, the third-party app may need access to your client data to offer more customized marketing campaigns. For example, customer demographics, such as age, interests, income, etc. may help the app providers come up with better campaign ideas. It doesn't matter if your third-party provider gathers data as a data processor or controller, it should adhere to the GDPR standards.
The GDPR states that you should nearly never gather sensitive data such as:
Race and ethnicity
Beliefs in religion or philosophy
Political viewpoints
Biometric or genetic data
Sexual orientation or sex life, etc.
You can usually only acquire this information if it is required by law. Make it clear in your Privacy Policy whether you have permission to gather this information and why you require it.
2. The Time Period Data is Retained
Under the GDPR, data retention periods must be appropriate to the data used and should not be kept for longer than necessary. You risk legal action if third-party apps hold customers' data longer than necessary or permanently.
3. When Data is Transferred to a Third Party
Some third-party apps may employ cloud service providers situated in the United States. If this is the case, your customers' data will be transferred to the United States, and because it is not a secure location for international data transfers, as a data controller, you will need to find ways to ensure that personal data transferred to the United States are compliant with the GDPR.
In most circumstances, the GDPR prohibits the usage of cloud services situated in the United States. You may need to take extra technical steps, such as anonymization, or enter into complicated contractual arrangements.
4. How Data is Protected
As a data controller, you must ensure that the third-party app provider takes technical and organizational precautions relevant to the type of personal data to avoid data breaches and unlawful data losses.
Every website should include a privacy policy that describes what information is collected, how it is used, who can see it, and how it is protected. While users voluntarily provide much information about themselves when they sign up for newsletters, fill out forms, or send email requests, facts collected from third parties and cookies should also be revealed, and users should be given the option to accept, reject, or disable cookies.
Practices When Installing an App
When you install a Shopify app, you need to go through the following practices to avoid illegal cases. Once you encounter a legal risk, you need to find a lawyer to help you understand your legal options.
Read permissions — Whenever you want to install an app, you will be asked to provide permission for access to various kinds of personal data. Once you see that, you need to examine each type of data to see what a third-party app requires and determine whether the customer data is unnecessary or too excessive. Once, you evaluate and believe that the personal data required by the third-party Shopify app is unnecessary you will need to contact the developer and app provider to ask why they need that information. If they do not give you a clear and logical answer, it's better not to install the app to prevent any future legal issues.
Pro Tip: Keep in mind that trustworthy and credible apps require only the data that is necessary.
Read the Terms & Conditions and Privacy Policy thoroughly — Approved apps in the Shopify App Store must have a privacy policy that outlines how personal data is collected and used. To comply with GDPR, you must evaluate these privacy policies and consider what kind of information an app gathers, how it uses the data, if its sells data to other parties, how long it stores, etc. Shopify requires third-party apps to address GDPR requests, but this requirement is unlikely to be strictly enforced (or implemented quickly), which is why business owners must educate themselves.
Examine data retention policies — A third-party app shall only keep personal data for as long as it is necessary and reasonable. Some third-party apps on Shopify Store, for example, acquire personal data but do not establish a time restriction for deleting it.
Third-party apps can help your Shopify stores become even more customer-friendly and smooth, providing more measurable features, but they also have some risks and disadvantages. Since you are the data controller, it is your obligation to ensure that third-party apps only gather the necessary information and they only utilize your customers' personal information for legitimate commercial purposes.
When you first install an app, read through the terms of service, privacy policy, and developer website. Keep in mind that you, as the Shopify business owner, have complete control over which apps you trust.
To make things easier, Shopify has made it mandatory for all applications to provide a privacy policy outlining their data handling methods, so you can decide whether or not you're okay with them.
Data Privacy and Data Security
Data security refers to a collection of rules as well as various precautions and steps taken by a company to prevent unwanted access to digital data.
While, data privacy refers to the proper handling, processing, storage, and use of personal information. It's all about individual rights when it comes to their personal data. Data privacy also refers to having control over what information is made public, by whom, and when.
So, data security protects data from dangerous attacks, whereas data privacy refers to the data's appropriate governance or use. As a result, both data security and data privacy are essential as they will have the following benefits:
Improve your brand reputation
Increase trust and credibility
Boost data management
Safeguard essential information
As long as you install Shopify apps from the official Shopify App Store, your store will be safe.
An app must go through a lengthy review process before being released on the App Store. The Shopify team will double-check the app's code and look for issues to see that it works properly.
A Shopify App can be created and submitted for review by any developer with enough knowledge. However, the software they just made will have to go through three major steps of approval. After that, the shopkeepers can install it.
The stages of evaluation are as follows:
Before submitting the app for review, create a draft.
After the app has been submitted for evaluation, it is in the process of being reviewed.
After the software is released on the App Store, it is approved.
Shopify will very certainly contact the app's creator throughout the assessment process. It will highlight any adjustments that must be made before the app is approved.
Once you want to install third-party apps for the best marketing results, double-check our blog to ensure it is safe and secure.