Importance of Images in a Digital Marketing Plan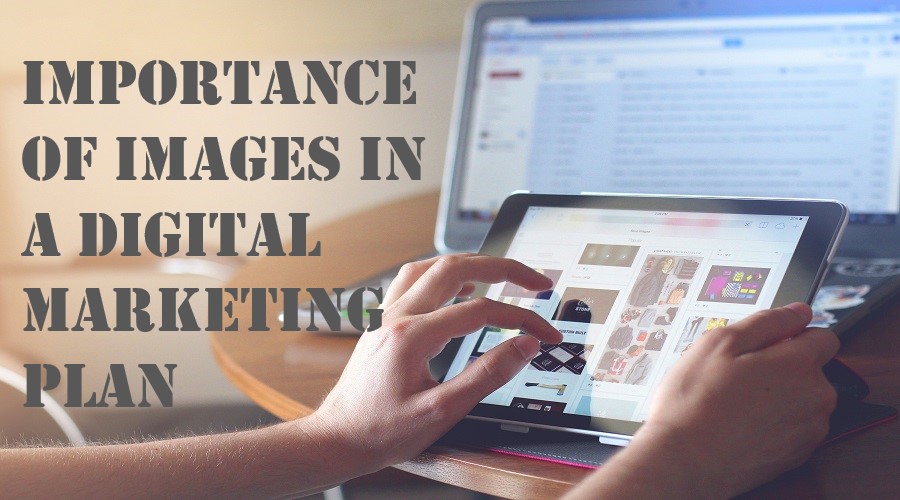 Consumers love images. Photos help create trust and showcase the look and feel of the product they're about to buy. They do more than just paint a pretty picture; online content with good imagery gets significantly more views than content that doesn't have great images.
Images help tell the story of your brand. You can bring out emotion, a dream, or a vision by simply publishing a carefully curated image alongside your text. Your site's visitors will "read" the images in a split second, deciding on whether or not to proceed with learning more about your company.
Images can make or break a buyer's experience from a marketing perspective. As such, it's vital to incorporate them into your digital marketing plan and make sure they're as high-quality and relevant as possible. 
Why Images are Important in a Digital Marketing Plan
They say a picture is worth a thousand words. In the marketing world, a picture very well could be worth a thousand clicks (or many more!), depending on which image you choose and how you place it on your site or social media pages. A well-suited image is essential for a successful marketing campaign. But why is that? 
1. Images are easy to identify
In simple truth, humans love looking at images. Our brains understand the universe through visual representations, and we need to receive visual input constantly. Our brainpower is primarily devoted to processing visual imagery – more than any other sense or ability.
Images are more intuitive to understand than text, too. When someone is weeding through never-ending search results, content accompanied by images consistently gets more clicks.
A lack of visuals in your content means your competitors will overlook you. 
2. Images earn trust with your audience
Digital marketing is about more than writing blogs, publishing posts, and engaging with your audience to encourage shares. In the end, you're trying to sell something – whether it's a product or service. Images can get you over the finish line and help you make those all-important sales.
Images create trust between your brand and your existing and future customers. 
3. Digital marketing images can help with link building
The use of graphics to talk about things that can otherwise be difficult for a reader to grasp – such as statistics or quotes – become very shareable pieces of content very quickly. Think about it – have you ever noticed that specific topics seem to have the same infographic shared within various articles repeatedly? That's because those infographics are gold in viewers' eyes, thereby earning the original content creator lots of backlinks across the internet. 
4. Images increase social media engagement
Social media is a visual space; that's a given. It's hard enough to gain engagement on social media platforms – you shouldn't make it harder than you have to by omitting images from your content. If you want to entice your audience to engage with your brand on Facebook, Twitter, Snapchat, Instagram, and the rest, make sure your digital marketing images are high-quality, relevant, and consistent. 
5. Images help your SEO efforts
If you properly label images with search-friendly metadata and captions, you give the search engine crawlers even more data to index. Your content will show up for both search and image results when someone searches for your keywords. In other words, images double your opportunity to be seen.
Additionally, if you own photos, you could always allow other local blogs and websites to use your images for free for links back to your website. Again, the more backlinks you can earn, the more reputable Google will see your brand. 
Types of Images You Can Use in Your Digital Marketing Plan
Whether you work with an SEO agency to determine which images you should use in your digital marketing plan or you decide to go at it alone, there are some best practices you should be aware of.
Stock Photos
Stock photos are pre-captured, professional photos. They also happen to be the most convenient type of images used for digital marketing because they can easily be found all over the internet. Be aware that not all of them are free for use!
Images licensed under Creative Commons can be used for free. Attributions are usually heavily recommended (or sometimes required).

Editorial use images can be used for editorial reasons, but they can't be used commercially, such as in print ads or product descriptions.

Public domain indicates images can be used however and by whomever. Attribution is usually not required on these images, but it is appreciated.

Rights-managed images can only be used once per purchase. For example, if you want to use it in both a video and a blog post, you'll need to purchase it twice.

Royalty-free images can be used for any purpose, but they're not allowed to be edited or resold.
Infographics
We already eluded the benefits great infographics can bring, but it's worth pointing out again. Infographics are long-form images that illustrate a concept visually. Users often share these images, giving you backlinks to your website, as you're the originating source. If you have a graphic designer or marketing professional create custom infographics for your company, make sure there's a URL to your website and your business name included below the infographic, so your organization gets the online credit for creating it.
Branded Images or Graphics
Branded images become visual advertisements for your content marketing when you create them with your organization's colors, fonts, and logo. Use branded images on social media, blog posts, and email blasts to help familiarize your audience with your specific branding while adding a visually appealing image that makes your information more likely to get clicked on.
GIFs
GIFs (Graphics Interchange Formats) are fun because they're animated visuals that feature moving parts of images or snapshots from videos, TV shows, or movies. They were invited back in the 1980s but have recently become quite popular with brands vying for their customers' attention on social media and other online venues. 
Using Images in Digital Marketing
There are many different ways you can use images in your digital marketing efforts – and a lot of different types of images you can use. No matter which route you go, your content is more likely to get clicked on, opened, and engaged with if it's accompanied by visually appealing imagery.