How Much Does ERP Software Cost: Ready-Made vs Custom Solutions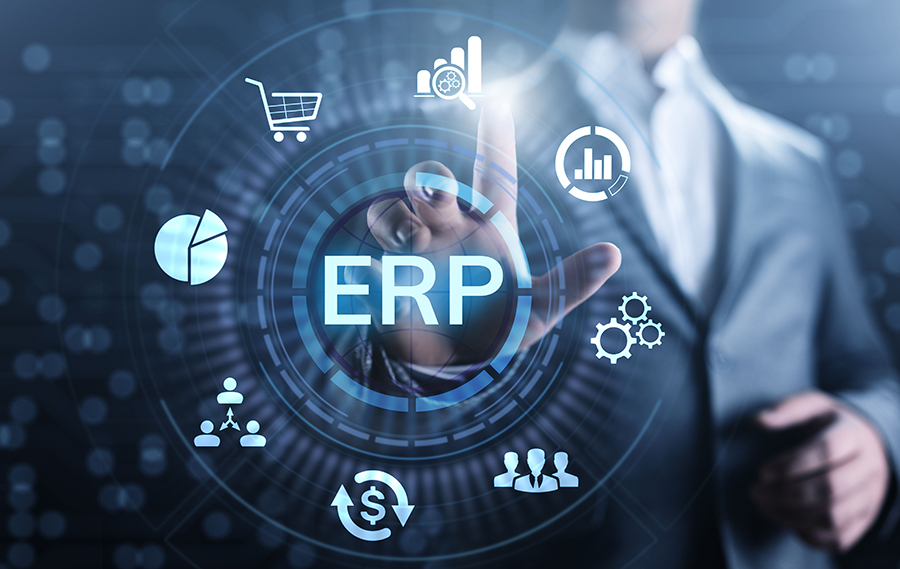 Different companies have varying needs for an Enterprise Resource Planning (ERP) software. With ERP solutions, they can streamline various processes like human resource management, sales, inventory, marketing, finance and resources. ERP is also important to promote communication and transparency between various departments and exchange information more efficiently.
Despite all aforementioned benefits of using an ERP software, not every company can afford it. Not to mention, the cost of an ERP software depends on the requirements of a company, which means that a business owner can go for a cheaper software but he might have to compromise on some functionality.
In this blog, we will be focusing on who needs an ERP software and what are its different types available in the market. By the end, you will have a more precise idea about how much the software is going to cost you and why you need it.
Who Needs an ERP Software?
The requirement for an ERP software cannot be decided by the size of a company. In various scenarios, the software would be more beneficial for a startup than a large-scale business and vice-versa. The following factors will help you decide whether you are in need of an ERP software or are good without it.
1. You Value Business Data
From human resources to sales, all important information can be stored and accessed from an ERP software. The business owner can access this data at will and use it for processes like performance evaluation, resource planning and team management.
2. Organizational Problems Reflect in your Customer Experience
Slow communication, inefficient transfer of files and poor coordination amongst departments slows down the overall workflow of a company. To keep the business on track, it is essential to improve this coordination. ERP software performs various functions to smoothen the intra business discrepancies and ensure business problems have the minimum impact on the customer experience.
3. You Want to Reduce the Overhead Costs
Centralizing and integrating various functions on a single software reduces the overhead costs. Different software requires a different and long overboarding process, some might even be really expensive. By using ERP software, you can keep all your employees on the same pace and reduce overhead training costs.
4. You Want to Eliminate Human Error
Manual execution of important processes like inventory tracking and preparing purchase orders leaves scope for human error, which is often only detected after the damage has been done. When automated with an ERP software, the chances for human error decrease significantly.
Different Types of ERP Software
If you fall under the category who finds itself requiring an ERP software, you'd also like to know which ERP serves your purpose the best. While the ERP software types that we are going to discuss below do differ in price and deployment time, they both have their specific benefits:
Readymade ERP Software
Readymade ERP software is the off-the-shelf software that comes with all essential features. Some ready-made software are also customizable, however, their scope of customization often depends on the terms and conditions of the vendor. They are more recommended to the entrepreneurs who require minimum to no customizations. A strong downside to ready-made ERP software is that they may fail to resolve your certain problems.
Pros of Readymade ERP Software
Fastest to deployment
Come with all necessary features
Available as both one-time software and SaaS
Save time on planning and development
Come with proper guides and documentation
Software updates are available in future
Available at a fixed price
Cons of Readymade ERP Software
Are developed to meet the general requirements of all entrepreneur
Less scope of customization
Can be only integrated with selected third party software
Can fail to meet resolve certain problems
Updates can be expensive
Give no competitive advantage to the business. They are an ERP software used by thousands of brands
Custom ERP Software
Custom ERP software is tailored to meet the unique requirements of a business. Sometimes, the custom ERP solution is developed from a minimum viable product (MVP) or scratch developed. Custom ERP gives business owners the choice to select the technology stack and set of features. The cost of custom ERP software mainly depends on these features and the level of customization you require.
Pros of Custom ERP Software
Tailored as per your business requirements
Made to resolve specific and unique business problems
Basic functions, such as accounting and inventory are enhanced to suit your business
Are more secure than readymade ERP software
On-boarding becomes easy as the business owner is often an active participant of the development
Price depends on the selected set of features
Can be integrated with a wide range of software
Cons of Custom ERP Software
Development requires proper planning and is also time consuming
There are no software updates
Isn't available as SaaS
Help and support options are limited to the software developer
Determining the Cost of ERP Software
Readymade ERP Software Cost Estimation
The cost of readymade solutions is fixed. This means you can easily browse the internet to find a solution that fits under your budget. The average cost of readymade ERP software ranges between $1,000 – $10,000. SaaS readymade solutions are cheaper but as they come with recurrent costs, they are not so cost effective.
Some SaaS ERP providers also charge business owners as per the number of employees. For example, $50 per month per employee. If you have 20 employees, this means your ERP software will cost you $1000 per month. For this reason, readymade solutions are mostly used by small and mid-size businesses.
Custom ERP Software Cost Estimation
The cost for custom ERP development depends on the selected technology and features. This is because difficult programming languages and complex features require expert developers, who cost more to the software development company. However, you can either get a fixed ballwork for the custom ERP solution or pay at hourly rates. The price formula for the later is (hourly rate * number of developers) + taxes.
Via the quotation based pricing, custom ERP solution should cost you around $3,000-15,000. By hourly development, a junior developer will cost you $25-40 per hour, a senior will cost $40-80 and a dedicated project manager will be approx $50-$100 per hour.
Note: The aforementioned figures are fair estimates based on current market rates and the actual development cost may vary.
How to Build a Custom ERP?
There are two methods to build a custom ERP. One is waterfall development and the other is agile development.
In waterfall development, all requirements are gathered before the actual development process and any changes during the development process require the team to begin the entire development process from square one. On the other hand, agile development focuses on iterative development. It includes various development sprints that allow for regathering of requirements and leave scope for mid-development changes.
For ERP development, we advise you to opt for agile methodologies, which resolve the problem of feature selection. The development team can begin the development process with base requirements and add on features at a later stage.
Each sprint of agile development process includes the following stages:
Preparation of the Scope of Work
Scope of work is the initial planning of every sprint. It defines the problem and features required to solve them. The scope of work developed by the development team after gathering requirements from the business owner and thoroughly analysing them.
Planning
The planning stage involves the preparation of the backlog and distribution of responsibilities. The turnaround time for the completion of the first sprint is also decided in this stage. A proper timeline and chart showing every member's workload and bandwidth is made.
Development
In the development stage, the programming of the source code takes place according to the accepted terms. In the first iteration, only the bare minimum features are developed and tested. In later stages, incremental progress takes place till the software becomes fully functional to meet the business owner's requirements.
Testing and QA
Final testing and quality assurance rounds ensure that all bugs and defects that were undetected in the previous testing stages are removed from the software. There can be multiple rounds of testing and QA depending on required changes.
Documentation
The documentation of the software and other handovers are prepared once the end-product is ready for deployment.
Deployment
In the deployment stage, the end-product is finally deployed on the company's server and initial support is provided to help the company keep the software useful.
What are the Key Features of an ERP Software?
Entrepreneurs interested in custom ERP software are required to select a feature set. Below is the list of most demanded features in an ERP software:
Accounting: Accurate and detailed accounting via ERP software provides greater control to companies over their resources. It helps them track expenditure and execute processes like invoicing, general ledger, accounts payable (AP) and accounts receivable (AR). Some ERP software are also integrated with budgeting and forecasting features.
Customer Relationship Management (CRM) – Features like a common contact center, lead management, contact management and campaign management assist in CRM. With ERP software, businesses can also keep a track on order history and send important reminders.
Project Management: Project management features that are common in most ERP software are risk management, project reporting, project budgeting, task allocation, correspondence tracking and design.
Asset Management: Features like asset planning, realization, maintenance scheduling, contracting, GIS location tracking and more help a company monitor their assets' performance.
Supply Chain Management: (SCM): ERP software can also keep tabs on the company's inventory, demands, distributors, suppliers and purchase orders. It can also automate several of these processes for enhanced supply chain management.
Reporting: Employee reporting is required to update the stakeholders of their respective projects. They help in decision making and evaluating work performance.
Manufacturing: Features like sourcing of raw materials, visual planning, production monitoring, workload scheduling, product configuration and quality management assist companies in streamlining their manufacturing process.
Human Resource Management: HR tools and features like attendance, payroll, expense management, policy management, compensation management and timekeeping are also in high-demand in ERPs.
Sales and Marketing: An ERP software can have different marketing modules and integrations. To reach more customers, businesses can also schedule and execute campaigns on ERP software. They can also keep an account of all customers, automate monthly sales reports, send sales invoices, management return requests and track expenses on every lead.
Data Analysis: For business growth, ERP software can convert real-time collected data into actionable insights, such as sales reports, marketing reports, expenses reports, performance reports, comparison reports and more.
How to Choose the Right ERP Company for Your Business?
For getting a quality ERP software, you will need to hire experts who can understand your requirements and execute them efficiently. Without understanding and carrying out strategic development, a company is highly unlikely to meet your expectations or even deliver the software within the turnaround time.
To find an ERP company who can actually develop a reliable software for your company, check out the following points:
1. Search on Critic Websites
Several entrepreneurs do the mistake of finding experts on freelancing marketplaces. Those marketplaces are so easy to enter that inexperienced firms can also portray them as industrial experts. However, if you do want an affordable ERP software development company, then begin your search on websites like Clutch and GoodFirms. These websites regularly evaluate software development companies to save you the job.
2. Discuss your Requirements with the Company
You may like several companies while conducting your search. To sort them out, contact their sales experts one by one and discuss your business requirements. Ask for a ballpark estimate and clear your doubts. If they can provide you with a case study or portfolio, you can evaluate their work quality more efficiently.
3. Compare your Options
After receiving price quotations, you can compare different ERP development companies with each other. Consider their work experience, turnaround times, number of allocated developers and payment options for an objective comparison. Feel free to reach back to a company to ask a question or clear any doubts.
4. Customer Support
Lastly, if you get stuck between two or more companies, review their available customer support options to make a trustworthy decision. Some companies provide free technical support for a limited time of period and also offer omni-channel customer support options. These are the companies you'd want to select for the development of your ERP software.
Conclusion
ERP software has become a backbone powering various functions in hundreds of companies. They help you reduce costs and track resources. If you truly require ERP software for your business, evaluate quality with the price. Otherwise, custom ERP software is always a more reliable option than readymade. With the information provided above, you can confidently opt for custom ERP development.