How Technology revolutionizing the SEO Industry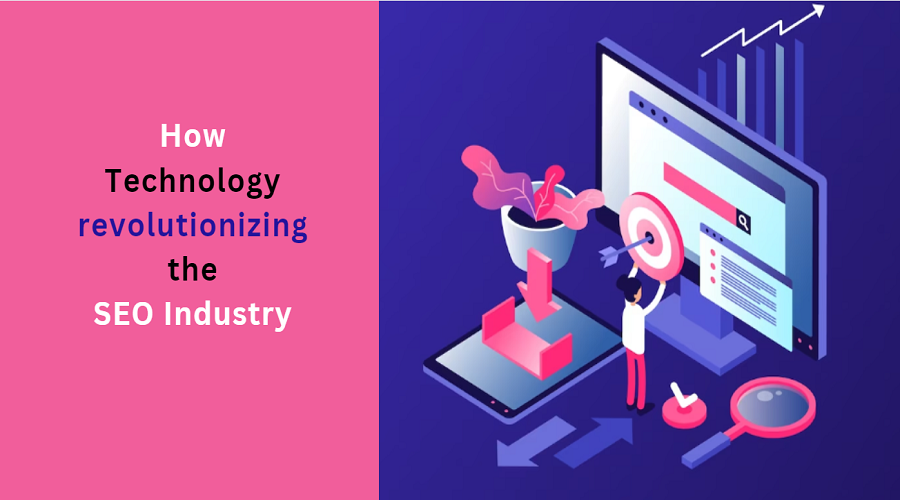 The rise of technology has brought about significant changes to the digital landscape, and the SEO industry is no exception. The advancements in technology have revolutionized the way businesses and organizations approach. Search engine optimization, enabling them to better understand and reach their target audience. Search engine optimization (SEO) has been an essential aspect of digital marketing for several years. With the advancement of technology, the SEO industry is undergoing a revolution that is changing the way websites are optimized.
The SEO industry is undergoing a major transformation with the integration of cutting-edge technologies. The evolution of search engine algorithms, the rise of artificial intelligence, and the increasing use of mobile devices have all led to significant changes in the way that SEO professionals approach their work.
What is SEO?
—————————
Search engine optimization is the process of optimizing a website to rank higher in search engine results pages for specific keywords. SEO is a cost-effective way to reach your target audience and promote your website. SEO drives more organic traffic to a website, increases its visibility, and improves its overall user experience.
SEO works by using various strategies to improve the ranking of a website in search engines. These strategies include keyword research, on-page optimization, backlink building, and more. With millions of websites competing for the same keywords, SEO helps your website stand out and reach your target audience.
Impact of Technology on the SEO Industry
—————————
The Search Engine Optimization (SEO) industry has undergone significant changes as a result of these technological advancements. We will discuss how technology has impacted the SEO industry and how it has reshaped their online marketing efforts.
Paraphrasing tool in SEO Industry
Paraphrasing tool helps SEO experts and content creators to optimize their content for search engines. The tool helps in creating unique and original content that is SEO friendly. When creating SEO optimized content, it's important to have a tool that can rephrase text. It ensures that the content is not seen as duplicated by search engines. Duplicate content is a major issue that can negatively impact search engine rankings. By using a paraphrasing tool, content creators can avoid duplicate content issues and ensure that their content is unique and original.
Paraphrasing tool analyzing existing text and rewording it in a new and unique manner. The tool uses advanced algorithms to rephrase text while maintaining the meaning of the original content. Once the text has been rephrased, it is then checked for plagiarism to ensure that it is 100% unique.
Summarizing tool in SEO Industry
Search engine optimization (SEO) has become an essential part of online marketing and advertising. One of the key aspects of SEO is content creation, and the best ways to create high-quality content is to use a summarizing tool. This tool can help businesses to create content that is both engaging and optimized for search engines.
A summarizing tool is a software application that can take a large body of text and condense it into a brief summary. This tool uses algorithms to analyze the text and identify the most important information, removing any redundant or unnecessary information. The result is a concise and focused summary that can be used for various purposes. It creates high-quality content for a website or provides a quick overview of a complex topic.
Artificial Intelligence and Machine Learning in SEO Industry
Artificial intelligence (AI) and machine learning (ML) have revolutionized the way search engines like Google process and rank websites. These technologies have enabled search engines to better understand the context of a webpage, its relevance to a particular search query, and the user's intent behind the query.
Artificial Intelligence has played a huge role in the SEO industry, providing businesses with innovative ways to improve their  rankings. AI algorithms can now analyze vast amounts of data in real-time, providing businesses with valuable insights into their SEO campaigns. This technology can also automate various SEO tasks, such as keyword research, backlink analysis, and site audit. It frees up valuable time for businesses to focus on other important aspects of their online marketing efforts.
AI and ML in SEO allow for a better user experience. By analyzing user behavior, AI and ML can provide insights into what users are looking for and what they find valuable. This information can then be used to optimize website content and improve the user experience.
Mobile Optimization in SEO
Mobile optimization in SEO refers to the process of optimizing a website for mobile devices. It ensures that the website is easily accessible and usable on smartphones and tablets. It involves making changes to the website's design, structure, and content to improve its mobile experience and enhance its visibility.
It has become essential for businesses to have a mobile-optimized website to cater to the growing number of mobile users. A mobile-friendly website can attract more mobile traffic, leading to increased engagement and conversions. A smooth and seamless mobile experience can lead to higher engagement and lower bounce rates.
Future of SEO
—————————
The SEO industry is constantly evolving, and it's important for businesses to stay up-to-date with the latest developments. With the rise of artificial intelligence, the future of SEO looks to be more focused on delivering a personalized user experience. As technology continues to advance, we can expect to see even more innovations in the SEO industry. Such as the use of virtual and augmented reality, the increased use of voice search, and the rise of visual search.
Wrapping Up
Technology has had a significant impact on the SEO industry and has reshaped the way businesses approach their online marketing efforts. From the rise of AI, mobile optimization, paraphrasing and summarizing tools businesses must stay up to date with the latest technologies. In order to remain competitive in today's digital landscape the paraphrasing and summarizing tools provide cost-effective and time-saving solutions. AI and ML offer increased efficiency, improved accuracy, and a better user experience. Technology is changing the way to approach SEO, and businesses need to adapt these changes to get the best results.