How to Decide Between Display and Native Ads When Promoting Your E-commerce Website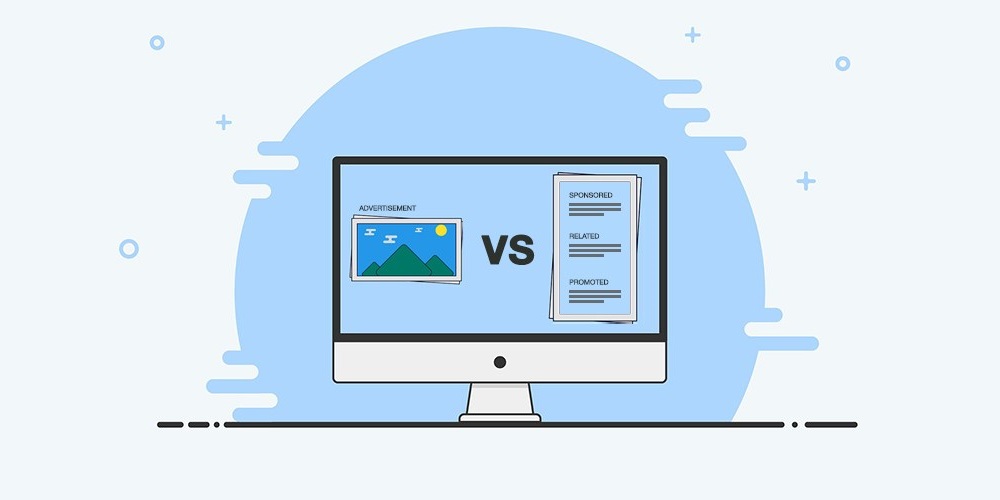 Are you confused about whether to use display ads or native ads to promote your e-commerce website?
You have come to the right place.
Online advertising can be especially beneficial for creating brand awareness. And with the number of mobile users increasing day by day, if you optimize your ads for mobile, your advertising efforts will be more effective.
Statistics have it that by appearing in mobile search ads results, a company's brand awareness can be increased by 46%.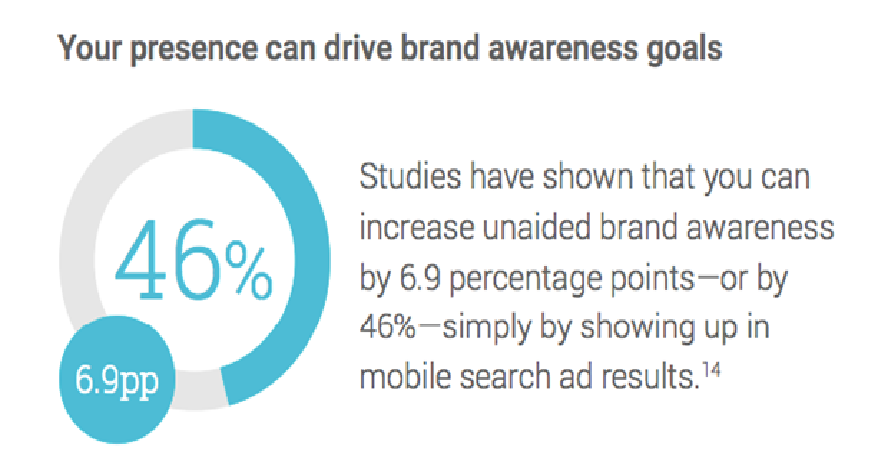 In this article, we will be discussing native ads and display ads, their pros and cons, and when to use them. It will give you a clearer understanding of the two ads and help you decide which one to use to promote your e-commerce website.
What are Display Ads?
Display ads, also known as banner ads are ads that attract and compel the audience of a website, social media platform, or other digital mediums to click-through to a landing page and take a specific action.
Display ads can be text-based, images, or even videos. Most display ads are charged on a cost per click (CPC) basis. It means, every time the user clicks on your ad, you'll have to pay a certain amount based on how you have made your bid.
What's more, display ads come in all sizes.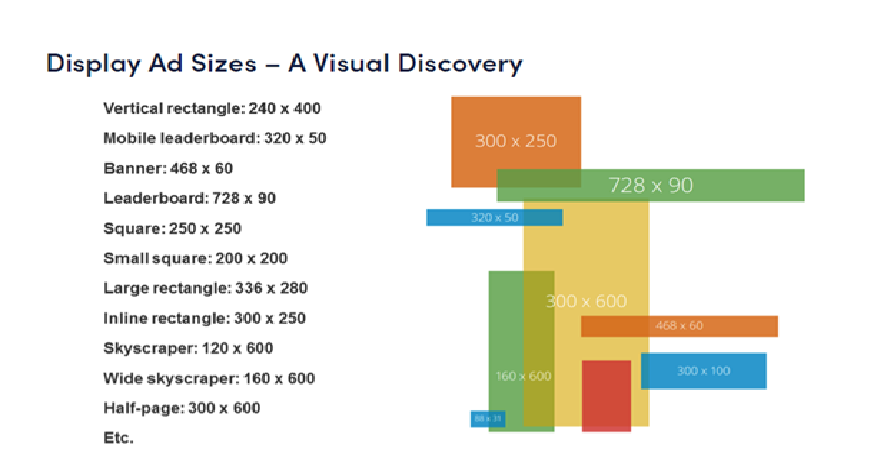 Here's a display ad from Adobe: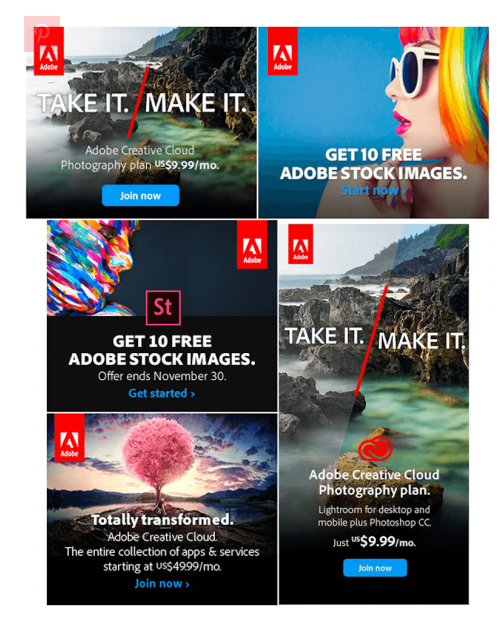 Note that display ads are more effective on the desktop.
What are Native Ads?
Native ads are like paid content that appears in a media and match the look, feels and function of its format. You will find native ads mostly in social media feeds, or on a website page as recommended content.
"Unlike display ads, native ads don't look like ads. Instead, they blend into the editorial flow of the page. Hence, native ads are non-disruptive," explains Devesh Sharma of Design Bombs.
No wonder consumers look at native ads more frequently than display ads.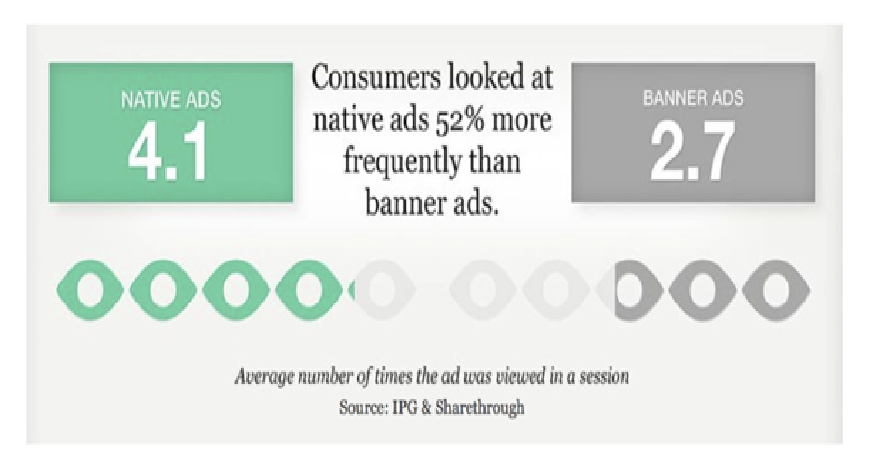 Take this native ad, for instance: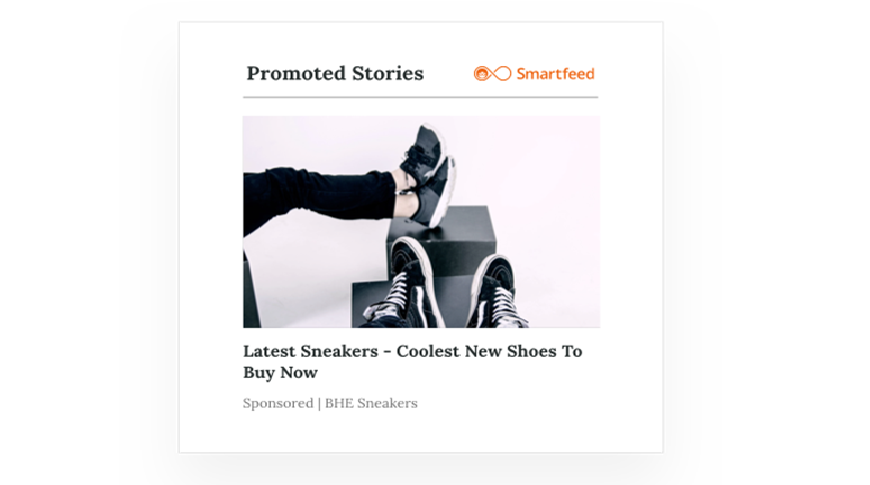 Naturally, the look and feel of Native ads make them more effective on mobile.
Pros of display ads
It is visually appealing – Since display ads are graphic content, you can design and style them. You can use graphics, audio, video, etc., to stand out and attract their attention.
It can create brand awareness – Its visual element can benefit your business by facilitating brand awareness. Very often, display ads are branded and styled with an offer. Thus, users can gather your brand's information by merely seeing your display ad. They don't even have to click on the ad to get the ad's overall look and feel.
It makes targeting and retargeting possible – You can target people most relevant to your business by creating specific parameters for your ads. You can also use it for retargeting by putting your ad in front of customers who have visited your site before.
It provides data – With the data provided by display ads, you can measure your marketing activities right away.
Diversity – Display ads come in varied shapes and sizes and can be presented in different formats. You can pick a style and format depending on your goals.
Measurable – You can measure clicks, impressions, and conversions using Google Ads and Analytics.
Reach – You can access countless sites from your Google Ads account.
Cons of display ads
Lower click-through rate.
Lower conversions.
People usually avoid or block display ads.
Pros of native ads
You can create branded content – As per a study, 2 in 3 GenZ, Millennials and GenX customers trust custom or branded content more than traditional ads.
It can engage the customers – Since the content is created by understanding the audience, they can engage with it more. Plus, when you know how, when, where, and why the content should be placed, it can create an emotional connection with the readers.
It receives higher click-through rates – As per a study, the CTR of native ads is 8.8 times higher.
It is less disruptive – As they are included within the content, they are less disruptive.
Cons of native ads
It is challenging to measure metrics, such as ROI and effectiveness.
It is costly and time-consuming.
It has the potential to be too discrete.
When to use display ads and native ads?
As you can see, both display ads and native ads have their own advantages and disadvantages. To use them should depend on your business goals.
Use display ads for:
Creating brand awareness.
Targeting and retargeting campaigns.
Attracting users to click-through to a landing page and take a specific action.
Use native ads for:
Increasing click-through rates.
Creating brand awareness.
Engaging the audience.
Providing information about your business or services to users.
Driving traffic to your site.
Split test your ads
You can also conduct A/B testing/split testing to see which version of your ad is performing better. Here are some key features you can test and optimize to increase your click-through rates.
Headline: Check the length, tone of voice, and play around with color, font size, contrast, etc.
Image: Consider the background image color, number of images used, and whether you are using products or people.
Call to Action: Test the color of the button, language, contrast, style of the button, etc.
Copy: Are you using long-form or short-form? Does it resonate with the audience?
Landing pages forms: Test the form length, design, and the number of fields.
Wrapping-Up
Many e-commerce businesses use marketing ads to create brand awareness, drive traffic to their website, engage users, target customers, and also for retargeting.
Launching your business on mobile-optimized platforms like Shopify Plus will make your marketing efforts easier. It can easily enable you to reach your audience and promote your products from the platform. Plus, it has high-volume traffic capacity.
Since you now know when to use display ads and native ads, you can choose the right type of ad for your business, depending on your business goals.
Display ads are mainly used for branding and targeting and retargeting customers. Native ads, on the other hand, can be used for shelling out information about your business, increasing click-through rates, and also driving users to your site.