Maximizing the Benefits of Employee Onboarding Software: Tips for Streamlining Your Hiring Process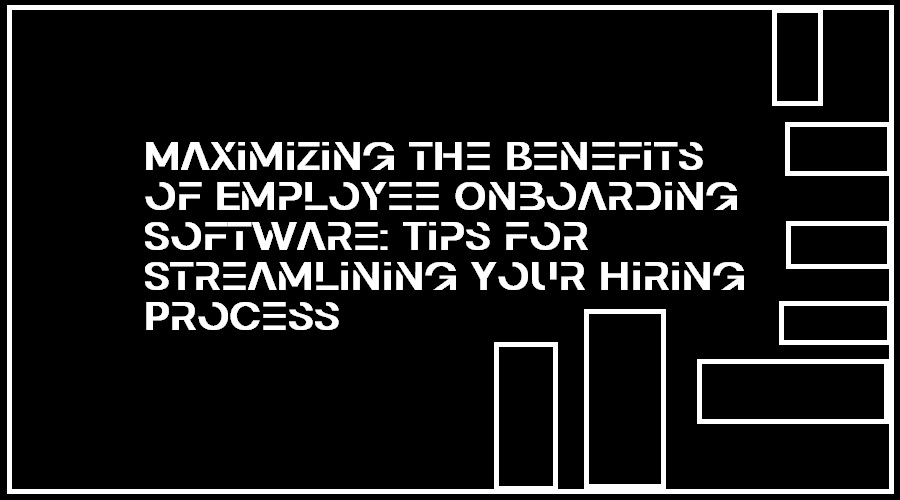 Hiring new employees can be a time-consuming and complex process, especially for HR departments that are managing multiple new hires simultaneously. Employee onboarding software can help streamline the process, from initial candidate selection through to the completion of new hire paperwork and training.
However, simply implementing employee onboarding software is not enough to ensure a successful onboarding process. To fully utilize the software, HR departments need to understand how to optimize its features and capabilities. By doing so, one can ensure that new employees have a positive onboarding experience and are set up for success from day one.
In this article, we will learn about the top hacks to utilize employee onboarding software to its full potential.
Top Tips For Utilizing Employee Onboarding Software
————————————
1. Customize Your Onboarding Process
Onboarding software provides employers with the ability to customize their onboarding process to meet the unique needs of their organization. Take the time to evaluate your current onboarding process and identify areas where automation could help improve efficiency. This may include automating the collection of new employee information, scheduling training sessions, or sending reminders to new hires about required paperwork.
2. Make It Mobile-Friendly
With more employees working remotely, it's important to make sure that your employee onboarding software is mobile-friendly. This means that new employees can access and complete required forms and training sessions from their smartphones or tablets. Mobile-friendly software also allows employees to access important information about their job duties and company policies at any time, from anywhere.
3. Use Video To Enhance Your Onboarding Process
Video can be a powerful tool for enhancing your onboarding process. By creating short videos that provide an overview of your company culture, mission, and values, you can help new employees feel more connected to the organization. Video can also be used to provide training on specific tasks, making it easier for new employees to learn and retain information.
4. Automate The Collection Of Required Documents
Collecting and processing required documents can be time-consuming for HR departments. Employee onboarding software can automate this process by allowing new employees to upload required documents, such as their W-4 or I-9 forms, directly into the system. This eliminates the need for HR staff to manually process and file paperwork, freeing up their time for more strategic tasks.
5. Create A Checklist Of Onboarding Tasks
Creating a checklist of onboarding tasks can help ensure that nothing falls through the cracks during the onboarding process. Onboarding software can automate the creation of these checklists, ensuring that new employees receive reminders about required tasks and deadlines. This can include everything from completing the required forms to attending orientation sessions.
6. Provide Personalized Welcome Messages
One of the benefits of employee onboarding software is the ability to provide personalized welcome messages to new employees. This can help new hires feel more connected to the organization and can help establish a positive first impression. These messages can be automated, ensuring that new hires receive a warm welcome even if HR staff are busy with other tasks.
7. Virtual Onboarding
Virtual onboarding has become increasingly popular in recent years, especially with the rise of remote work. When utilizing employee onboarding software, virtual onboarding can be a highly effective way to streamline the process and ensure a positive experience for new hires. Since virtual onboarding relies heavily on communication, it's important to invest in reliable and user-friendly video conferencing software.
8. Provide Feedback Loops For Continuous Improvement
Feedback loops allow for ongoing improvement of the onboarding process. Onboarding software can be used to collect feedback from new hires and HR staff about their experience with the onboarding process. This feedback can then be used to identify areas for improvement and make changes to the process as needed.
9. Evaluate The Success Of Your Onboarding Process
It's important to regularly evaluate the success of your onboarding process. Onboarding software can provide HR departments with valuable data about the onboarding process, including completion rates and time-to-productivity metrics. Use this data to identify areas where the employee onboarding process can be improved and to make adjustments as needed.
10. Provide a self-service portal
Finally, employee onboarding software can be used to create a self-service portal where new hires can access information and resources related to their onboarding process. It might include company policies and training materials, as well as information about the company culture and values. This can be a valuable resource for new hires, as it can help them transition into their new roles more smoothly. Additionally, it can help reduce the amount of time and effort that HR staff needs to spend on onboarding new employees.
Advanced Techniques That Can Be Used:
————————————
Virtual onboarding offers multiple benefits. Several advanced techniques can be used with employee onboarding software to optimize the process further. One such technique is using machine learning algorithms to personalize the onboarding experience for each employee based on their role, department, and learning style. This can help increase engagement and retention rates by tailoring the onboarding experience to each individual's needs.
Another advanced technique is using data analytics to track the effectiveness of the onboarding process and identify areas for improvement. This can include analyzing completion rates for training modules, measuring employee engagement and satisfaction levels, and collecting feedback from new hires. The insights gained from this analysis can help refine the onboarding process and make it more effective over time.
Finally, incorporating gamification elements into the onboarding process can also be an advanced technique. Gamification can help increase engagement and motivation levels by turning the onboarding process into a game-like experience, with rewards and recognition for completing tasks and milestones. This can also help create a positive company culture and increase employee retention rates.
Key Takeaways
Implementing employee onboarding software can be a game-changer for organizations looking to streamline their hiring process and maximize the benefits of their human resources investments. Use these tips to implement a successful employee onboarding strategy. Start with employee onboarding software that enables social collaboration, mistake-driven learning, and real-world application. By making onboarding a priority, organizations can set themselves up for long-term success and build a strong foundation for their workforce.