Why All Digital Marketers Should Pay Attention to CRM?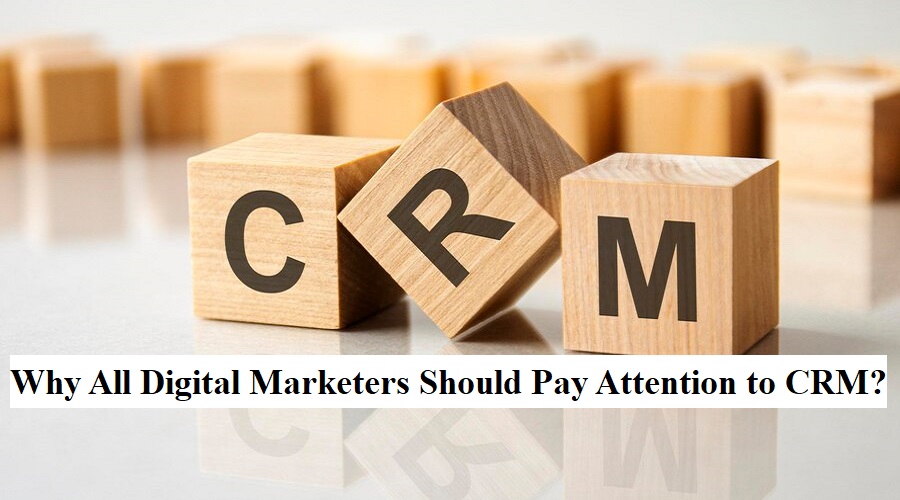 Customer relationship management software can help you to offer customers an exceptional experience. It also helps to build better relationships.
CRM is a term that you may not be familiar with. CRM stands for customer relationship management and is essential for any online marketing strategy. CRM is the foundation of digital marketing. It's used to promote and sell products or services. Learn more about CRM and why it is so important!
A combination of apps allows customer relationship management to be done. These apps allow users to manage client and customer databases, lead generation, customer satisfaction levels, etc.
CRM software keeps customer records, tracks correlations between sales and marketing volumes, improves follow-up on leads and connects sales staff members with clients or customers.
CRM also keeps the sales team informed about client details and leads. It allows them to exchange information between themselves. CRM monitors user satisfaction and allows users to increase it organically without too much effort. It builds brand reputation and creates happy customers.
All CRM types aim to cover all aspects of the interaction between customers and businesses.
They can help you manage customer data and then tailor your marketing campaigns. It is an important asset, as not all leads will follow the same conversion process. CRM systems store huge amounts of data from buyer trends to demographics that will prove invaluable for any marketing team.
It is important to remember that specialised CRM systems have. Although most CRM systems share the same core functionality, specialised CRM can use to enhance your digital marketing strategies in distinct ways.
How can CRM improve the digital marketing Plan of action?
You might have already seen the benefits of CRM solutions for marketing. CRM is an important part of any digital marketing strategy, regardless of industry. Any customer-based business, from retail to moving companies, can reap the benefits of CRM.
Here are the main reasons CRM is so important for digital marketing campaigns
These are the top uses of CRM for digital marketing.
–

Collecting User Data
You can use customer relationship management tools to get to know your audience and gather information about them. It includes their first and last names, purchase dates, locations and email addresses.
This information will make your digital marketing more targeted and personal. We will talk more about CRM benefits in the next section. CRM allows you to target ads and personalise interactions with your audience.
–

Digital Marketing Campaign Personalization
Personalising your marketing campaign can be done after identifying your target audience.
You can advertise your company perfectly by knowing the preferences of your target demographics.
Broad marketing campaigns don't work and are no longer effective. Personalisation is the key to successful advertising of your business online. CRM will be your best friend when it comes to perfecting this aspect.
– Connecting with Your Target Audience
Knowledge is power. Once you have that power, you must use it. You can interact with your audience one-on-one, using any medium you choose, but it is best to cover all bases.
It refers to whether you will engage with users via email marketing or social media ads on Facebook, Instagram, YouTube, etc.
Although these digital marketing tools are highly effective, if combined, they almost guarantee success. Your company name being visible online greatly increases your chances of products and services becoming popular.
Your sales will increase once you are popular. However, that does not mean your campaign is over. CRM is still useful, but you must keep your audience happy and engaged.
–

Enhancing User Satisfaction
It can be not easy to build a following. CRM can help by delivering a highly customised and engaging digital marketing campaign. People have short attention spans and care deeply about customer service.
You will lose the lucrative hashtag if your service isn't good enough or if you reduce the number of emails, blog posts and targeted ads.
CRM can monitor user satisfaction and keep a detailed customer list. You can improve customer service by having a clear view of customer satisfaction.
Customer service improvement includes customer representative training, building and enabling bots that answer customers' questions automatically and without hassle, and offering coupons and other promotions to your customers.
–

Improve Your Return on Investment (ROI).
Every business should invest in digital marketing. But, it is not something that business owners like to do. You can use CRM to get better lead analytics and adjust your marketing campaign. It will allow you to spend less on marketing while still making it more efficient.
CRM analytics can be extremely powerful. CRM will save you money and increase your user base using the earlier methods and uses.
–

Increase User Engagement
It is important to understand how to keep your user's attention after being given it. Orlando Sentinel has confirmed that modern people have an eight-second attention span. So how do you keep them engaged? You can go back to personalisation, the previous step. We don't want to be repetitive. However, you will see that CRM has many interconnected benefits, so these tools are so powerful.
Knowing your audience (e.g., millennial moms) will help you determine the best advertising strategies and communicate with them. You can expect them to read more blogs and spend more time on social media than they do reading emails.
Did you know that millennial moms account for 85% of household purchases and have a $2.4 trillion purchasing power? Many other groups are big spenders, so you don't need to be focused on this. However, knowing your customers and how they use the internet can make your business more profitable. CRM will help you deduct that.
–

CRM can help you improve your marketing
Don't waste your time and money on tools that don't deliver results. The most efficient, central foundation for digital marketing, CRM, is the best.
It will have many benefits at once. CRM will help you get more leads, personalise your messages, increase engagement, improve user satisfaction, and connect with your audience.
Last Words
CRM tools allow marketers to gain a better understanding of customers. It is impossible to assess the true value of something so useful.