What Are The Seven Different Types Of Digital Marketing?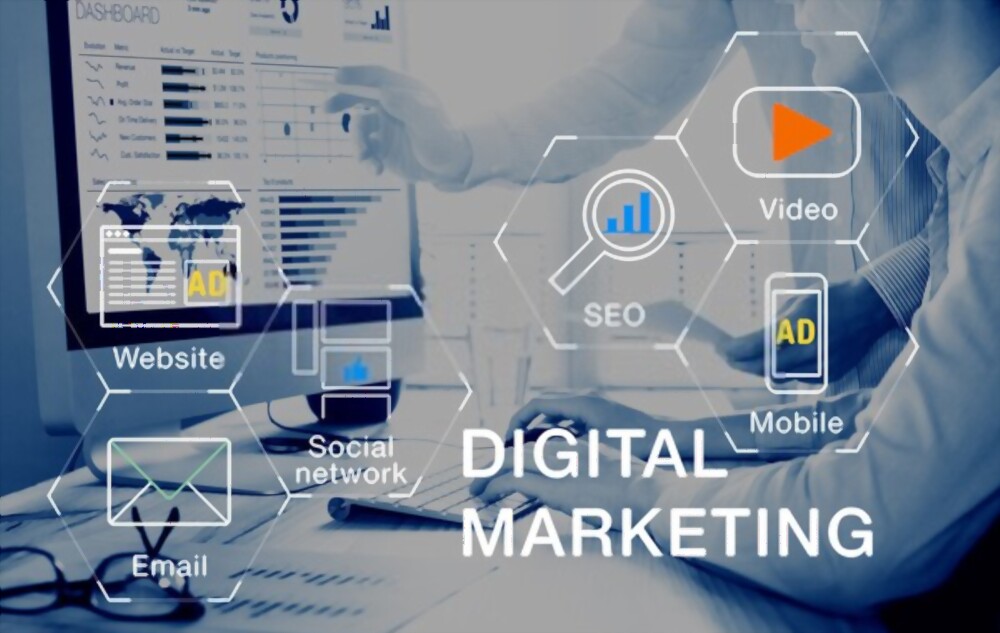 Digital marketing has evolved into a critical component of organisations' entire marketing strategy during the last decade. It enables businesses to target specific audiences with personalised messaging, allowing them to promote directly to those who are probably attracted to their product. Digital marketing is a broad term that refers to a multitude of marketing strategies and techniques used to connect with customers online.
The Different Types Of Digital Marketing
1. Optimisation for Search Engines (SEO)
Search engine optimisation aims to improve a business's ranking in Google search results, hence boosting search engine traffic to the business's website. To do this, SEO marketers research the keywords and phrases people use to find information online and incorporate them into their content.
Thus, what are some factors that might help a website's SEO? It's critical to note that one of the factors that contribute to the difficulty of SEO is that the response to this query is always contingent on Google and its most recent algorithm.
Keeping this in mind, the following are some of the most critical concepts for SEO planners and marketers, in general, to grasp on how SEO works:
Indexing content – It is critical to make it easy for search engines to "read" your site's content by including alt text for pictures and text transcripts for visual and audio material.
Great link structure — It is critical for search engines to "crawl" your site structure to locate all of the material on your site readily. An SEO professional may perform a variety of things to arrange links, URLs correctly, and sitemaps to make them the most accessible to site crawlers.
Keywords and targeted keywords – Proper keyword placement – that is, the search phrases for which you want your site to be discovered – in your text and headers is a fundamental building block of SEO. The approach of "stuffing" your content with as many words and keywords variations as possible is no longer acceptable.
2. Pay-per-Click (PPC)
Pay-per-click advertising and sponsored search engine results are examples of pay-per-click advertising. This is a short-term kind of digital marketing, which means that if you stop paying, the advertisement ceases to exist. As with SEO, PPC is a technique for increasing a business's internet search traffic.
Pay-per-click advertising can refer to the commercials that appear at the top and sides of a page of search results, the adverts that appear when surfing the web, the advertisements that appear before YouTube videos, and the ads that appear in mobile applications.
Another way that pay-per-click differs from SEO is that you can only invest for results. You will only be charged when someone clicks on your advertisement and visits your website in an average pay-per-click strategy, such as a Google AdWords campaign.
Pay-per-click advertising allows you to spend virtually any amount of money. While some businesses may see benefits with just a few hundred bucks, many significant businesses expend tens of thousands of dollars every month on pay-per-click advertising.
The cost of running an advertisement or promoting your search results is mainly determined by the level of competition for your keywords. High competition keywords (those with a high volume of searches and many websites are vying for visibility) will be more expensive. In contrast, low competition phrases will likely cost less.
When creating a pay-per-click campaign, you can specify whether you want your advertisement or promoted results to be visible to people worldwide or only inside a specific geographic region
According to Google, if you're selling a brick-and-mortar business, this ability to target users based on their location helps you avoid wasting advertising dollars by delivering advertisements to people who don't reside anywhere near your shop.
3. Social Media Marketing
This encompasses all activities conducted by a business on social media networks. While almost everyone is acquainted with social media, marketers must tackle it strategically and holistically. Social media marketing is much more than merely posting to social media sites and reacting to comments.
To be efficient, efforts must be well-coordinated and consistent, not haphazard. There are several online tools available to assist marketers in automating and organising social media postings. Still, marketers should view automation as a tool, not a "set it and forget it" solution. Users will easily discern whether or not there is an actual individual behind the posts.
In other words, social media marketing is far more involved than maintaining a personal Facebook or Twitter presence. It needs both creative thinking and analytical, data-driven planning, and maybe an excellent fit for individuals who like combining these two disciplines.
4. Content Marketing
To boost brand exposure, content marketing employs narrative and information sharing. The ultimate aim is for the reader to become a client, such as seeking further information, subscribing to an email list, or completing a purchase. "Content" can refer to blog entries, downloadable materials such as white papers and e-books, digital videos, and podcasts, among other things.
In general, it should prioritise providing value to the consumer over advertising the brand or closing a transaction. Content marketing is about developing a long-term, trustworthy connection with your clients that can result in several sales over time, not just one.
5. Email Marketing
Despite the rise of social media, mobile applications, and other channels, email remains one of the most successful marketing tactics. It may be included in a content marketing plan to provide value to consumers and eventually convert them to customers.
Not only do email marketing professionals understand how to build attractive messages, but they also comprehend optimal audience outreach and are adept at assessing consumer interactions and data and making data-driven strategic choices.
6. Mobile Marketing
This sort of digital marketing is geared toward reaching out to your target demographic via smartphone or tablet. Mobile marketing uses text messaging, social media, websites, email, and mobile applications to contact consumers. Marketers can target certain offers or information based on a consumer's regional location or time of day, such as when the customer visits a store or attends an event.
7. Analytical Marketing
One of the primary benefits of digital marketing is its high degree of trackability and measurement. Coupons and similar direct mail offerings were once the sole trackable marketing materials. If the consumer redeemed the coupon, you knew the message had been received.
Today's analytics tools enable marketers to monitor user activity at a granular level: how many times they click on a link, how long they stay on a web page, how frequently they read emails, and so on. However, the massive data accessible on digital marketing effectiveness can feel like sipping from a fire hose. Marketers must genuinely grasp what the data implies and how it can guide strategy.
Having precise statistics and the ability to comprehend them enables marketers to "fail fast," swiftly eliminating ineffective efforts and focusing on concepts with a proven track record of success. Over time, analytics will not just be used to measure your actions; they will also be used to guide and enhance your campaigns.
8. Digital Marketing Skills
By implementing marketing techniques in the internet environment, digital marketers assist the larger marketing team and the company's strategic goals.
Because digital marketing is a fast-evolving field, businesses must keep current on new and developing methods. There are several ways in which companies do this, some of which fall under the purview of digital marketers and others that fall under the purview of other departments.