What Technology Do You Need to Build a Travel App?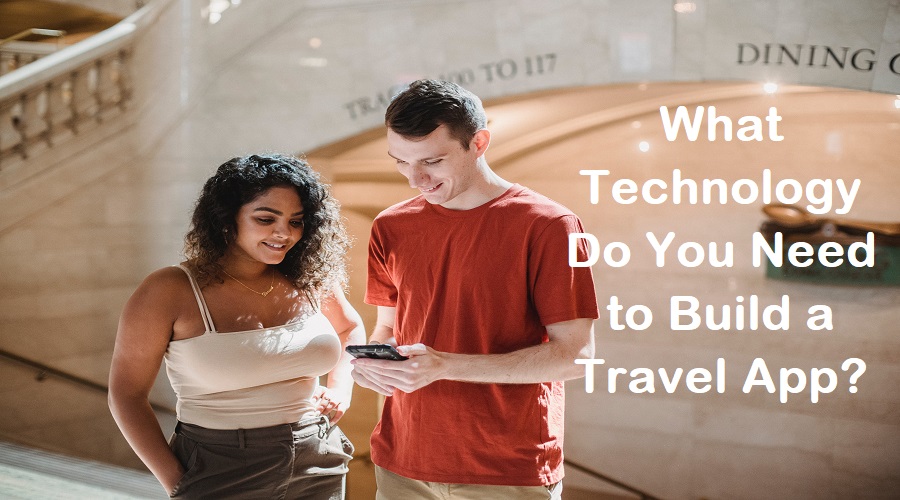 Technology has evolved a lot from what it was even ten years ago. With the advancement in technology, traveling has become a lifestyle for many people rather than just being a hobby. Traveling does not only mean a vacation for many people; some have even taken this hobby into a full-time profession. This is why we have been seeing a boom in professions like travel blogging. Not only that, but many people also travel for business. Since traveling has been becoming easier by the day, the number of travelers is also increasing.
Along with the boom in the number of travelers, the travel industry is also growing at a rapid pace. It is also becoming one of the most competitive industries in the world with more and more people entering the industry. Modern-day travelers have one thing in common- they all are tech-savvy and are immensely dependent on smartphones. Modern-day travelers search everything online whether it is their transport or accommodation. They don't want to change that while traveling. So you need to hire the best travel app development company to build an app that's faster and more convenient for the users.
Here is a statistic of how many people use mobile apps while traveling. This data will help you develop your own user-friendly travel app.
What Are the Most Essential Features a Travel App Needs?
—————————————–
The traveling industry is one of the most crowded industries and there are hundreds of applications that cater to a similar and sometimes even the same audience as yours. So what does your app need to compete and survive in the market, and become an audience favorite? This is why you need to find the best travel app developers in the market who will help you build a faster, smarter and more user-friendly travel app.
Travel Planner And Itinerary Generator
Are you willing to travel on your own? Planning everything on your own can be quite a clumsy business and sometimes even difficult. You need to do all the planning and buy all the services from different places. So you need to be aware of the places where you may find the services. On the flip side, you can seek help from a travel agency.
In modern times, the number of travelers who want to arrange their trips on their own and independently has been increasing by the day. So the use of itinerary generators has been increasing. These are one of the most used apps for traveling, especially for planning a trip. How do these apps work? Usually, the users mention the location of their visit and the app automatically arranges the travel plan accordingly. The traveler gets suggestions about the things they might want to see. They even get suggestions about the activities that are available there.
Travelers usually use Google Trips, Roadtrippers, TripCase, etc. You need to find the best mobile app development services if you want to make such an app.
App For Booking Service
For travelers who want to travel independently without consulting a travel agency for their travel plans, always search for apps that provide booking services. These apps are immensely time-saving in nature and also end up saving a lot of money for the users. Booking service apps are usually used to book tickets and accommodation. These apps let the user find the best possible deals and have a mix of tickets and hotel rooms. If you add a loyalty program to your app, you can not only keep the existing users but also attract new customers, which will be profitable for you in the long run.
There are dedicated apps for booking flights and accommodations as well. These apps are also doing very well in the competitive environment and some of them are the big players in the market. However, for a hassle-free experience, your user may want an app that can book tickets as well as accommodations. Finding the best travel app development company will definitely give you the best results in developing such an app. You can include notifications when there are price changes or some hot deals that are not long-lasting.
A Navigation App
The tourists need to feel comfortable and understand their location when they arrive at a new place. They need to reach their hotel or restaurant or wherever they want to be. In these scenarios, navigation apps save the day. Data shows that 85% of the tourists use navigation apps to adjust to a new area. You can also develop such navigation apps to guide tourists to their destinations.
One of the most important aspects is the working of such navigation apps offline. The data should get downloaded and users must be able to use the navigation app without WiFi or cellular data. Building such apps requires the best travel app developers in the industry.
Social Media App Dedicated To Travelers
Data shows that 72% of leisure travelers publish their vacation photos and videos on social media platforms. A majority of tourists also share their travel stories and experiences on social media platforms like Facebook and Instagram. Real-time sharing has increased because social media has become active nowadays.
You can add the feature of sharing vacation details with friends and other travelers in real-time. This will help the users make a community of their own and in turn work as a promotion of your mobile app. If your app has a social media login feature, it will reduce the registration time. Also, this will give you access to your user's personal data. The algorithm can then suggest perfect tour suggestions.
Currency Converters Are Often Useful
Tourists when traveling to a foreign nation require exchanging currencies. For this, they are required to know the exact value of the currencies. Therefore, knowing the current exchange rate becomes really important for them. An app that prompts the currency exchange rate to the user is a big relief for travelers. It saves a lot of time and they get to know the exact currency rates. Also, having a currency converter on their smartphone can help them shop easily and know if they are overspending abroad.
A Translator App
When traveling abroad, tourists usually don't speak the tongue of the country they are traveling to. Therefore, they are also likely to face some inconveniences. Travelers often face language barriers when they are traveling abroad. In these circumstances, tourists are often found trying to communicate with foreigners in a broken manner.
You can come to the rescue of the travelers. You can choose the best travel app development company and integrate a built-in translator into your app.
A Weather Forecast App
One of the most important aspects of traveling is knowing about the weather and climate of your destination. Different parts of the world have different climates. Many tourists when traveling forget to check the weather and climate of the places they are traveling to. Often times they seem unprepared for things totally uncalled for. So an unplanned journey often costs the tourists a good time.
You can integrate a feature that will show the weather in real-time. So the travelers will know about the weather well in advance and can plan accordingly. Keeping features like temperature, wind speed, and other important factors will help the users plan their trip well. Choosing the best mobile app development services can help you develop such a strong app.
Review And Recommendations Are Important
There are many travelers who don't prefer spontaneous travel. After all, not everyone is an explorer. Some people like to plan well in advance and then start traveling. You have to keep this section of the community in mind as well when developing the app from the best travel app development company.
Adding a review and recommendation feature can be profitable to the travelers as well as the properties. The properties and businesses can receive instant feedback and adjust and improve their services accordingly. Travelers on the other hand can read these reviews and can find the best hotel, restaurant, or any place they want to visit. A place with a good review and recommendation is likely to draw more crowds than one with no review.
The Final Thought
Creating a travel app is a gigantic idea and requires some serious work on the front. However, the first step is always understanding your customer's needs and then shaping your app accordingly. The travel industry believes in customer comfort and it is your duty as a brand to hire the best travel app developers and build an app that is customer-friendly and can serve them well. It has to be easy to use and smart. Several features should be able to make the app appealing to the users and that is one factor in how you will succeed.
The next step is to research your competitors and know what they are doing. Also, know their monetization strategy. Finally, choose your web development team. An experienced team is definitely required, and so is a team that believes in your project.