No Code Development: An Affordable Way to Build Mobile Apps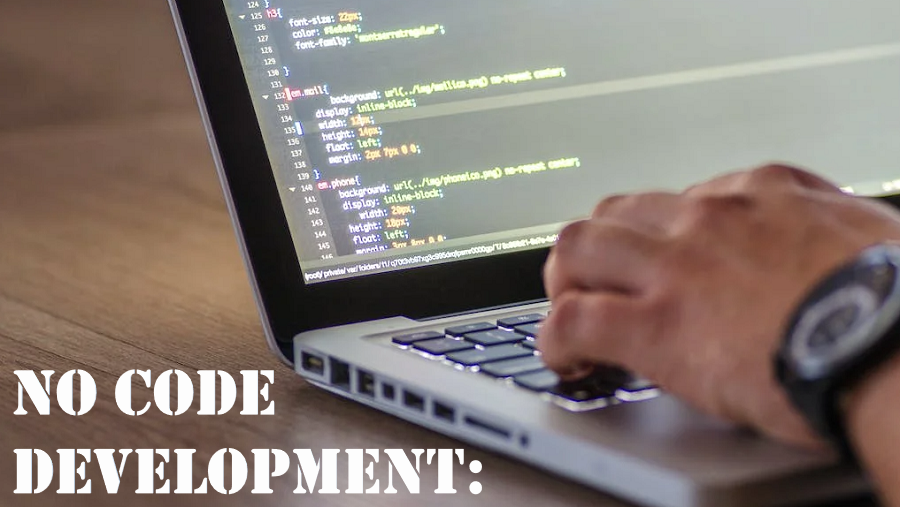 No-code development is one of the most popular buzzwords in the technology world. No-code platforms are rising in popularity and new use cases for no-code development keep popping up every day. With that said, there's still plenty of confusion about no-code development especially for people who are new to the concept. Some of you might be evaluating a particular no-code platform; others might be comparing no-code development with other software development options. Whatever your question might be, you've come to the right place! Our guide will take a deep dive into what no-code development is, how it works, what advantages it offers, and examples of when it can be beneficial.
What is no code development?
————————————
With no-code development, you can build software without the hassle of coding. No-code solutions make it faster and easier to develop applications. With no code involved, you don't have to hire programmers or outsource your project. You can download one of our no-code solutions and create an app with little know-how. This is usually used for mobile app development, web app development, website builders and business process management systems among others.
How does no code development work?
————————————
No-code platforms allow for rapid application development and remove the need for any coding experience. The entire process uses visual building blocks that are easy to understand and use, and graphical user interfaces that provide clear prompts from your screen. For example, let's say you want to add videos to your app. You can install the Youtube or Vimeo plugin, and start adding videos from those services. If you want to give users directions to your business, you can use a maps plugin.
Benefits of no-code development platforms
————————————
There are many significant benefits of a no-code platform to traditional development. Take a closer look at the main benefits of no-code development platforms that you need to know about.
It simplifies app development 
————————————
Traditional app development can be complicated and time-consuming. It requires a lot of coding skills and redundant tasks for just one app. But now, developers can bypass all the traditional steps to create great mobile apps without code.
Most magento 2 mobile app builder share the same backend functionality with slight variations in features. No-code tools have all those backend components prebuilt. You just have to choose which elements you want the app to have, and then customize everything else based on how your app should look or feel.
Anyone can use a no-code development platform
————————————
With no-code software, you don't need to understand how to code to develop a successful app. This opens up the doors to citizen development and allows DIY entrepreneurs an easier path to launch. No-code software makes the gap between non-technical users and software development seem less daunting.
You don't need any coding skills or technical knowledge to get started- everything is straightforward. In the future, you may need developers and designers to build your app for you. But for now, you can use templates and customize them to your liking. All of the heavy liftings is done for you so that it's a breeze to get started!
These platforms are affordable
————————————
No-code app development is a much cheaper alternative to traditional app development. You don't need to hire developers or an agency to create your software; no code development platforms are affordable for any budget. Simply pay a few hundred dollars per month and you can build a high-quality app that looks incredible, with no one being able to tell the difference from something that was created using traditional methods.
It speeds up the app development process
————————————
Our no-code development platform increases your speed to launch by months or years. That's because all of the core components are built for you. You're just deciding what you want to include and then customizing the app with your content and branding.
For example, let's say you are a gym owner who wants to create a mobile app for personal training subscriptions. You need high-quality content but without backend development knowledge. That's where we come in! We will help you get started with the development process and take care of all the dirty work. All you have to do is upload your videos and training programs, and decide which level subscribers have access to, at that point, they'll be able to pay using their credit cards instantly.
Who is no code development for?
————————————
No-code development is a successful and popular software development method. While this approach has its positives and negatives, many people can benefit from it. We're going to take a look at the different types of people who will find no-code platforms to be the best fit for their needs.
Small Businesses 
————————————
Modernizing your small business is easy with no-code platforms. We're living in a world where mobile tech rules, and consumers expect all types of businesses to have an app even a small one. No-code platforms offer an easy, cost-effective alternative to anyone who falls into this category. For just a few hundred dollars per month, small businesses can have apps that compete.
Citizen developers 
————————————
The number of citizen developers is at an all-time high, and it's not slowing down anytime soon. These are internal applications that are used by businesses for business processes, similar functions, and more. Historically, these apps require a specialized IT department or skilled coding knowledge. But now, any mid-sized company can empower its employees to create the app without having to code from scratch. It's a cost-effective solution for businesses and an easier development method for citizen developers.
Enterprise-grade applications
————————————
No-code and low-code app builders can also be used by larger organizations that want to create enterprise-grade applications. Though you may not sign up for the same type of subscription as a small business, you can still get advanced features from a no-code app builder without having to code everything from scratch. For example, large companies might want domain-restricted login access, custom terms and conditions, or SSO (single sign-on) capabilities. They might also want advanced analytics relating to app performance and users. Some may even require industry-specific compliance features or advanced integrations. All of this can be accomplished through a no-code tool.
Entrepreneurs
————————————
A no-code platform allows you to build your app without the need for developers or investors. You can do all this with a no-code platform that's tailored to your needs and with little to no support needed. This is an excellent opportunity for people who already have a brand identity or online presence. For instance, if you're famous on social media, you could use your mobile app to share exclusive content with your followers. By charging a subscription fee, you have a chance to grow your reach and create more loyal followers.
Professional Developers 
————————————
Professionals with development skills can use no-code platforms to simplify their work. Rather than coding every line of redundant code, you can leverage the power of a platform builder. If you find a no-code platform that is also developer friendly, you can create custom functionality that cannot be found on the plugin marketplace.
Agencies and Resellers
————————————
The best way to make money by creating apps is to do it without code, no matter what your level of app development skills. There are two main ways to go about this. Option one is that you provide app development services for clients who require them. This is a great way for established agencies or those looking to start an app business from the ground up to build their offerings and generate more revenue. If you opt not to develop the apps yourself, you can use no-code software to create the products and manage them post-launch.
Difference between no code and low code platform
————————————
If you're an experienced developer, then low-code development platforms are a great option. These platforms allow you to build apps without any code. They save time by eliminating the need to build everything from scratch. That's because most low-code platforms come with a pre-built architecture and backend development infrastructure that's ready for use right away. All you have to do is enable or disable those features before you start building customizations.
No-code platforms are designed to be easy and intuitive, so they don't require any technical skills or training. They bridge the gap between software development and the average user. Most no-code platforms operate on closed systems, which is a significant downside if you're looking for complete control over your code. Low-code platforms are open source, meaning you can use code from other projects to save time.
Summing it up
When you're developing an app, you'll want a tool that is going to be easy to use and not take too much time. With no-code development, anyone can create an app without any technical skills or coding knowledge required. Not only will this make it easy for you to get your app out there quickly, but using a no-code tool can save time and resources in the long run. The above mentioned are most sufficient information that you need to know about no code development.