Why DeFi Software Development Using Clone Scripts Are Becoming So Popular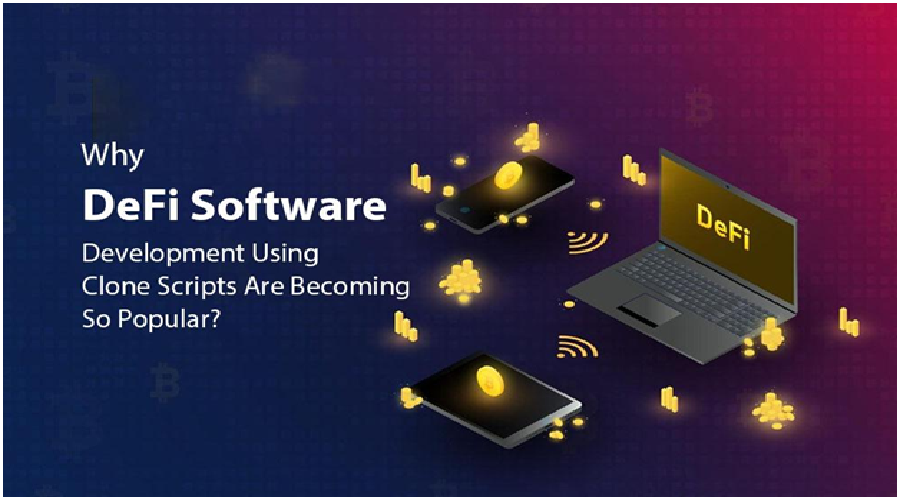 Hi, It's really fantastic when technologies get to evolve and new things are coming the way and making people's lives too good.
Isn't it?
That's how Blockchain technology brought a huge revolution to the world with digital currency and transactions. The DeFi software development motivated budding entrepreneurs to start new businesses in the industry.
And, the topic we're going to discuss is now also related to it.
Yes, it's about DeFi software development & business — The DeFi Software development using Clone Scripts.
So, we can see why it is so popular, what the benefits are, and how you can utilize a DeFi software clone script resource for your blockchain business.
If you're an entrepreneur, looking for a blockchain business establishment then this blog is very useful for you.
Let's jump into the niche, now.
What Is DeFi Software Development?
A DeFi or Decentralized Finance software development refers to developing a website, token, or application on the blockchain that facilitates users decentralized finance transactions and management options. It'll be easier and more secure. Following it, there are many software models and services based on DeFi available in the global market. They're-
DeFi wallet software development

DeFi token development

DeFi exchange software development

DeFi DEX aggregator development

DeFi crypto synthetic assets development

DeFi dApp development

DeFi yield farming development

DeFi smart contract development

DeFi lending platform development

 DeFi crowdfunding platform development

 DeFi staking platform development

 DeFi insurance development
What Is A DeFi Software Clone Script?
A DeFi software clone script is a ready-made software that'll be the exact replica of any existing DeFi-based software, tokens. Typically, when it comes to the development of software/website/application, it's probably done via two different development methodologies:
From a white-label software clone script.

The software development from Scratch.
Wherein, software development from Scratch would be very expensive, time taken, and needs more effort to build your application apt for existing market trends.
So that this significant problem is just simplified with the clone script option. Yes. In a DeFi software clone script, you can find all the necessary and enhanced in-app features.
It's already built-in. So, it won't take much effort to build a new one. You could simply customize the existing one and create your new DeFi platform effectively for your blockchain industry.
Why Are the DeFi Software Clone Scripts So Famous?
Alright. Now, it's time to reveal "WHY ARE DEFI SOFTWARE CLONE SCRIPTS SO POPULAR, Today." It's enormous, bcuz of the number of benefits that a business owner can get via developing his/her business software from a clone script. Just find they are listed in the following.
Easy to Make

– A blockchain DeFi software development utilizing a ready-made DeFi clone app would be so easy compared to building it from Scratch.
Affordable Price

– The price of DeFi software clone scripts will be very lowest in its ready-to-deploy manner. It's a less time-consuming software development solution as well as affordable.
Proven Software Framework

– Right from the DeFi clones are mostly the replicas of famous DeFi platforms that exist in the current blockchain market space, all their application architectures would be advanced and winning.
Updated App Model

– A DeFi software clone script's in-app features are actually up-to-date. It always acquires all market trends. So, you can create your new DeFi app utilizing a white-label DeFi clone script as an enhanced model.
100% Tailor-made

– A DeFi software clone script for a blockchain business app creation provides 100% software adaptation. So the owner of the software can make 360° application customization as per the business plans.
Fast Business Launching

– Its all advantages like the readymade model, easy software creation, advanced application, security infrastructures, etc. assist you to launch your DeFi app so fast in the marketplace.
List of Top DeFi Software Clone Scripts That Are Vastly Used By Budding Entrepreneurs Today
There are many DeFi software clone scripts that are popular among budding entrepreneurs, today. They are for various blockchain industries like Fin-tech: Swapping, exchange cryptocurrencies, Staking & wallet development. They're combinedly listed in the following for your ref.
Binance clone script

LocalBitcoins clone script

Coinbase clone script

Uniswap clone script

PancakeSwap clone script

BakerySwap clone script

LinkSwap clone script

1Inch exchange cone script

Paxful clone script

 Wazirx exchange clone script

 MetaMask clone script

 Dex wallet clone script
Further to this, there are many DeFi software clone scripts for different sectors available in the developer market. You can easily get one from your selective Defi development company for your specified DeFi business model.
Highlights of A DeFi Software Clone Script Development
A readymade DeFi software clone script has many highlights to note down for a profitable blockchain establishment. As a business owner, you could take advantage of those and cost-effectively initiate your startup in the web3 industry. Subsequently, let's review such highlights in the following.
Huge Return on Investment
It's already built-in with all enhancements so your business on the blockchain with the powerful resource attracts a lot of contemporary crypto enthusiasts, brings huge traffic, and makes your business revenue 100X shortly.
Increased Revenue Stream
Your business establishment in the DeFi industry offers you multiple revenue streaming options with your selective sector. Typically, they include trading fees, transaction fees, commission fees, and advertising fees.
Vast Scalability
A DeFi business software using a white-label DeFi software clone script provides you with 100% scalability options. You could get the entire software for launching as per your all exact enterprise plans and visionaries.
Trendy Startups
Starting up your business in the DeFi industry means you're simply entering into the trendy area of the blockchain. Yes, lots and lots of clever entrepreneurs in modern times highly concentrate on the business model(s).
Global Reach
As a business person, establishing your brand on the blockchain makes your enterprise most familiar to the worldwide audience. Thus, your business easily gets a global reach in a very short period.
Full Automation Process
The decentralized blockchain technology allows your entire business to run systematically with the help of smart contracts. The automation process securely functions all the transactions without any middlemen.
Following the highlights, here are another major points — the in-app features and options of a white-label DeFi software clone script for your enhanced DeFi business application creation.
Notable In-app Features of a DeFi Software Clone Script
In-app features are the key elements for software to be more friendly and secure for usage online. That's not an exception to the DeFi applications. So, ensuring it with your new project development assists you highly in achieving in your selective blockchain industry fast.
Considering the consequences, here are some most important DeFi website features that must be included with your new DeFi app on the blockchain.
Fast crypto transactions

– It lets your targeted audience in the crypto industry feel fantastic with their cryptocurrency transactions.
Effective crypto staking option

– With your DeFi platform developed from clone script, the users can perform crypto staking in an effective manner.
Smart contracts

– The smart contracts-enabled DeFi software clone script assists you in building your own DeFi platform with a full automation transaction solution.
Powerful exchange engine

– The ready-to-deploy DeFi software clone script incorporates a powerful exchange engine and enhances user experience.
2-F authentication

– Two-factor authentication protection available in the white-label DeFi software clone script provides a robust security option for user logins.
Multi-layered app security

– The multi-layered security options provide high-level crypto asset protection and transaction security with distributed ledger technology.
Analysis chart

– A detailed analytical chart could be reviewed by the users via your DeFi platform from the DeFi software clone script.
Transaction history

– The traders can smartly view their transaction history through the dedicated user dashboard.
Dark/light mode

– The dark/light mode available with a readymade DeFi software clone app provides eye comfort for your application users.
Multi-wallet security

– The integrated crypto wallet with the DeFi software clone script has multi-wallet security options, which powerfully prevents any third party from accessing the wallet.
User-friendly app interface

– Right from the pre-made DeFi software is an upgraded one, it naturally has a stunning app interface.
Multi-lingual support

– Crypto traders can select their comfortable local language to use your DeFi platform developed from the DeFi software clone script.
End-to-end encryption

– Apart from the security protection of distributed blockchain technology, all the data transactions that happen on your DeFi platform get end-to-end encrypted.
Apart from the listed, you can also incorporate many features like Incredible anonymity, interoperability, oracle installation, ETH liquidity provisions, and order book absence with your new DeFi software.
Just get expert guidance on the project development. It's very simple; just ask your developer, cuz all the developers in the market definitely offer you free consultations with their experts. Don't forget to avail the option when you connect with your tech partner.
Wrapping Up
So, there are no doubts about the high popularity of white-label Defi software clone scripts among cryptopreneurs, today. Yet, whether you choose your DeFi software development using a clone script or develop it from Scratch, ensure your new DeFi app is up-to-date with the latest market.
Hope these discussed things help you to establish your effective business on the blockchain in 2023. It's for your lucrative startup in the trendy web3 era. Thanks for reading. Cheerio!