The Importance of Responsive Web Design: Creating a Seamless User Experience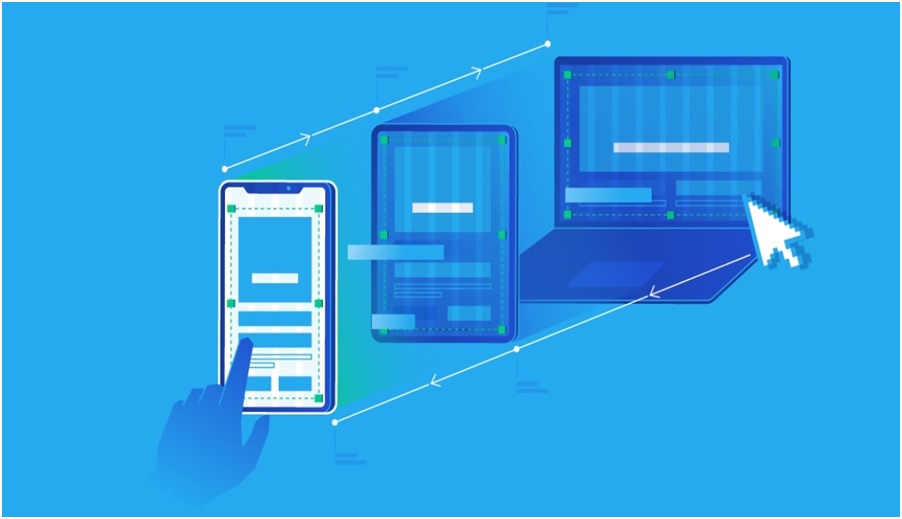 From sending emails and finding a better route to reserving a table at a restaurant, everything is done via phone. Currently, over 4.32 billion people are active mobile users across the globe. Here, making your website mobile-ready is in no way an optional thing. 
58.43% of traffic on a website is led by mobile users. This is because 92.3% of people access the internet through their smartphones. This percentage is projected to rise in the future as more and more people are choosing smartphones over desktops. To stay parallel to this mobile-driven era, you need to have a responsive website at any cost.
A non-responsive website negatively impacts user experience and your conversion rate. If you fail to offer seamless navigation to your visitors, then it might be their first and last visit to your website.
Creating a responsive web design holds a lot of significance if you want to spin profits. In this post, we will discuss why it is more than crucial to design responsive websites. Let's get started!
Why responsive web design is important for businesses?
—————————————
Having a website that works flawlessly across all devices with a range of resolutions is vital for its success. Mobile internet is growing rapidly, you cannot limit yourself to a desktop-centric approach. You need to make your site mobile-friendly that work well on all types of handheld devices.
Let's explore the benefits and importance of responsive web design.
Easy maintenance
Your work doesn't end after creating and launching your site. Constant maintenance of a website is essential to keep it seamlessly running without any glitches. Many companies opt for WordPress website maintenance services to offer a great user experience to their visitors all the time.
Creating responsive design web design makes it easier for you to keep up with the site's maintenance. A responsive web design eliminates the need of managing different versions for various types of devices. You can save a lot of time, money, and effort as you eliminate the complexities and need of updating different versions of your site.
Enhanced user experience
A website is the digital face of your business. Making it responsive is as important as creating it appealing. No matter what type of device is being used to interact with your site, the entire experience should be seamless and easy.
A responsive web design greatly enhances user experience. Mobile-friendly websites are easy to navigate and adjust themselves according to the different sizes of screens and orientations. Your visitors can easily interact with it, no matter which device they use for site navigation.
Better rankings
Most of you already know the cruciality of rankings on different search engines. SEO is crucial to improve the visibility of your business brand. Without enough prominence and better rankings, you will not gain customers. If your customers fail to discover your site, 90% of goals will remain unaccomplished.
Search engines reward those sites which work seamlessly across all types of devices. Creating a responsive web design helps you meet this goal. It helps you rank better across different search engines, attract more traffic, and increase footfall on your website.
Fast web loading
We have entered into a fast-paced era where the level of patience has drastically dropped, especially when it comes to waiting. To stand out in the competitive crowd and rank better in search engines, you have to be quick in showcasing your offerings.
Incorporating a responsive design can make your website load faster whenever someone accesses it. No matter what type of device your visitors use for the navigation, responsive websites are created with a set of HTML codes and a single URL that redirects visitors to only one page. This affords quick loading which minimizes bounce rates.
Augmented reach
With a responsive website, you can quickly offer people what they are looking for. When more and more people find your site and offerings easily on their handheld devices, this expands your reach as you can cater to a broader audience.
When you make your site and its content accessible on all types of screen sizes, you increase user engagement with your business brand. Ease of access enhances user experience and drops bounce rates. Always remember, the better the visibility, the greater will be the reach. This goal can be attained with a responsive website.
Improved conversion rate
Converting a prospect into a paying customer is the biggest challenge for any business. However, you can make this job a little easier for yourself through a responsive web design. A responsive website showcases your offerings faster in front of those prospects who are looking for similar products/services that you offer.
When you make your website responsive and optimized for all types of devices, it can help you improve your conversion rate drastically. People prefer navigating those websites that load faster and are mobile optimized. Having a responsive website can make a huge impact on your conversion rate.
Cost-effective
Creating a website also comes with a price tag. This cost can significantly shoot up if you build different versions of your site for different devices. As already discussed, responsive web design is built with a single URL that works seamlessly across all devices with different resolutions. You can save a lot of time, money, and effort with it.
This way you can cater to the needs of your customers in the most cost-effective manner. You can save a huge amount of money that is spent on creating different versions of the site. When you have the option to save bucks on a particular business expense, why wouldn't you opt for it, right?
Better analytics
Creating and launching a website doesn't provide anticipated results at times. To make things work in your business favor, you need to work on your loose knobs. This can be done only through deep analytics.
A responsive website enables you to track its performance across all types of devices. You can gather the data and analyze it from various screen sizes, platforms, and orientations.
This provides a deep insight into your customer behavior. Once you know the way how your prospects interact with your site, you can make valuable decisions for your business to improve your conversion rate.
Future proof
Technology is ever-evolving. The screen sizes and landscape of different devices are changing. New devices with a range of resolutions are introduced in the market every single day. In such cases, making a mobile website version for different devices and resolutions can be costly as well as time-consuming.
With a responsive web design, you can make your site mobile-ready irrespective of the screen sizes and resolutions without redesigning or updating for desktop and mobile versions. No matter what comes next in the future, you make your site ready with a responsive design.

Different approaches to making your website responsive
—————————————
Here are a few approaches while making a responsive website.
Frameworks

: You can use predesigned responsive frameworks and eliminate the need for custom coding. Using such frameworks can save a lot of time and money. However, some are not flexible in terms of design. So, pick the right one after detailed research.

Design techniques

: If you don't want to utilize frameworks, you can use your own techniques and codes to create a responsive website. However, you need to possess a deep understanding and skills in web development and design to attain this objective.

CMS:

Content management system (CMS) platforms like WordPress offers great design options and features. You can take this path if you are not confident about coding. WordPress gives impressive control over the functionality and design of your site.

Must-follow principles while creating a responsive website:
—————————————
No matter what approach you choose, here is the list of principles that should be kept in mind while creating a responsive website.
Font size, buttons, layout, designs, etc. on different screens should be kept in mind to offer an enjoyable user experience.

Grid layouts should be flexible because it is responsible for making the entire website adjust to any device.

If you have included large images on your site, you need to optimize it. Try compressing or resizing it because bulky images slow down the website loading time.

Once you apply all the needed changes, test the responsiveness of the design on different devices. This makes sure that the sites' look and function are equivalent to your expectations.
To Conclude
The ratio of mobile users has drastically increased in recent years. Moreover, it is expected to rise even more because carrying a mobile and getting things done through it is way more convenient than doing it on the desktop.
Having a responsive website is not optional in this mobile-driven world. You have to meet your prospect's needs to convert them into your paying customers. A responsive design offers a seamless user experience across all devices with different resolutions.
Now you must have understood why responsive design is important for businesses.  So, don't let your business site fall behind, and stay ahead of the competition.
Embrace this path and improve user engagement, expand your reach, and improve your visibility with a responsive website.