The Key Features of A Website Design That Help Increase Sales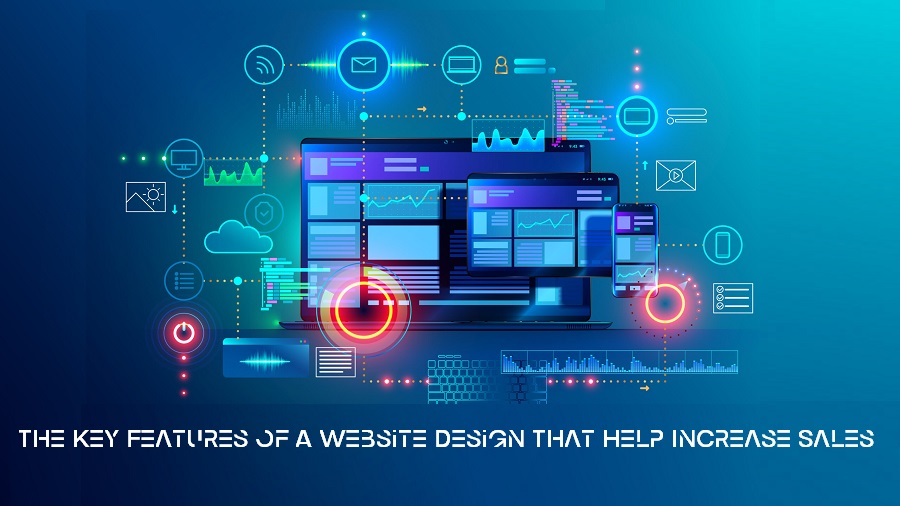 The key to increasing sales is making a positive first impression on the visitors when they land on your website. Your website must be designed to make the visitors interested in your products and services. Once they take an interest, you can entice them to buy from you. A website that fails to impress will only send a negative impression because, according to research, more than 90% of visitors form their first impression about your business after viewing your website.
The question is how you can leverage your website design to boost sales. Since a good web design has the potential to increase sales and generate revenue for your business, you need to focus on improving your website design.
Here are ways to ensure your website design generates revenue for your business.
A responsive web design
——————————
Integrating a responsive design is important as it allows your website to be viewed across multiple platforms, from desktop to mobile and tablets. The number of people conducting online searches via mobiles and smartphones has increased.
You must ensure your website adapts to fit the smaller screens to reach a broad base of potential customers. This is exactly what a responsive design ensures. It allows the visitors to enjoy the same experience on a smaller screen as they will by accessing your website on a desktop. Integrating a responsive design means your business outreach increases to a broad audience. This way, your chances of increasing sales are strengthened. This is one key feature of website development you must focus on.
Using high-quality visuals
——————————
Once visitors land on your web page, you need to engage them to make them stay longer on your website and explore your offerings. One effective way to engage visitors is by using high-quality visuals. Visuals are handy for keeping visitors engaged on your website. In contrast, adding blocks of text on your website pages with no visuals will only push the visitors away from your website.
Walls of text, if not properly aligned and separated, can feel overwhelming to a visitor. It causes them to leave your website and look for another competitor. It increases the bounce rate, and your sales will drop. Using high-quality visuals for product images will allow visitors to see them easily. Otherwise, the visitors will form a negative impression of your website. Your website will fail to forge trust. Taking help from website designers will help you create visuals that are required to engage visitors.
To increase sales, your website design must use high-quality visuals that enhance user experience. For this purpose, you may use videos, photos, and even graphics to make your website attractive and engaging to visitors. This way, you can keep the visitors engaged and increase the chances of generating leads and hence more sales.
Easy navigation
——————————
Businesses want to increase sales but often need to invest more effort and time into easy-to-navigate options on their websites. The web design must offer organized navigation that is easy for visitors. This way, the visitors can find the products and services they are looking for easily and quickly, thereby increasing the chances of sales.
When shoppers land on your website, they need to easily find the product they are looking for. Organized navigation helps visitors do just that. This way, it is also easier to find relevant information. A tip is using broad categories and organizing all the related subcategories to make it easier for those who want to navigate your website. Visitors don't stay longer on your website if they fail to find the information they are looking for easily. If unsure how to do this, you may hire a good web design company to create high-quality visuals that engage with the shoppers on your website.
Use effective calls to action on your website pages
——————————
Focusing on CTAs is one way to make your website design more effective in increasing sales. Once the audience likes the information you have provided on the website, they will seek guidance on the next step. One effective method to bring about a sale is to guide them with effective CTAs. Missing out on a good CTA will only result in a missed chance of a sale. Try increasing sales with a good website design and creating CTAs that pop on the website pages.
CTAs that stand out on the page increase the chances of sales. By offering CTAs that are easy to find, you will increase engagement with visitors and persuade them to buy from you.
Fast website loading times
——————————
Slow-loading sites are a cause of loss of revenue. Visitors have plenty of options to select when they want to buy a product or hire a service. They will likely stay on your website if it takes little time to load. With plenty of competitors in the market, visitors can always leave your website and look for their product on a different site. This is why you will miss opportunities for sale if your site does not load quickly. Visitors will leave your website, thereby increasing the bounce rate.
Focusing on a good website design and ensuring website development can boost your website's load time. This will encourage the visitors to stay on your website longer and hence increase sales opportunities, helping your business earn more revenue.
Always leave room for testimonials and reviews
——————————
People will always value what satisfied customers say about your products or services. Seeing a customer share a positive review about your business means others will also form a positive opinion about your business. This helps you inch closer to a sale.
Testimonials and reviews are an excellent way of persuading potential customers that those who purchased from you found the experience satisfactory. Resultantly, they will be more inclined to buy from you. Hence, always put the testimonials and reviews in the right place on your website to grab the audience's attention. Including a picture of the customer who writes the testimonial will also help.
So, invest wisely in your website design service if you are looking to increase sales. One way to do so is to hire professional help. Look for a professional web design company that can help you generate more revenue.