Jasper AI Review 2023: Honest Thoughts: Is Jasper Worth It?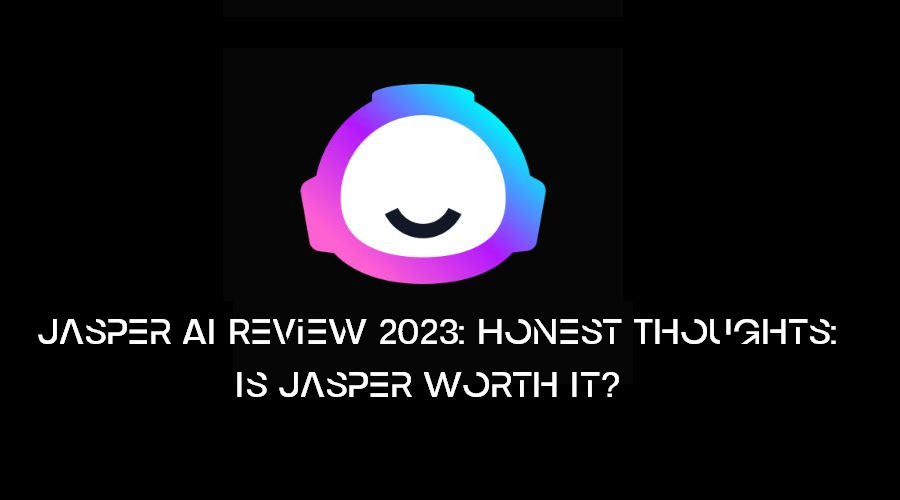 Introduction
Due to the increase in automation, it makes sense to use AI to generate content for your blog, social media accounts, website, and other platforms.Using the most recent technology,
Jasper.AI, once known as Jarvis, is a tool that you may use to have original material (such as blog entries) created for you. Services like Jasper are theoretically.
How effective are AI in actual use? AI seems like the ideal option for smaller websites that require content creation at a low cost. This is my frank assessment of how effectively the service truly functions and whether it is worthwhile to purchase a membership for your website.
Jasper AI Review
—————————–
Pros:
It has expertly designed overall the software. In essence, the service delivers on its promise and accomplishes its goal.Here are a few things about Jasper that I particularly like.
Almost anyone can use it because of how simple it is. You only need to provide a broad concept of what you would like to cover, and the AI will take care of the rest.

The cost range. Even the most costly all-inclusive plans that it offers are rather affordable.

It works well for brief copy. If you get stuck writing social network posts, SEO meta titles and descriptions, or other items with character limits, Jasper is great at formatting your text to match these criteria.

There are more than 50 templates available for use 

You can use it to improve your outlines, get blog post ideas, and get beyond writer's block.
Jasper can definitely assist with a lot of the heavy work for subjects that are commonly written about. The AI can provide a strong foundation of information to which you can later add your own distinctive perspective. You can use it to build a house's framework and move your furniture inside later.
Cons:
This software's uniqueness is what all of its flaw stem from. There are still some problems to be resolved because it is a new idea.
If I'm being completely honest, I tried out this software myself and have since cancelled it. Not because I dislike the software, but primarily because my primary writing requirements are blog entries with a word count of 1500 or more. Finally, I can work with freelance writers with less annoyance and receive better results.
Here are a few of the main problems with the service.
—————————–
It simply isn't a person. Even while you will receive content, it won't sound particularly unique or "human," and it will lack actual personality.
It collects data from several online sources but doesn't truly verify any of it. This has resulted in dubious data, inaccurate figures, and even content that is simply untrue.
You cannot double-check the information's source because  cited no sources.
Due to these problems, you will need to proofread everything, check the facts, and then change anything that is wrong or merely seems strange. In essence, you have to watch it, which might take as much time as writing fresh content and wind up costing you as much as hiring a content writer would.
You must select the Boss Mode plan if you want long-form content.
The number of words you use isn't what counts. It applies to every single phrase that is formed, in fact. Hence, if Jasper begins speaking about an item that has no relevance to your business at all, you quickly consume resources.
The commands in Jasper make it difficult to write blog articles. It takes some effort to learn which instructions are appropriate in various circumstances.
It might be a command nightmare using the recipes. The command should have words added to it by Jasper. In order to understand what the text is intended to convey, you must provide context when using lengthy phrases.
Jasper: Is That Worth It?
—————————–
No, in my experience. The blogging tool is just less simple than other options, even while it functions quite well if you use themes for short-form content. Thus, if you're searching for a solution that can do it all, Copy.ai works well for producing short-form content and can easily produce blog entries. Not to add that after you write the text, Jasper's output still requires a lot of editing.
It is preferable to use an AI writer with output that is comparable to that of a human and a user-friendly interface.
However, Jasper is a new Google AI update convert text into music. It's not an app, it's an API that you can use to make music in your browser. It has a few features, and it's free to use, but I think it could be better.
Who Is Jasper's Ideal Match?
—————————–
The Jasper AI works exactly like a virtual writing assistant who is available 24/7 without complaint. In addition to its versatility and trustworthiness, Jasper AI is designed to benefit a specific group of users:
Content producers, marketers, and bloggers that demand original SEO-optimized content without any fluff information or plagiarism

Small business owners who cannot hire a professional writer

Students who might require assistance with their essays and assignments.
You need not worry about if the result is worth reading because Jasper AI is reliable writing software with embedded AI that ensures effective content delivery.
How to use Jasper AI if you're a beginner.
—————————–
STEP 1:  SELECTION OF THE CORRECT CONTENT Format IN JASPER AI
STEP 2: Provide pertinent data to the template
STEP 3: Give Jasper a chance to work his magic
Jasper AI Cost
—————————–
The price of this software is its main selling feature (on the surface).Based only on the initial cost, it's quite reasonable, compared to hiring a freelancer daily or on a per-project basis.
However, keep in mind that you must go over and edit the stuff it produces if you want it to be of high quality. In order to essentially refine the AI and edit the information, you will need to take into consideration how much you'll have to pay themself per hour.
Conclusion
In the end, Jasper offers detailed, accurate performance metrics for your website with a beautiful and intuitive user interface. While it does take some time to set up and make changes, the software is easy to use once you learn the basics. Most small businesses will benefit from Jasper's free plan, but if you need advanced features, you'll have to upgrade.