Top 10 Mastering On-Page SEO Techniques in 2023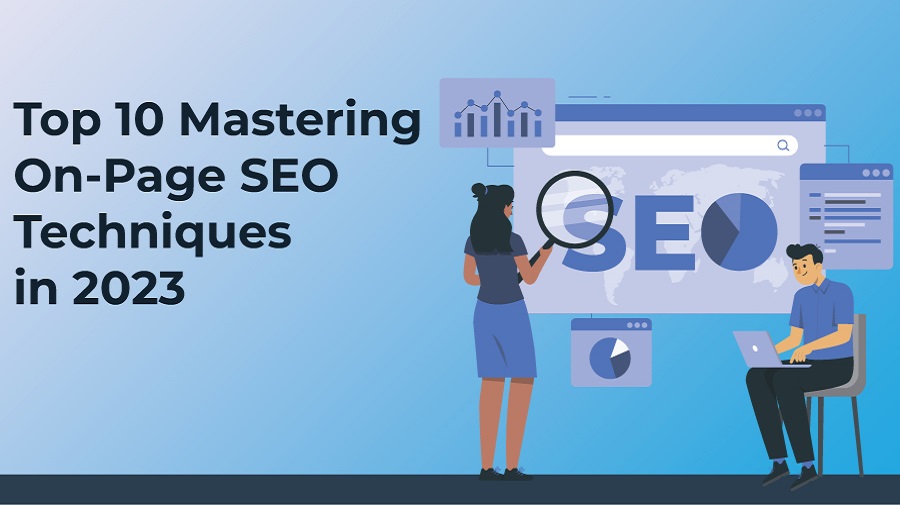 On-page SEO is the approach where you optimize the content on various pages of your website, especially for search engine rankings and user understandability. Some of the common tasks that go along with on-page SEO are adding title tags, increasing the count of internal links, search intent optimization, or shorter URLs.
The search engines such as Google have an algorithm to crawl through a webpage to see if the content within matches the search intent of the user. It is upon the search engine to decide if that page would seem useful for the user or not. Therefore, it doesn't matter how rich your content is in terms of information and authenticity; if it lacks the on-page SEO parameters, ranking on the top results will be very difficult.
In this article, you will get a detailed insight into the ten most crucial on-page SEO techniques that are tested in order to help your business boom with a greater online presence in 2023. So, read along till the end!  
What is On-Page SEO?
————————————
The simple understanding of on-page SEO is everything that you can care to implement on your site or web pages to make them rank higher over the SERPs. This process takes an approach towards optimizing not just the front-end but also some of the back-end components of the site to give it high search engine rankings and grow in terms of traffic.
The HTML, content, or architecture elements together form the on-page SEO components, and each one of them needs to be optimized accordingly. The purpose of using on-page SEO consulting services is to make it easier for both search engines and users to comprehend the content.
Why Is On-Page SEO Important?
————————————
On-page SEO holds utmost importance because it informs the search engine, especially Google, about the site. Following that, it also informs the search engine about the amount of value that the web pages add for the visitors or customers.
Just developing your website, adding content to it, and publishing the same isn't enough to win over customers. In this competitive market, it is important your digital marketing efforts are making your website or web pages be found on the top of the SERPs. On-page SEO is vitally important in this regard.
The word 'on-page' in this approach signifies that the SEO-oriented changes you make to the site or web pages will be visible to the users as well. It is upon you to tweak and improve the on-page SEO elements to increase your search engine rankings. Therefore, you must emphasize getting it done right!
Best On Page SEO Techniques For Higher Ranking
————————————
So, if you are convinced on the fact that your brand website needs on-page SEO measures to surpass the competition in terms of improved search engine rankings and traffic, here are some of the techniques for you to count on:
1. Optimizing Meta Titles & Descriptions
To ensure the best SEO outcomes, you cannot ignore the meta titles and descriptions of the content on your web pages. When search engines crawl through web pages, they will prioritize checking the meta titles or descriptions over the page.
Meta Titles:
Every page should have a unique title, which will help not just the search engine but also the users to easily understand what information the page has to convey. It's among the most essential on-page SEO elements you should consider. Here are some top guidelines for optimizing meta titles:
Add primary keywords to meta titles.
Ensure the titles are short yet descriptive, up to a maximum of 50-60 characters.
Include power words or numbers.
There is no need to add a domain within the title.
Meta Descriptions:
The page or meta descriptions shown in the SERPs should be descriptive enough but should end within 200 characters. This description should be unique for every webpage on your site. It enables you with an opportunity to promote your page in general and entices the users to click on it to access the webpage and information within. Several key recommendations for enhancing meta-description optimization include:
Avoid relying on the auto-generated descriptions.
Add the targeted keywords within the meta description.
Avoid stuffing unwanted keywords within it.
Ensure the descriptions are relevant for the user to relate to what's within the webpage.
2. URL Structure & Optimization
The next important thing is to optimize the URLs, which act as one of the crucial SEO parameters. This approach consists of two parts, where you will have to direct your focus on URL structure and optimization altogether. There is always a permanent link or slug that's added to the webpage content, which is unique for each of them.
Ideal URLs are expected to be fewer than 255 characters and must have hyphens for separating different parts. Following that, you can also try to incorporate the main keyword in your URL to help boost your SEO outcomes even better. Beyond that, for optimizing your URL structure, you must take note of a few crucial things, which include:
Making use of dedicated categories for helping search engines and users find the information faster.
Integrate a breadcrumb menu to enable users to walk through your site or web page in a very structured manner.
3. Mobile Responsiveness
Most of the searches over Google come through mobile devices. Therefore, one of the most crucial on-page SEO techniques should be to focus on enhancing the mobile responsiveness of the site and its web pages. If you are ignoring this aspect, then your brand site will miss out on more than half of the organic traffic.
To ensure your brand website isn't lagging behind in terms of mobile responsiveness, the first thing you must do is make your site mobile-friendly. Test your site over the default Google tool to determine any potential issues with respect to the mobile-friendliness of the site. Once you find the problems, fix them!
Now, test your site or website further on a mobile device, just like a real user, and see what's lacking in its view of it. Make sure all the CTA buttons are integrated and visible exactly as you want them to be.
4. Content Quality and Use E-A-T Principles
One of the most crucial steps you can take upon making on-page SEO a success is to create quality content for the site. It should match the true search intent of the users! To make it possible, you must first perform keyword research and find targeted keywords alongside relevant topics to base your content on.
You can use dedicated tools to run your keyword research and try to incorporate them into your website content. The material must be unique and not duplicated from rival websites. Utilize the E-A-T guidelines to craft top-quality content strategy for your on-page SEO needs. Remember, E-A-T signifies Expertise, Authoritativeness, and Trustworthiness.
It is not any algorithm by Google but is a concept within the search quality guidelines of the search engine. Google makes use of these three criteria in order to validate the content quality on web pages. So, drive your focus on ensuring these elements are addressed in the information within your content.
5. Keyword Optimization
Keyword optimization is highly crucial in terms of ensuring a successful on-page SEO strategy. In this approach, the webpages are optimized with respect to specific keywords that contribute towards improving online traffic and brand visibility across search engines.
Make sure you are using the right tools to detect both primary as well as secondary keywords to be added to the website content. Following that, take note of healthy keyword placement or density that's expected by the search engines. In the end, prefer using more long-tail keywords, as users mostly prefer them for presenting their search intent.
6. Internal Linking
Linking to specific web pages within the site is quite crucial for better SEO. If you want your site visitors to stay for longer, you must add links to keep directing them to more internal pages of the site. Without internal linking, the users will just land on your page, consume the information, and leave.
When you have links within the page that tend to give your users more information, it will entice them to take those into account as well. Moreover, it is also an important way through which the search engines get to know about your associated pages. Some of the best practices associated with internal linking are:
Do not use keywords as anchor texts for internal linking.
Add internal links only in the areas where they would seem useful for the reader.
Avoid over-optimization, and don't stuff the page with internal links.
7. Header Tags (H1, H2, H3…)
Header tags must be used strategically to designate the headings over your page. The primary header tag is termed as H1, which is reserved only for the title of the page. The sub-heading tags are also categorized for any header that goes after the title. The sub-head tags range from H2 to H6.
Every page on your site must be unique in terms of its H1 tag, and it should have the primary keyword as well. Ensure each page has only one H1 tag. Maintain the heading hierarchy from H1 to H6 in order to let the search engine understand the flow of your content within the page. Use the relevant secondary keywords in the sub-headings.
8. Image Optimization
Image optimization is the next important implementation for ensuring on-page SEO success. Some of the things that you must take note of while optimizing images to improve your search engine rankings are:
Keep the image file names brief and explanatory.
The alt text you use must describe the image clearly, which will help Google understand what's within the image.
Prefer writing short captions within the page underneath every image and presenting the information in the form of text rather than that of the images.
Some of the best practices associated with image optimization are:
Make use of original and responsive images.
Look out for sizing the images optimally to ensure they do not slow down the loading.
Make use of CDN service if you want to add ample images over a single page.
9. Improving Page Load Speed
Page load time indicates how quickly the content of your website's page appears to users. As far as SEO norms are concerned, it is one of the most crucial aspects of being ranked higher over the SERPs. A slower site implies poor UX, which then compromises the search engine rankings.
Additionally, a slow page load can lead to a higher bounce rate. Hence, enhancing page load speed is crucial when optimizing on-page SEO. Larger images or unnecessary scripts within the pages might contribute to slowing down the page-loading process. Use the necessary tools to identify and fix those issues and improve your page load speed.
10. Schema Markup and Structured Data
Structured data is considered the markup, which helps the search engines get an idea of how to display or interpret the content. Schema.org consists of a list of various markups that the major search engines, such as Yahoo, Yandex, Bing, or Google, support. Examples of various kinds of structured data encompass:
Rich snippets
Reviews
Knowledge graph
Microdata
Breadcrumbs
RDFs, etc.
You can make use of the structured data testing tool by either Google or Schema.org to create the schema markups and then test them for your SEO advancements.
Conclusion:
So, this is a clear understanding of the importance of on-page SEO and how it is going to help you improve your brand exposure across the target audience. It's among the most vital SEO services you simply can't ignore!
You can avail of enterprise SEO services in order to implement strategic approaches toward optimizing your site with respect to search engine parameters. The enterprise SEO aspects align with the business goals of the company, which helps you scale your brand reputation for maximizing positive outcomes.
If you are running a business and want to market it proactively online, this article educates you on the ten most crucial strategies that you can implement to create a successful on-page SEO strategy.