What are Heatmaps and Session Replay and How Do They Impact Website Conversion?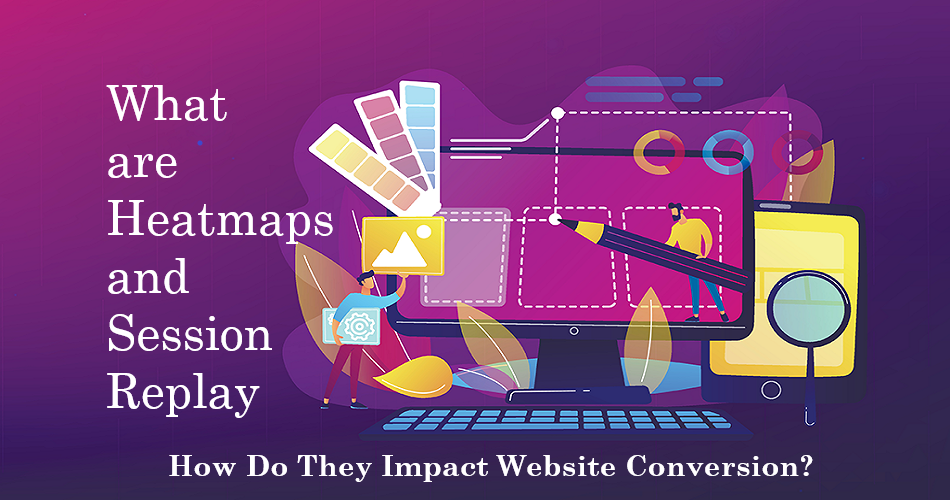 How does a visitor behave on your site?
We know where they arrived, where they left the page, how much time they spent, but we didn't know, for a long time, exactly what they were doing, where they clicked, what they were reading. Yet this information is needed to improve the user experience on a website, which has become the most important driver of web development in recent years.
Heatmapping software and session replay have been developed for this problem.
 
What are heat maps?
A heatmap is a two-dimensional representation of data in which we try to display a visitor's activity on a web page in color. The heatmap shows a page on the web page with different colors indicating the activity itself and its strength. Heatmaps are created based on the visitor's mouse movement and clicks. This data is converted into color images, which are then projected onto individual pages of the website to see where what kind of activity has taken place.
There are different types of heat maps:
Click Tracking Heat Map
This is one of the most commonly used types. The click tracking heatmap shows where and at which points the visitor clicked on the website. Based on the number of clicks, the heat map ranges from a lighter green to red.
Google Analytics only knows which pages a visitor has visited, while the click tracking heatmap shows exactly where they clicked within the page.
Mouse tracking heat map
This type of heatmap shows the visitor's navigation on the page by color-coding the routes the visitor traversed with their mouse. The heatmap following the movement of the mouse shows which parts of the website attracted the visitor's attention and which parts it did not reach at all.
Scrolling heat map
This heat map type represents where the visitor scrolled on the page and where they left it. The scroll tracking heatmap helps you optimize the length of your webpage content and place Call to Action buttons (CTAs) to increase your conversion rate.
Heat map after eye movement
Creating a heat map after eye movement usually requires a special technique, but it can be used to capture and analyze where a visitor's attention is focused while browsing a website.
Why is it important to use heat map analysis?
With the help of heat maps, online marketing professionals get a lot of help to improve the user experience of a website and increase the conversion rate. The information provided by the heatmaps helps to identify that…
What are the parts of the website that the visitor wants to click on but can't click (So what to link to, because the visitor feels they need it.)
Where we should place key information on the website.
What "works" on the website (in terms of content and functionality) and what does not.
Which CTA visitors click on and which do not.
Whether or not conversion paths direct the visitor.
What are the annoying, unnecessary elements on the website that can be removed.
Whether the visitor can use the navigation properly and understands how the website works.
With heatmap analysis, you don't have to think about whether or not the navigation, CTAs, functionality, wording designed for the website work well, because you will get a definite answer to these questions.
Heatmap descriptions say relatively little about the fact that only with a sufficient amount of data can conclusions be drawn from the data provided by heat maps.
In the case of a low-traffic website, this means waiting up to several weeks or months after commissioning for a large amount of data (clicks, scrolling, etc.) to be collected that excludes the behavioral characteristics of each visitor and allows conclusions to be drawn on average.
How does heatmap analysis improve your website conversions?
With heatmap analysis, you can optimize the form, wording, and placement of CTAs on your website.
If you see a visitor avoiding CTAs by not clicking on them, you need to change their form to make them more noticeable. If they still don't work, you can change their placement, the size of the margin around them, or their wording.
With heatmap analysis, you can improve the wording and readability of your website
If the visitor reads only a small amount of the text on the website, the structure of the content may be improved or the font size may be suspected to be too small. If the problem persists, the wording above the fold should be changed to be more eye-catching.
With the help of heatmap analysis, you can rule out structural and design errors in your website.
If visitors don't pay attention to certain content on the page at all, such as sidebars, you should consider leaving those parts of the page.
With heatmap analysis, you can maximize the efficiency of your images on your website
A properly chosen image on the page can direct the visitor's attention to the CTA. Statistics have shown that conversions improve by several percent if the person in the image is looking in the direction of the CTA rather than somewhere else.
With heat map analysis, you can reduce the number of page breaks on your website.
A misplaced cart button can greatly reduce conversions. Heatmap analysis can be used to detect when a certain percentage of visitors click through to your site because your attention is distracting, making it unclear to them where and how to throw a product into your cart.
Heat mapping analysis is now essential in areas where a significant increase in sales can be achieved with even a minimal increase in conversion. For webshops that generate many millions of dollars in traffic in a year, even the tiniest conversion increase of just 1% means a large revenue surplus on an annual basis. And from this surplus, it is easy to pay off an analytics team that constantly monitors the information provided by the heat maps and strives to achieve higher conversion and user experience by making minor adjustments.
If you run a small business, you don't have to give up the data provided by heatmaps, because there are many tools available on the market, even with a free trial, so after a few clicks, you can get the information that big companies use every day.
Let's talk about the session replay tool
A session replay is a map of a visitor's journey on a site. It is also known as session recording, session playback, and user playback.
Session replays are an essential part of the optimization process, improving conversion rates and CRO activities, that is, conversion rate optimization. They help you display the experiences and impressions of anonymous visitors about your site or app. With session replays, you can record the movement of your visitors in real-time, such as clicks, keystrokes, taps, and scrolls. In addition, they can effectively improve the customer experience.
Why are session replays useful and why do you need them?
Session repetitions are more than just a part of the optimization path. They provide accurate and in-depth insight into the behavior of page visitors to give them the best digital experience. They also complement the work of heatmaps and scroll maps by providing detailed information based on customer interactions within a website.
Traditional web analytics tools, like Google Analytics, track user metrics. Google Analytics uses cookies to determine the number of bounce rates, user sessions, exit times, and other things to ensure. While this is a piece of valuable information that needs to be understood, this feature does not provide information about the user experience or user engagement. A good illustration of this can be when Google Analytics writes that a particular visitor has spent 10 minutes on your page, but it doesn't explain why. Let's say you didn't find what you were looking for, so in the end, you just simply left the page and probably won't come back next time. Or, on the contrary, you found everything you needed. Session replays will help with this.
So in addition to looking at the time spent on the page, this tool also provides information about the overall user experience. By this, we mean customer behavior, taps, scrolling patterns, and the weak points on the page that need to be improved for a better customer experience.
Where and in what cases should you use this tool?
There are different ways to use session replays. It can be used primarily to produce better products, improve website conversion rates, and build appropriate customer service.
Increase conversion rate
To get the most out of your traffic, you have to use certain CRO techniques. For example, A / B testing or analyzing site heat maps. Session replays provide input to conversion research as they help you understand what to focus on in your tests based on visitor interaction. They also highlight where visitors are experiencing issues that are preventing or failing to convert. By modifying or paying more attention to these areas, you can improve your conversion rates while also getting your visitors to your liking, creating a win-win situation.
Improving a bad user experience
Poor user experiences can make websites extremely difficult to operate or navigate. As a result, visitors leave your site, leading to high bounce rates and poor conversion funnels.
With session replays, you can learn how each item works best for different audiences, on different devices and resolutions, and in browsers.

You can also identify bad navigation elements or other distractions to improve the visitor's experience. Eliminate parts that may seem complicated, difficult to understand at first, or unclear, as customers won't waste a lot of time on one page, but will rather go to the next one that gives them a better experience.

With replays, you can also track problems with your website, as you need to optimize it and rule out mistakes to create the perfect website.

They also monitor page load time, broken links, hidden CTA buttons, form issues, and more. Session recordings, therefore, provide a clear picture of the areas where visitor interest

in your website is declining.
Accepting new features
With session replays, you can see how well a particular audience responds to new features on your page. If you can segment them, you'll know which layer you can access or not with these new features later.
Focus on customer service too
With this tool, reassuring dissatisfied customers is also much easier, as it collects problematic parts and questions sooner than you would ask them. This allows you to find a solution to a specific customer's problem easily, efficiently, and quickly.
After reading through these pieces of information we hope that you get a better picture of these tools and you will try them out. Stay tuned for our next blog.