Why Should You Choose Magento for E-Commerce Development?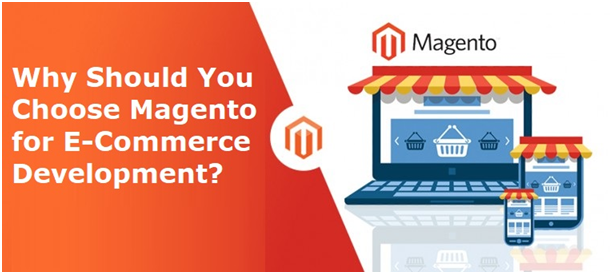 Magento is among the most credible CMS choices for eCommerce development. It provides every feature topical to the needs of leading eCommerce businesses. More than 250,000 eCommerce enterprises across the world are using Magento as their preferred platform.
Magento is considered an ideal choice for those planning a serious, customer-oriented, and fully-fledged eCommerce platform. It is considerably more efficient and effective than many of its contenders in the market.
The platform is packaged with upgraded features and functionalities for the eCommerce development community. With its powering cloud, it has sustained its place in the world's top-most eCommerce platforms.
From theme customization to interactive module development, Magento has been the one-stop key to transform any eCommerce idea into reality. Acquisition of Magento in Adobe Experience Cloud led to a new sense of transition where it became easier to develop elegant eCommerce apps.
What Makes Magento the Best Choice for eCommerce Development
There are plenty of reasons for choosing Magento over any other platform. The most crucial and one-line reason for them is, Magento is dedicatedly developed for eCommerce platforms. It has every feature, plugin, tool, functionality, and many other things to help you create a competitive and effective eCommerce portal.
Let's have a look at some of the significant offerings of Magento making it stand out from its contenders.
1. Easy Customization
Magento provides specialized customization features that allow developers to create interactive eCommerce solutions easily. It indulges in fundamental features for template tuning. It has simplistic drag and drop tools that engage in smooth development. It allows developers to customize and enhance the existing Magento template to a more classified form.
Developers can customize and add new logos, images, banners, and many other things inside the existed template. Such tools have been proven remarkably useful for enterprises of all scales including startups and well-established eCommerce companies.
Moreover, Magento store enables eCommerce website development services providers to indulge in a greater degree of user experience through its applications.
2. Streamlined Pricing and Promotions
With many new upgrades, it has become more efficient and feasible to manage pricing and promotions on your eCommerce platforms through Magento. These features are helping not only developers but also facilitating businesses by engaging an interactive way to outcast promotions and gain more sales.
Developers want to indulge in lucrative pricing and promotion features while offering Magento eCommerce development services. The inclusion of precise and specific pricing and promotion protocols has led businesses to indulge in good conversion rates right from the beginning of their journey as an enterprise.
So you can say that Magento helps the eCommerce business to leverage the best configuration conditions on pricing and promotions.
3. Cost-Effective & Competitive
To be honest, eCommerce development with Magento can be costlier than on WordPress. However, if we count it on efficiency, Magento indulges in a fully-fledged platform for creating go-to applications for the end-users.
If you ask an eCommerce website development company to choose a platform that can help you create a competitive eCommerce portal, there is a staggering possibility that they would prefer using Magento over any other CMS or framework.
Magento offers a range of additions that allow developers to create solutions of their choice of features and budget. Thus, it is up to the business professionals how to cope with the needs of the Magento development company they hire.
4. Versatile Editions
Magento is probably the most versatile eCommerce development platform. There are different editions of the platforms available categorized on the basis of their applications.
Magento Open Source or Magento Community Edition is a premier edition of the eCommerce platform that focuses on providing its free and open-source access. The primary adoption of this edition is by small-scale businesses to leverage Magento's high-efficiency features at minimized costs. However, this edition provides access to basic features, developers can extend them to advanced features.
Magento Commerce or Magento Enterprise Edition is a superior edition developed considering the needs of medium to large-scale enterprises. This edition consists of advanced features such as hosting or integration of SaaS services. There are features dedicated to fulfilling the maintenance, testing, configuration, and troubleshooting needs of the eCommerce platforms.
5. Inclusion of Large Inventories
6. Fast Checkout
7. Third-Party Services Integration
Magento is flexible with third-party integration services. They can also adopt custom development and integration of plugins. Such functionality allows developers to engage in advanced features to their eCommerce application and indulge in a rich user experience.
Developers can integrate third-party APIs for payment, SMS and shipping, CMS, CRM, ERP, and many other advanced functionalities. It allows businesses to create effective shopping apps for the customers.
Such integrations help developers engage in maximum automation to the eCommerce apps. They make the eCommerce development more simplified, time-efficient, and cost-effective.
8. Cross-Browser Compatibilities
To engage in maximum usage of your eCommerce applications over different browsing environments, Magento allows developers to utilize browser capabilities detection features. They can use customize the compatibility settings.
The code developed using Magento are highly compatible to all platform and browsing requirements. Thus, your users can use eCommerce applications across all browsers.
9. Advanced Testing Facility
Magento's testing have adopted revolutionary changes to the eCommerce market for responsive, adaptive, functional, unit and other types of testing. It provides the Magento Functional Testing Framework for performing end-to-end functional tests on your eCommerce application. It allows quality testers run highly readable, customizable, modular and manageable test cases.
Moreover, there are more advanced features to test code quality. Third-party testing platforms such as PhpCs, PHPStan and PhpMd can also be integrated to engage in interactive and precise quality analysis.
10. Community Support
There is large community hub which Magento developers or business professionals can utilize. There are developers, experts, and other professionals raising and answering queries. The community forum has been segragated in three main categories i.e. Magento Contributors for developers, Magento Masters for experts or contributors and Innovations Lab for futuristic upgradations.
Popular Companies Using Magento
Ford
Omega Watches
Christian Louboutin
Bulgari
Liverpool FC
Pepe Jeans
Land Rover
Harvey Nichols
Conclusion
Magento is considerably the best choice for creating reliable, effective, efficient, and future-oriented eCommerce solutions. Despite its many competitors in the market, it has set up its own unique image and significance.
With its evolving features, it tends to keep establishing its identity through sustainable, versatile and developer-friendly offerings.