4 Reasons Why Web Design Can Make or Break Your Business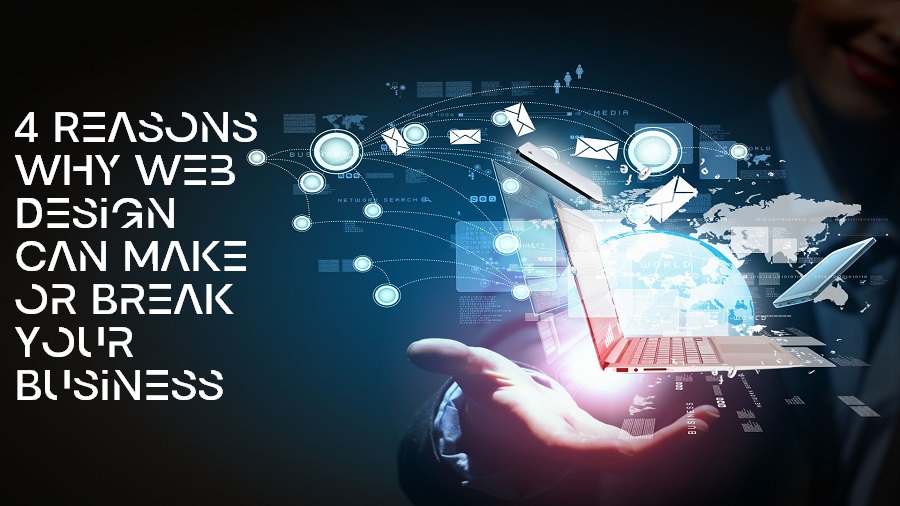 A website is an important part of your online presence and plays a role in the branding strategy. To build a strong brand, you need to have a strong presence online in the form of a good business website. As a matter of fact, web design plays an important role in your website's success and business. Want to find out why? Here are four reasons web design is crucial to your business' prosperity.
Your website design will set the first impression on potential customers
———————————
When potential customers land on your website, they first notice the website's design. It helps them form an impression of your business. Research suggests that visitors judge the business from its website within seconds after landing on a page. Sometimes, it takes a fraction of a second for the visitors to decide whether it's worth doing business with this company.
The trick to winning over visitors is making a positive first impression. To do this, you need to make an impact through the website's design. A website with a poor or unappealing design will only turn the audience away as it will be deemed unprofessional and the company who built it. They will likely leave your page and look for the product and service they require with a competitor. Thus, it will increase the bounce rate, and you will miss out on the opportunities to win leads.
Web design plays a crucial role in impacting your audience and how it views and perceives your business. This impression will either convince them to stay longer on your page and explore your offering or simply leave. So, if you want to generate more leads and increase conversions, make sure your website design is attractive and welcoming to visitors.
A good web design will boost your SEO efforts
———————————
An important aspect of web design that cannot be ignored is that it has a strong influence on how you are able to publish content on your website. This means it directly impacts how search engines like Google and Bing will crawl your website and index it.
Due to this important reason, the mistake of ignoring or messing up your web design will seriously affect your future business growth. With your on-page SEO taking a hit due to a poor web design, your business will need help in the coming time to gain visibility online. Resultantly, the visitors to your website will fall, and hence you will miss out on opportunities to boost sales.
If you want to make the most out of your web design and ensure it plays well with your SEO strategy, hire a creative web design company. Such a company will help your business make the most out of a professional web design that helps your website gain visibility.
A good web design sets a positive impression about the business' customer service
———————————
The web design says all about how the business will treat its customers. The design also reflects how deeply your business values its customers. web design is an easy and quick way to determine how a person will be treated during the course of business. In fact, the website itself is similar to a customer support representative.
The right web design that exudes the feeling of friendliness will prove beneficial for your business. Once your potential customers feel welcome on your business website, they are more likely to engage with your business. It will influence them to stay longer on your website and explore it. Increased engagement increases the chances of conversions and hence sales. So, never miss out on sales with a good bright web design, inviting and also open and welcoming to visitors.
The web design is also similar to the entrance of your office. If a customer walks into your office like a shop or a store, wouldn't the customer like to be greeted by a warm and friendly smile? The web design should play a similar role by looking attractive and friendly to the person who lands on your website.
A good web design is crucial to building trust with the potential customers
———————————
No one would trust a business that has a poorly designed website. A poor design with outdated or inconsistent information will only reflect a lack of professionalism on your part. Such a website will likely be deemed unprofessional and, even worse shady. The problem with online business is that it must reflect feelings of trust and credibility. Otherwise, you stand to lose a lot of business.
Consider the case of a customer who wants to buy a product. Once they search for the product online, they will find plenty of websites in the search results offering the same product. If they land on your website and find the web design poor, they will not trust your business. It won't even take more than a second for them to leave your website and head to a competitor's site is need.
A professional site with a good web design will influence your target audience and signal that the site is worth trusting. Also, anyone can guess that if a business invests reasonably in a good website, then it means they value customers. It will help your customers build trust in your business. They will find it comfortable doing business with you. Hence, they will check your website in detail and probably make a purchase once they are fully satisfied. This will also help lower the bounce rate for your website.
If you want to build an eCommerce store that is able to increase sales from the initial stages, hire e-Commerce website design services to create a website that looks friendly, professional, and easy to access and explore.
Last word
Web design is important, and you need to invest in it wisely. A website with a good design will help potential customers form a positive impression of your business. It will help you increase engagement with customers, and hence leads and conversions will increase. Another advantage of a good web design is that it offers a good user experience, which means your customers can easily access and navigate your website. This will persuade visitors to trust your business and do business with you.