7 Ways to Increase the Organic CTR of Your WordPress Site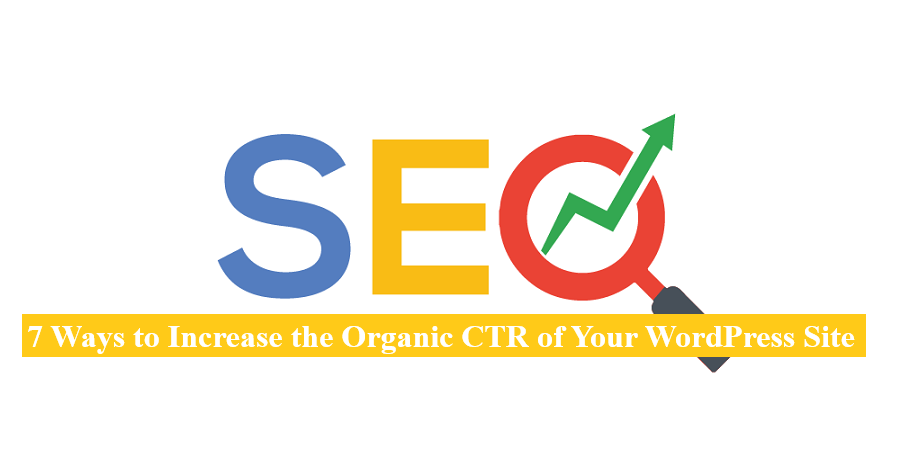 If you want to rank higher in search engines, you need to provide high-quality, useful content, but this isn't a guarantee that searchers will actually click on your organic results. As evidenced by CTR (click-through rate) metrics, online success can be elusive. This ratio signifies the number of clicks on a given web page's advertisements. Web developers' skills with CMS platforms and SEO can create search engine-friendly web pages. We're going to reveal some tried-and-true WordPress SEO methods in this post, so you can simply increase your organic CTRs and traffic to your WordPress site.
There are several ways to measure your ads' effectiveness, but the most important metric is the CTR (click-through rate).
Your website's CTR (click-through rate) is affected by a number of things, including meta titles and descriptions. There are events when the time and money in these projects does not equate to their success or ad income. Ranking higher in search engine results should mean more organic traffic, but what if the clicks on the websites for which you rank well on Google are insufficient?
Despite the fact that web design is all about providing high-quality online content, the harsh reality of the digital world tells a different story. Your organic click-through rates (CTRs) won't skyrocket just by altering your WordPress site's page titles and descriptions.
Increasing your organic click-through rates is simple because you have full control over all essential variables.
Let's Understand What Organic CTR Is.
It is defined as the ratio of visitors that click on an organic search result compared to the total number of visitors who search for those particular impressions.
A result's title tag, URL, description, and rich snippets are all factors that contribute to organic CTR.
The organic click-through rate measures how many visitors from a search engine result page click on a link after seeing it on the search results page.
1. Get Listed With Google Local Business
Moreover, 1,000 searches are performed each month for local businesses. A company's marketing plan would be insufficient without a strong focus on local SEO and Google search. When it comes to this, Google My Business comes in quite handy. The Google My Business dashboard ensures that all of your business's information is prominently shown in your business's local search results. These searches provide accurate and relevant results for both mobile and desktop users.
Don't forget to claim your company listing on Google, which is completely free, if you want to fascinate more local customers. A Google Local Listing dramatically increases your search click-through rate and makes your WordPress-based business easily discoverable and reachable in your local area. To get the most out of Google My Business, you need to keep your profile updated.
2. Secure Your WordPress Site With HTTPS:
The security of a website can be improved by taking simple steps that everyone can perform, such as upgrading WordPress and deleting old themes. Increasing the security of WordPress does not necessarily require a deep understanding of the platform or a risky investment. There is no guarantee that applying a few WordPress safety measures will keep your website safe.
By reassuring website owners to use HTTPS instead of HTTP, Google hopes to improve the safety of the web as a whole. Your website's security will never be 100 percent even if you take mandatory proactive measures. That is why a website backup is essential. A website's security will continue to be breached as hackers continue to find and exploit flaws in the system.
3. Create a Title that is SEO-Friendly
Actually, it's a good idea to have a variety of titles. Using Yoast or any other SEO plugin doesn't necessitate that the WordPress title be the same as the SEO title defined in the plugin. Many marketers are aware of the fundamentals, such as optimizing for a certain keyword, including a meta description, and creating a compelling headline.
In order to achieve high rankings in search engine results pages (SERPs), you must put in a lot of work to make your web pages SEO-friendly. The post's title is displayed at the top of the page on WordPress. Unlike your SEO title, this title can be a little longer and more detailed than your URL.
4. Install The Google AMP Plugin in your browser
If the Accelerated Mobile Pages (AMP) indicator is displayed next to the page description, it encourages searchers to click, which improves your website's overall click-through rate (CTR). AMP is simple to implement as an extension of existing frameworks and platforms. Speedy, swiftly-scrolling, and stripped-down app versions of your website are now possible with Google Accelerated Mobile Pages (AMP), as a free, open-source library-based platform.
5. Improve Your Website's Performance
In addition to boosting your CTR rate, improving your website's page speed can significantly impact your search engine rankings. Your web pages will look better, and your information will be more interesting if you include images. One of the easiest ways to speed up your web page loading is to compress files, and activating compression with gzip is now considered best practice.
On the other hand, large photos can slow down the loading process. Your pages will load faster if your files are smaller. Page speed optimization can increase both the volume of search traffic to your site and the likelihood that traffic will be converted into customers.
6. Tag Your Images with Relevant Keywords
Always stuff your keyword into the image captions; it is ideal for increasing website visibility. Including a caption is the only way to enhance the user experience without any detraction. Many people overlook this most important aspect while optimizing their websites for search engines. If an image is unable to load for any reason, ALT tags help viewers figure out what the image is about by providing a succinct description.
7. Dates Should Be Revised
Consider doing this practice once a year, or maybe twice at least. The publication date is critical when it comes to time-sensitive questions, such as news and stories.
You can do many things to improve the content of an older post that has been performing well in search results. Google wants to see changes, not just republish the same content. When you edit your post's "updated date" will appear in Google search results.
An excellent idea for classic content is to use this method. To retain postdates, update them frequently and display the changed time rather than the original posting date. On the basis of these two factors, Google calculates which web pages are most relevant to a given query.
Conclusion
This improves the website's position in the search results. It will help you identify the sites and keywords that have gotten better and should be more seriously considered. Improved click-through rates can have a significant impact on your company. The end result is that search engines begin to view your site in a more favourable light. Before making any changes, you can use the report to compare your click-through rate. Use the tactics listed above to boost your website's click-through rate. Since higher organic CTR indicates that a user's question has been answered, it's a good indicator.