Digital Marketing Budget for Small Businesses! 12 Top Ways to Spend Your Money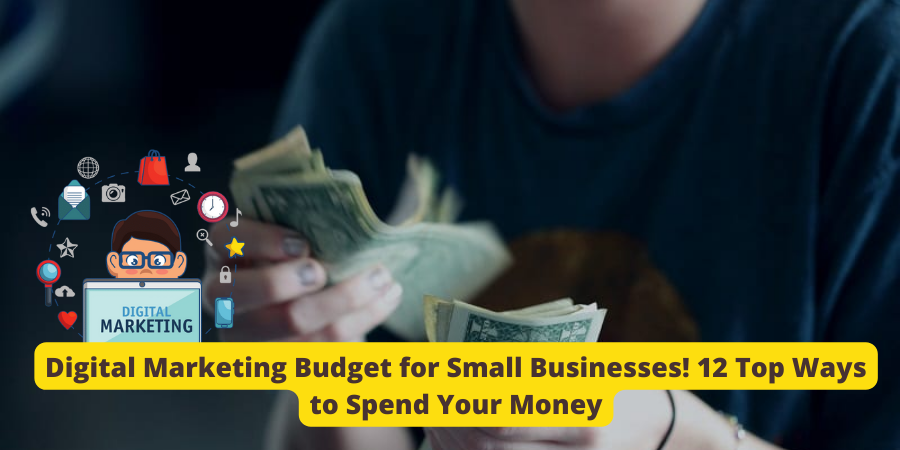 When the pandemic hit, people got a chance to breathe (no pun intended). They could finally sit and think about what they wanted to do in life. Many had lost jobs, and many intentionally quit to focus on starting their own company. Almost every small business got the chance to promote itself and get acknowledgement. However, since small businesses run low on budget for promotion, spending large sums on digital marketing activities is out of question. Nevertheless, our research shows that cheaper options are available. This means we have done all the heavy lifting for you and have put together 12 digital marketing tips for small businesses which will work like magic for you:
Post a blog twice a week
Use Social media ads
Join Facebook groups
Shoot Emails
Go live on Facebook and Instagram
Hashtag and mentions
Engage with your customers
Post videos on YouTube
Use influencers
Guest posts
Demographic presence
Encourage people to review
1. Post a blog twice a week
It doesn't cost you anything to start your blogs. See what content expert Neil Patel has to say about Content Marketing. You can try informing people about your product and services and how you can help them solve day-to-day issues. Also, keep people updated with the facts and news of your field. Whether a person belongs to a particular field, they will always be interested in learning new things, especially today's youth. You can spend little to no money to promote it. Just post on your social media platforms. Starting from friends and family, if it has potential, it will reach millions in no time. Using the correct keywords and maintaining consistency with posting your blog are the key ingredients.
2. Use Social media ads
Social media ads are easy to use and have practical algorithms which will help you boost your post at minimal price. You can easily create an engaging post with Canva, which is a free to use software and post it on your social media apps along with stories. Then promote it to people you think are your potential customers and spend a specific budget. You can set the age, geography, professions, keywords according to your requirement and make instagram and facebook work at your disposal. See what works, keep experimenting, and within no time, you'll be able to create a group of loyal customers.
3. Join Facebook Groups
Out of plenty of ways to digitally market your small business, this is a cost free option because joining Facebook groups  is free. Many leading brands have their own Facebook group of loyal followers who, without fail, look for every notification from them. Now that it might be too soon for you to create your group, it is never too late to join many and post your content in those with proper links. It will encourage prompters to click the link and at least check out your product/service if nothing else. You can simply put an image of your product or service and mention the link. Tiny efforts like this will make your business a huge success without spending too much on brand promotion and marketing. You can divert those funds to the research and development of your company.
4. Shoot emails
The bottom line is that you must not shoot boring emails. Make them attractive and appealing, and then send them to your subscribers. They should learn something from those emails. Be it about your product or a market update, or simply a meme that shall make them laugh.
Also, you can share an infographic of your blog and not the whole blog itself so that they will give a once-over to your email and not unsubscribe you. Even though emailing is a little 90s, email marketing is still recommended by various digital marketing agencies. Email marketing will also give your content a space to breathe. Your email can be as long as you want or can be as small as a single line. No matter what, adopt different methods while shooting out emails and do not make them monotonous.
5. Go live on FB and Instagram
When you go live on Facebook and Instagram, you can see for yourself what people think about you and what is going on in their minds regarding your product. You can read aloud their questions, which shall make them feel important. And answer them in a meaningful way. It is a free-of-cost option too; to digitally market your small business. Many celebrities go live time and again to meet their fans and connect to them because people make them celebrities. Similarly, customers make your brand a king, so take time and understand what do they need and how can you cater to their needs in a meaningful way.
6. Hashtags and mentions
Use relevant hashtags and mention relevant people whenever you post something on social media apps. That way, a notification will be sent to the people you have tagged, and it will prompt them to check out your post even if they do not want to, which isn't a bad thing, right? Top digital marketing companies suggest that by tagging people and using hashtags, the chances of you gaining more followers increases drastically. Plus, it will just cost you a few minutes of your time but it is a surefire way to gain popularity amongst your customers.
7. Engage with your loyal followers/fans
This option is again free of cost. It shall not cost you to take some time and comment on your followers' posts, but it will make them feel important. Plus, you do not have any other option if you are tight on budget. This digital marketing tip for small businesses might take up too much of your time, but even celebrities take time to meet their fans. Otherwise might make you seem a little arrogant, and we do not want that! So choose a random follower and comment on their post or mention them on your wall. They shall feel important and word of mouth will work like a charm for you. Not just them but their family members and friends will become followers of your brand and slowly your reach will increase.
8. Post videos on YouTube
Posting the videos of your products and services or influencers promoting your brand on YouTube is a must these days. Netflix and Amazon Prime came later; YouTube was, is, and will always remain king of videos. So promoting yourself over here is not optional. Post valid and appealing videos on Youtube regarding your brand and what you contribute towards the environment and who all are there in your company. Do not make robotic videos which get boring after a while. Be creative and post the content people can relate to.
9. Use influencers
There are lots of influencers these days with 10K or more followers. You can contact them and send them your products. They shall promote it on their account for free, and you'll be able to reach many people. It is pretty cheaper as compared to hiring a celebrity. Also, you can contact the rising sports person to promote your brand or an NGO. It shall increase the credibility and trustworthiness of people in your brand. Because people always connect to a good cause. They always want to know that whatever brand they are associating themselves with, doesn't harm nature. Hence, show people that they are doing the correct thing by associating with your brand.
10. Guest posts
Write a guest post and post it on various guest post sites. You'll be surprised at how many people read guest posts and look up those brands on Google. Speaking from personal experience, I learnt about a company from a guest post called Bamboo India and I looked it up. It prompted me to order their product and I did. So, guest posting always helps small businesses with free digital marketing.
11. Demographic presence
Local presence is a must for digital marketing for small businesses. The first set of customers you shall have will not be international; they will be the local ones. And it is a thumb rule to keep your local customers happy. That way, you'll be able to keep them for life, and they will attract international fans for your brand. Give your local customers something to be proud of that they go on and on about your brand to their international friends and family members. Once you win their confidence, there is no going back. They will be the first ones to send your product to their relatives and friends staying abroad proudly.
12. Encourage people to review
Reviews work like miracles for everyone. Hence one of the best tricks for digital marketing for small businesses is to encourage people to review your products and services. Whenever people wish to buy something or opt for a service, they look up the reviews first and then buy it. So remember that reviews are essential. Appealing to people to leave a few for your brand is free. Attend events, talk about your company and ask people to leave the reviews. Send people an email after a few days asking for reviews. These all are free of cost activities.
Now that you have learned about low-budget tricks and tips for digital marketing for small businesses, use them on a regular basis and get into the game with the bang. It will assist you in choosing the best for your brand because your brand deserves the best.