10 Best Tips For Improving Local SEO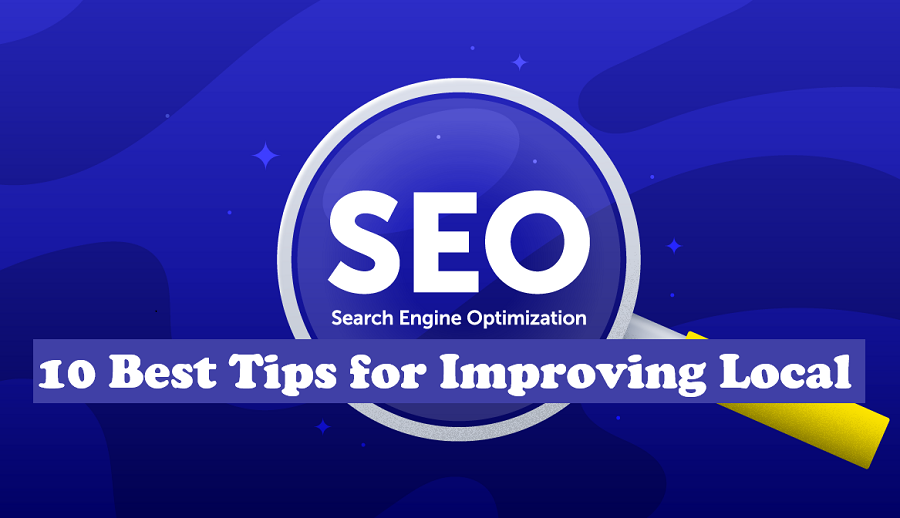 Did you know that around 46% of searches made on Google are looking for local information?
In fact, 72% of local-search customers visit nearby businesses in the immediate vicinity. Surprising, right!
Needless to say, these stats are ample justification for the importance of Local SEO. If businesses don't optimize themselves for local searches, chances are they might miss out on potential customers.
In a nutshell, if you want your business to be successful, it is vital to follow all the guidelines of local SEO. That is why we have come up with this comprehensive guide in which we will share the 10 most effective tips that will help you develop local SEO and attract more traffic to your website.
So, sit tight and keep reading!
Best Tips for Local SEO in 2022
Optimize Google My Business
Optimizing your local listing can give you a better chance of ranking high in Google's business directory. Since Google constantly works to provide its users with better services and Google My Business contributes to providing one.
To improve your local Google business listing, you'll need a Google My Business account. Once you add your business to Google My Business, it will be added automatically to your Google Business Profile. Your profile will appear in local search results on Google, including the Google Knowledge Graph.
To ensure your Google My Business profile list in the Google SERPs, follow these steps:
Create a My Business account page on Google and get it verified.

Provide accurate information such as type of business, operating hours, services and location.

Feedback is important! Entice your customers to write them for you.

Regularly engage with the reviews and authentically reply to queries.

You can post content directly on your business's Page using the Google My Business dashboard.
Be sure to keep your Google My Business page updated and accurate. This could help you get your business verified by Google. Remember, your customers can only buy your products or services if they know you exist!
Engage With Your Customer Regularly
It's important to keep in touch with your customers once you have an online presence, so they'll know about the new products or services you offer and so they'll feel more confident about doing business with your company. By encouraging them to post reviews of their experiences on your Google Business page, you'll be building your brand even more.
The more engagement your business page gets, the better your chances of being found in local search results and the more opportunities you'll have to reach potential customers.
But how will you persuade customers to leave reviews? Let's explore ways to encourage this behavior:
Once a deal is closed, ask in person or send a mail to write a review of their experience.

Respond to existing reviews professionally and if there are any issues try to resolve them quickly.
Do Local Keyword Research
For local SEO, you'll need to think about your keywords in terms of location. You can use a service like Keyword Planner, Ubersuggest, or AnswerThePublic to help you do keyword research.
Start by thinking about what someone might search for when searching for your business. How likely is it that your customers will search to find a service like yours?
For example, say you run a cafeteria in a Brooklyn borough. To find you, people might search for terms like "cafeteria Brooklyn" or "best coffee in Brooklyn". You will want to attach your address to these keywords in your SEO strategy. So, you might use the keywords "cafeteria in Brooklyn" and "best coffee in Brooklyn" on your website. Once you have a list of the keywords you want to target, you can use them over and over throughout your website.
Use Voice Search Optimization
Search engines are expected to increase the use of voice search in the coming years. As a result, local SEO is likely to change because people will ask questions differently when they speak into devices.
When people do voice searches, they use longer words than they would when typing in a search into a search engine. This means that the SEO of your content needs to be adjusted to fit the more conversational tone of someone speaking.
Consider your users' needs when optimizing for voice search, as users are more likely to search for information with this type of search. For example, if someone asks your business for such basic information as its hours, you should also make this information available in a place where customers can easily access it.
Do a Local SEO Audit
After you've finished the basics of SEO, it's time to run an audit. To get the most out of your site, take a step back and perform an audit to see what your goals are and what you can do to keep growing.
Even if you've performed all these steps, remember that you can always improve your website's local search-engine optimization. To do a thorough local SEO audit, follow these steps:
Google My Business Audit

: Review your Google My Business page. Make sure everything is accurate and up to date.

Google Search Console Audit:

Check if your site has any broken links or if your site is crawlable by search engines?

On-Page SEO Audit:

Does your site have all the on-page SEO elements that help to rank?

Competitor Analysis:

How does your design stack up against your competitors'? Are there gaps that need to be filled? Are you getting as many inbound links and mentions as you'd like from other bloggers?
Create Locate Web Pages for Local Business
Add some pages to your site that are focused on specific locations. For example, if you serve the Electrician needs of clients in 6 cities, add six pages dedicated to those cities so people looking for electricians near them can find you.
You can include location target keywords in the name of your new page, as well as in its content. Include them when you're naming county, neighborhood, or district pages, too. This lets Google know what your site is about.
Improve Internal Linking To Boost Local SEO
Although you will get the most link value from external links, you can also augment your search engine rankings by improving the internal linking structure of your website.
You might be wondering, why is internal linking so important? Because of the following reasons:
Navigating the site is easy.

Helps keep the information on your website organized.

Spreads link authority and ranking power among pages.
Include search-engine-friendly URLs, headlines, headers, meta descriptions, and content
You can target geographic search phrases on every new blog post you publish because every new blog post is a new indexed page for your site. In addition, every blog post is an opportunity to be found in the Google SERPs.
When you create content, remember that search engines like Google will index it if you use high-volume keywords in the URL, title, header, meta description, and body. Also, make sure to highlight customer success stories and case studies if you are having trouble coming up with local content.
Create location pages for your website
Create location pages for your service locations. Include in those pages information about store hours and locations, promotions, testimonials from happy customers, your contact details and more.
Be sure to avoid duplicating information across multiple pages. For single-location businesses, try creating a short About Us page. If you want to be considered a stand-out in your area, add a Google map to your website.
Make Your Site Mobile-Friendly
One of the most important things to your customers is how easy it is to access your website on a mobile device. If you don't make your website accessible on mobile devices, you risk losing potential customers to your competitors.
Research shows that more than 60% of searches on mobile devices are more likely to call a business if they have a mobile-friendly website.
Have a web page for each product or service you offer
Rather than grouping all your products or services together into one long, hard-to-navigate page, you can create one page for each of the unique products or services you offer.
It's better to divide your expertise into different pages and have a Cross-Linked Website set up. This will make it easier for search engines to determine that you are an authority in one specific area, thus increasing your ranking possibilities.
Wrapping Up: Importance of Local SEO Than Ever Been
Search engine optimization is a rapidly changing field. Google frequently introduces new features on its search engine results pages (SERPs) for local searches, and you should stay on top of these changes if you want to succeed with SEO. That is why it is very much important to follow all the strategies that can improve your local SEO.
If you still require help with your business's SEO, or even with your marketing efforts, you can always hire an SEO consultant and take advantage of their SEO services.
We hope you found these tips helpful! If you liked our post, do share your thoughts in the comments section below. We would love to hear from you!
And, of course, if you have any tips or stories about local SEO, please share them with us!