Facebook Advertising Strategy – A Complete Guide To Run Into Huge Success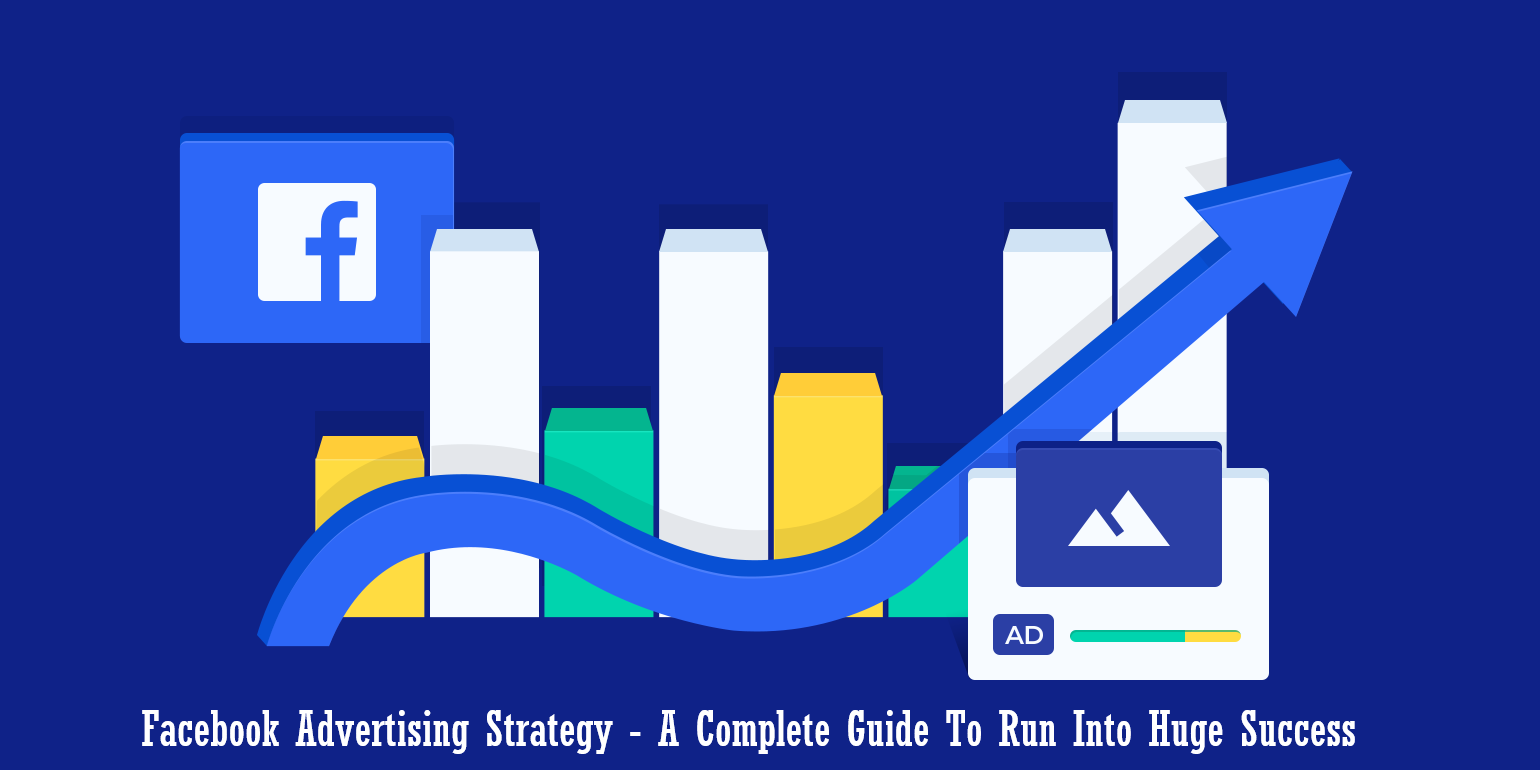 Social media ruins the internet with 2.6 billion active users in recent years. Among various social media channels, Facebook remains a benchmark for marketers to land their business on success. Do you know how large the Facebook usage is? There are about 2.8 billion monthly active users, which becomes a challenge to win the competitions.
To stand out of the crowd, start investing in Facebook ads, and grow your followers with a strong online presence. Since Facebook is the world's largest network, advertising strategy becomes essential to connect with your target audiences. Due to the recent changes in the Facebook algorithm, most businesses prefer to invest in paid campaigns to increase their reach.
What Makes Businesses Go For Facebook Ads?
Over 97% of marketers run paid ads to show a presence to target audiences. Without running ads, you cannot be sure that all our audiences are active. So, running Facebook ads target your active audiences and increase the organic reach.
To succeed on Facebook with the best results, you have to know about Facebook ad types and targeting options for achieving great success.
Are Facebook Ads Worth? Definitely yes! A report in 2018 revealed that the organic post on Facebook reaches only 6.4% of your fans due to algorithm changes. As it makes it difficult to gain organic reach among the huge competitors, Facebook ads stepped in to gain potential clients.
And now, you are into the complete guide to know the tricks for running a successful ad campaign.
1. Define Your Target Audiences
Before you get into Facebook ad creation, it is essential to know your target audiences first. One of the great Facebook ad pros is pinpointing people who are likely to use your brand or product. Facebook gives you the control to fix your ad visibility with three audience selection tools for potential targeting.
Core Audiences: People use it to attract new customers. The core audience option allows you to reach potential audiences where you can define based on their location, demographics, interest, behavior, and connections.
Custom Audiences: By selecting the custom audiences, you can engage with people who already show interest in your business. Use this to make your connections much stronger with users who visit your site or show interest in your brand. The custom audiences are likely to convert as your customer.
Lookalike Audiences: It allows you to reach people similar to your customers or potential audiences. While selecting lookalike audiences, Facebook will show your ad to the audiences who have similar interests of your existing users.
2. Select The Right Facebook Ad Type
Facebook provides different ad types to gather the most effective audiences for your business. Get a clear idea of the uses of different ad types.
Image Ads
Video Ads
Poll Ads
Carousel Ads
Dynamic Ads
Image Ads:
Image ads remain a great pathway to show your business or products to potential audiences. One can easily create a well-performing image ad, but all you need is a good-quality image with catchy captions.
The character count of the image ad is:
Headline: 25
Link description: 30
Body text: 125
Video Ads:
Use the video ad to show your product in action, i.e., a demo video. You can either run ads on newsfeed or stories that help audiences to understand your product.
The character count of video ads are:
Headline: 25
Link description: 30
Body text: 125
Poll Ads:
The poll ads are the newest addition to Facebook advertising. Increase your brand awareness by creating a poll ad to engage huge audiences. It works great because it engages you and your audiences.
Carousel Ads:
Carousel ads are the same as image ads but display multiple images of your product in a single ad like a slideshow. You may add up to ten images.
The character count of carousel ads are:
Headline: 25
Link description: 20
Body text: 125
Dynamic Ads:
Dynamic ads automatically show your product or business in front of audiences interested in your product. To use dynamic ads, your Facebook page needs a Business Manager account and install the Facebook pixel. Once done, set a campaign by uploading your business catalog. After that, the automation of Facebook begins.
3. Make Use Of Automatic Placements
If you are new to Facebook advertising and have no idea how to target your audiences, we strongly recommend selecting Automatic Placements. After selecting the option, your ad will run across the place that leads to your business success.
Use automatic ad placement to increase the conversion rate because Facebook detects the succeeding place to show your ad. Thus, making an attractive ad suitable for your business takes audiences to the purchase page and helps to increase your revenue. So, just think of running Facebook ads as an investment, and gain the audience's attention with an increase in the conversion rate.
4. Choose The Right Objective
Selecting the goal of creating a Facebook ad is important to gain success. To create an objective, log in to the Facebook ads manager and select Create option, to begin with, a new ad campaign. Here are some of the business goals to accomplish success:
Brand Awareness: Create a brand introduction to new audiences.
Reach: Make your brand reach thousands of people.
Traffic: Drive Facebook audiences to the landing page with perfect link-building tactics and increase your conversion rate.
Engagement: Create interesting posts to increase audience engagement and reach people with higher interaction.
Video views: Increase views for your Facebook video.
Lead Generation: Get the information of audiences who are likely to buy your product to increase conversion.
Messages: Encourage people to use Messenger to contact you.
The goals may vary according to your business. So, understand your business needs clearly before choosing your ad objective on Facebook.
5. Set Your Ad Budget
After setting the name for your Facebook ad campaign, you need to decide your budget spent on your ad. You can either choose the daily budget or the lifetime budget with the start and end date. Also, if you want to schedule your ad in the future, Facebook advertising provides the option.
Remember, while running Facebook paid ads, it is efficient to schedule your ad and spend your budget between the scheduling. If done so, your ad will appear to your target audiences when they are active. The scheduling is possible only if you choose the lifetime budget.
6. Test And Track Your Facebook Campaigns
Whatever campaign you run on Facebook, it is essential to navigating your Facebook platform. And yes, Facebook has testing and tracking metrics to measure your ad performance. If you are new to Facebook advertising, it is better to run test campaigns with a smaller budget and analyze the ad performance before blowing into large budgets.
Coming to the budgets, Facebook does not have any restrictions in setting up a budget for your ad. But it can drain your dollars if the restrictions you set are not clear. From a report in 2018, it is found that brands setting up a budget gains higher conversion.
7. Create A Strong PPC Strategy
In Facebook ads, one gets paid every time, when someone clicks on the ad. More clicks for your ad provides the chance of increasing your ad visibility to different audiences, and therefore, boosts your revenue from potential users through the particular ad. The Facebook advertising strategy takes this idea and makes large people click on the ad.
The best advertising strategy on Facebook is to run more than one PPC campaign to compensate for the performance of other ads if one ad fails to reach your audience. A great example of a powerful PPC campaign is A/B testing. It is nothing but running two different ads and using a split test to compare the best ad.
8. Use Geo-Targeting
In recent years, as technology grows, there are a lot of techniques that help marketers to reach a lot of audiences. One of the greatest strategies helpful for businesses to find more people is Geo-targeting. When you use a Geo-targeting feature, your ad shows to the prospects based on the location and engages your potential customers.
Geo-targeting has another option to choose the radius of audience presence that you want to target. Refine the specification of your audience by providing their age and gender. So, the specific people in the targeted area will see your Facebook ad.
Wrapping Up:
Nailing your Facebook advertising strategy remains a great task. Small testing and research in your Facebook account make it possible to attain success. Think running a Facebook ad is an investment for your business and increases your revenue rapidly. Use the above strategy to run a successful ad and reach wider audiences.
Facebook ads always remain the gateway to take your business to another level with higher engagement. Finally, make a benchmark in your business by sticking with the right advertising strategy on Facebook and seeing the success of your brand.