Top 7 Best Software Development Services Companies in 2022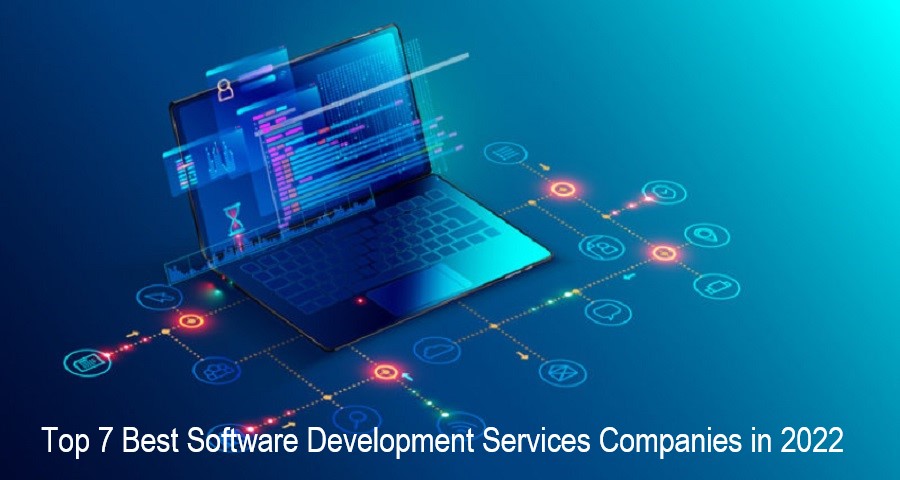 Software development services companies assist many businesses to grow through mobile and web applications. These companies make all sizes of apps from small businesses to large enterprises. They provide users with all kinds of software according to their needs and requirements. This software includes custom software or package software.
Moreover, software development services companies help enterprises in staying ahead of the competition by providing them with fresh and innovative software solutions. They help businesses solve problems that otherwise seem daunting to deal with. However, it all depends on what company a business is choosing to solve their software related problems. Since, one wrong decision can make or break a business's reputation forever.
I have seen many companies over the internet that provide the best software development services. But in this article, I have chosen the most important ones. So, let's begin with the first one.
Best Software Development Services Companies
1. ScienceSoft
In 1989, this company was established in Texas. It was started as an Artificial Intelligence-based company. In 2002, it became one of the top software consulting companies in the world. It has more than 700 employees and about 60 clients from different countries. It has a variety of developers from all over the world. ScienceSoft provides its clients with the following services:
Healthcare
Finance
Retail
Telecommunication
Education
Transportation
Logistics Industries
Banking
ScienceSoft assists giant and mid-size companies to develop their software projects. It is also known as the best company in AI, ML, Internet of Things (IoT), computer vision, Augmented Reality, and Virtual Reality.
It has made some great projects such as Viber and messaging apps such as VoIP. This app has over 900 million users in the world. They provide different pricing models such as fixed price, subscription model, and Time and Material Model.
2. Intellectsoft
The company was founded in 2007 and specializes in custom software engineering. It has more than 350 employees and different offices in the world. The company provides the following services:
UI/UX designing
DevOps
Mobile application development
Dedicated Teams
Consulting Services
It comes on the number 2 because it has a wide range of developers having expertise in their domain and exceptional experiences. It has some special clients from its exceptional quality of service:
Universal Studios
Guinness
Eurostar
Harley Davidson
Land Rover
The company has made long-term partnerships with its clients. It covers the full lifecycle of applications such as design, integration, development, and management. It has a roadmap that offers top-level engineers of the company.
Intellectsoft also offers Quality Assurance (QA) services that have tested hundreds of high-quality ERP systems.
3. Oxagile
It is founded in 2005 and is based on the following domains:
Artificial intelligence (AI)
Business Intelligence
Custom Software development
Web development
Consulting Services
It has over 540 clients in more than 30 countries. It has been working for the media and entertainment, healthcare, finance, e-learning, and banking sectors. Usually, it controls big data management more than business requirements. That's why it comes on number 3 in this list.
Oxagile uses agile methodology to fulfill its clients' needs and requirements. It also uses engagement models to complete the user needs. It follows a clear roadmap that controls all the project budgets and handles all the fixed bids. Another efficient model is the time and material model that is used by Oxagile. The companies just pay for the resources used in the project.
4. DockYard
DockYard is a digital product organization founded in 2010. It offers:
 Custom software development
  Mobile app development
  Web application development
It is a purely remote company that hires employees from all over the world in the USA and gathers an ocean of expertise. It comes fourth because it is a remote organization and a bit young rather than other tech industries. Its specialties are:
 Design
Engineering
Quality Assurance
 Project Management
Training and Support
It serves many industries such as
 Information technology
Finance
Retail
 Healthcare
 Manufacturing
Entertainment
Its best client comprises Netflix, Apple, Fidelity, Constant, and Harvard University.
 5. OpenXcell
OpenXcell is an open-source company that purely focuses on Drupal and WordPress. It has over 400 employees and 500 potential clients. It has a 4.8 rating and 21 reviews on Clutch.co. It falls in the 5th number because it has transparent prices.
It has a specialty in the following domains:
 Mobile app development
UI/UX designing
Full stack development
Quality Assurance
 Maintenance and Support
The DevOps team also assists in a team collaboration that results in fast delivery of the product in a limited time and budget. It has clear pricing on its website and also offers 45 minutes of free consulting services to its employees. It also signs a Non-Disclosure Agreement (NDA) with its potential clients.
6. SumatoSoft
SumatoSoft is based on custom software and offers deliverable projects to SMB's. It was founded in 2012. The company has its specialty in:
Internet of Things (IoT)
Web development
Mobile app development
Marketing
Education
Information Technology
eCommerce
Logistics
It is a relatively small company having 50 members in 27 countries. But it has completed all its projects with 98% client satisfaction. It has not listed its pricing on its website. The company offers free consultation and signs NDA for the projects.
7. InvoZone
InvoZone provides web design and development services to various businesses and enterprises. It was founded in 2014. It provides services in the following niche:
 Web Design and Development
Mobile App Development Services
Enterprise App Development
Software Quality Assurance
Dev Ops
Data Scraping
Big Data
IoT Development
Software Project Management
Technical Support Services
UI/UX Design
This company offers its services in various industries including:
E-commerce
Food and Grocery
Education
On Demand Services
Healthcare
Fintech
Travel and Tourism
This company has managed to successfully complete more than 400 projects up until now. Their customer satisfaction rate is a solid 97 percent. Their team comprises more than 500 developers and engineers.
InvoZone sets itself apart from other companies due to various reasons. Some of those characteristics include:
Cybersecurity
Expert Development Team
Seamless Communication
Standardized and Collaborative Workflow
100% Project Success Rate
Customized Solutions
Client Centric Approaches
Cost and Time Efficient Solutions
Strategic Partners
It uses quality tools to ensure providing quality solutions to its clients. For instance:
Amazon AWS
Elixir
Erlang
Phoenix-Framework
NodeJS
React
Redux
Angular
VueJS
ExpressJS
Meteor
Python
Django
PHP
Laravel
Conclusion
There are hundreds of giant tech industries in the world but why are some of them the most prominent? All you have to do is just look at the client satisfaction rate. Client satisfaction is the most prominent factor in the business. If you are delivering 100% quality products within a limited time, you will be one of the top companies in the world in no time. In this blog, ScienceSoft is one of the best software development services companies because it satisfies its clients. Its reviews on Clutch.co are very amazing from the client.