How Managed IT Solutions Could Save Your Startup Business in 2022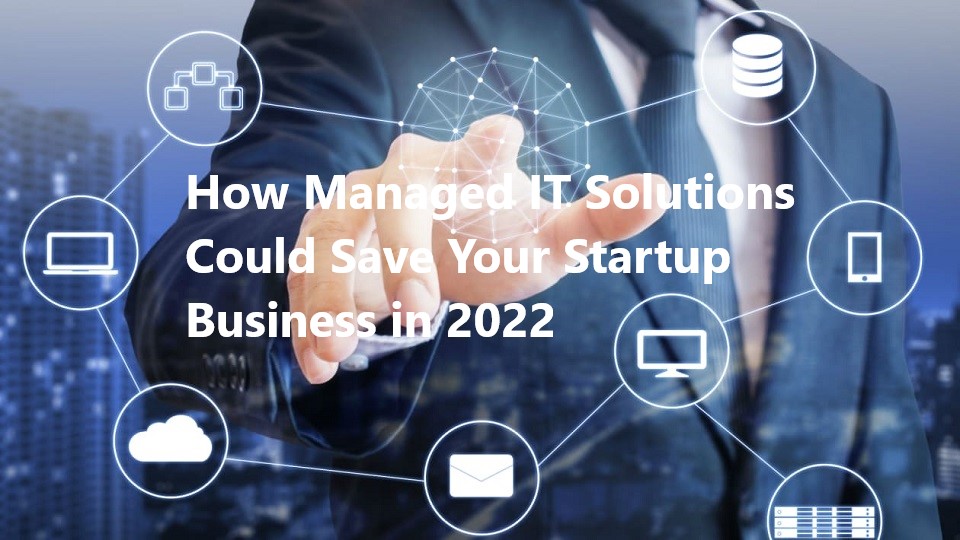 Over the last decade, there has been a surge in startups. With ideas being funded one way another, entrepreneurs must plan their budget accordingly. Managed IT solutions can help you in the seeding, expansion, as well as scaling stages of your company. Imagine it as being a separate department in your business but with capable experts and up-to-date resources.
Even the most technology-dependent organizations don't actually require in-house IT executives now. IT solution companies around the world can handle almost all their needs with enough funds to spare. The same is the case with small-scale and startup businesses. With saved expenses and all-in-one services, IT-supports can truly save startups. There have been multiple cases proving it and one can hardly deny its utility.
You can still make bad decisions especially while starting fresh. The difference now is that you have a reliable group to help it resolve and recover problems. This article is an outline of how new and upcoming businesses can benefit a lot through IT support and solution services.
IT Both a Challenge and Opportunity for Startups
With the help of different technological tools and services, you can make a powerful impact on your startup business. However, it is often costly and requires highly skilled individuals. Most small companies can't afford it and hence might have to use other measures. Information technology opens vast opportunities and amazing discoveries to improve your business. More often than not a new establishment can't cope with the challenges. It can all change. For example, over the last few years only, over 15% of startup businesses have benefited from IT support in Melbourne, Australia.
Factors to Consider Before Selecting a Package Provided by an IT Solution
You have a lot of options providing several interesting deals while choosing an IT support company. However, cost can't justify some other important factors that the company can deprive at times. Here are some of these points to consider as a business owner.
1. Usability
Most people can make things look good on paper. A comprehensive list of high-end exaggerated features doesn't always mean it won't fail in practice. If you have an option to choose between an unusually stacked and simple but competent service, we will suggest the latter. That way your company can focus more on what matters the most.
2. Credibility
Companies may claim to have a long history of providing similar services. You can't always take their word for it. It is up to you to know how credible their statement is. One of the reliable methods here will be to know if other respectable companies are using their services. Know their recommendations, reviews, and endorsements from their previous clients.
3. Customization and Scalability
With innovations coming hard and fast you might have to change your business methods. Know how flexible the company is in customizing the terms and components of the packages. It is also helpful to know how the company adapts to new trends and technologies. Similarly, IT solution companies must be able to scale according to your needs. This can prevent future complications especially if your business has high and low seasons.
4. Transition and Tech Support
Does your IT support package include the transition phase and training that comes with it? Do they readily assist you with the initial transition without extra charges? Well, these discussions are important for any startup business. Similarly, your company might need different levels of support at different times. Know if there are dedicated personnel available for these scenarios.
What are the Main Services Included by IT Support Companies
You can expect to get every possible service required for your company online. If required some companies even visit you for better implementation of their services. Here are some of the most helpful of the IT services.
* Market Research
Market research can provide extremely useful insights to give a new company head-start while entering a competitive industry. Through data analytics, surveys, competitor tracking, and powerful software IT solutions can save you time and effort for research. The result then received can be explained in simpler terms to you through dedicated research experts.
* Website and app development
Most aspiring ventures, be it a simple store or a complex service provider, can benefit a lot through a web-based interface. It saves you the hassle to be physically present for every aspect of the business. An attractive website and easy-to-use application can handle a lot of tasks for your company. These will serve you for a long time and help your clients reach you through the internet.
* Digital Marketing for Building your Brand value
Your business promotion can be achieved in several ways. One of the most effective modern methods is through strategic digital marketing. With services like SEO, SEM, SMM, Email Marketing, and more you can advertise your start-up globally. Similarly, your brand identity is much clearer with the help of marketing experts.
* Cloud-based services and PPU
The concept of Pay-per-use (PPU) is a lifesaver for new firms with a limited budget. The concept is simple: you pay for only the resources you use. Expensive infrastructure, software, storage, and platform are provided through the cloud. You can certainly benefit a lot by utilizing this cost-effective technology in 2021.
* Technical Support and Training
The cost of hiring dedicated workers for the simplest of jobs is not practical for startups. Error and issue solving is vital and should be conducted before the recovery time objective. Training your existing staff can help the overall organization. This will level up your employee expertise and productivity. IT solutions provide both these and with a high level of effectiveness too.
Do Companies Even Serve Small Businesses and Startups?
Yes, absolutely. There are several service providers that have specific packages to handle your needs. Others simply allow you to share the resources and software when possible to help more than one small business. Explore different options and select the best deal that will serve you in the long run. Avoid blowing up your budget on unnecessary services. Invest wisely and select the right path for your exciting venture.