Top Five SEO Marketing Strategies That Would Work in 2022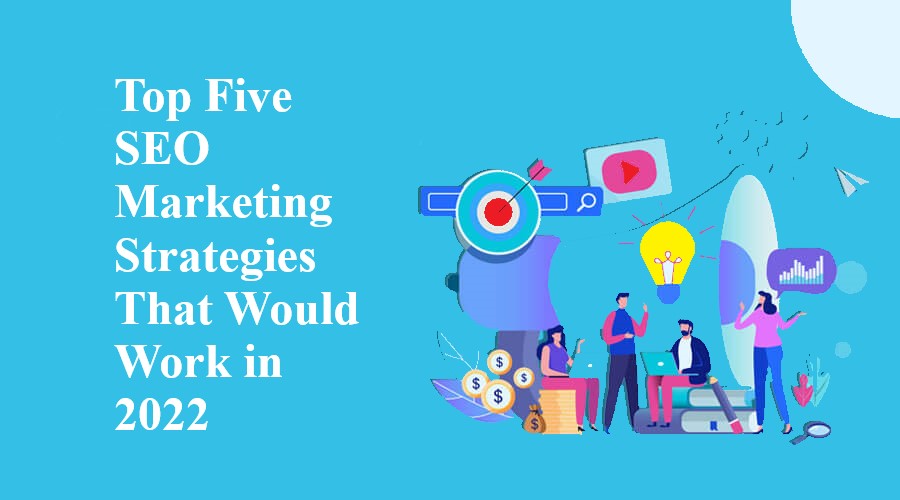 As time passes by, the online advertising horizon becomes more competitive. With ad campaigns and paid tasks, organic traffic drives impact. As 75% of users never look beyond the first page, it's essential to have a set of SEO practices in place. A Digital Marketing introduces you to the top SEO practices of 2022.
Value for Voice-Enabled SEO Increases More Than Ever.
It is not shocking to find that 40% of individuals in the US use voice commands. The advent of Alexa, Siri, and Google scaled up the volume of voice-supported searches. Apart from location-specific searches, long-tail keywords, it's essential to have a voice-optimized site.
Demonstrating Your Brand to be Trustworthy and Authentic
EAT principle ensures the long-term success of your SEO marketing efforts. Regardless of changing algorithm, put in place a solid branding strategy.
EAT stands for experience, authority, and trust. Google prefers authorized, reputable, and established sites higher than unknown ones. You may wonder- How do I outrank my competitors. It is more when your industry is more saturated. There is no harm in taking a small and steady step. A SEO service provider helps you improve your brand's trustworthiness. It allows you to establish brand authority and reputation. Following are the ways that get it done.
Ask customers to leave a positive review as they get contented with service quality.
Earn high-grade links for your site.
It is the way to improve your brand image while establishing it as a trustworthy site. Even if you get feedback, learn responding it with professionalism.
Focus on User Experience
A digital marketing firm employs tactics that enhance user experience. It is the power of Google and other search engines. In 2022, SEO will become more user-centric than ever. The focus on core web vitals revolves around user experience. Google takes into account bounce rate, CTR percentage, and page loading rate.
The goal is to have a click at your result. Invest time in clicking on many web pages and spend a least three minutes on your site.
Internet marketing considers the following factors when measuring user experience.
Does your site have a mobile-first web page?
Is it easy for users to navigate from one web page to another?
Do you have features that let users interact with your web content?
Prevalence of Backlinks
There is no denying that backlinks lie at the heart of SEO. You can't have a solid marketing plan without having quality backlinks for your site. Backlinks are a critical way to establish a brand image. As mentioned earlier, authority, expertise, and reality will be the backbone of branding.
Keep reading to learn about what you should and shouldn't do when building backlinks. Here is a quick guide on how to improve marketing efforts through link creations.
The domain authority of your link is more valuable than the counts of the link on the site.
Use community forums to share your content. It helps you cover more and convince people to link back to your site.
Discover unlinked mentions on the site to convert them to links.
Apart from link building, digital marketing SEO service providers place value on guest blogging.
Images on Website
Over 25% of searches happen on Google and other web indexes. SEO best practices in 2022 include image optimization on search engines. Be sure that the images you use are of high quality and relevant to your content.
Don't forget to compress your images before uploading them to the website. 21% of the loading speed of a web page relies on image optimization. It means that a large image can slow down your site.
Update Content and Internal Links
You're likely to stay involved in composing content. But, it needs you to update your existing content as well. If you indulge more in curating new blog posts, your existing content will look outdated. No doubt that you invested in a lot of resources to write blogs. It is better not to miss out on opportunities to update content.
Search Engine Optimization Provider finds it valuable to update internal links. Go back to old content and embed links to your block posts. It helps search engines index your web page faster. It is how you can rank your posts for relevant keywords.
Why is it Essential to Update Links?
When you have a site, you'd know that not all web pages can engage users in the same way. The fact is that users leave web pages on finding that it doesn't meet the requirements. Through online marketing you can finds out web pages and removes them. It is how it improves user engagement and drives leads.
Whether it's content writing or SEO, digital marketing firms in NZ get your back. For related queries, contact us today.