Top 10 'No-Code' Machine Learning Platforms In 2021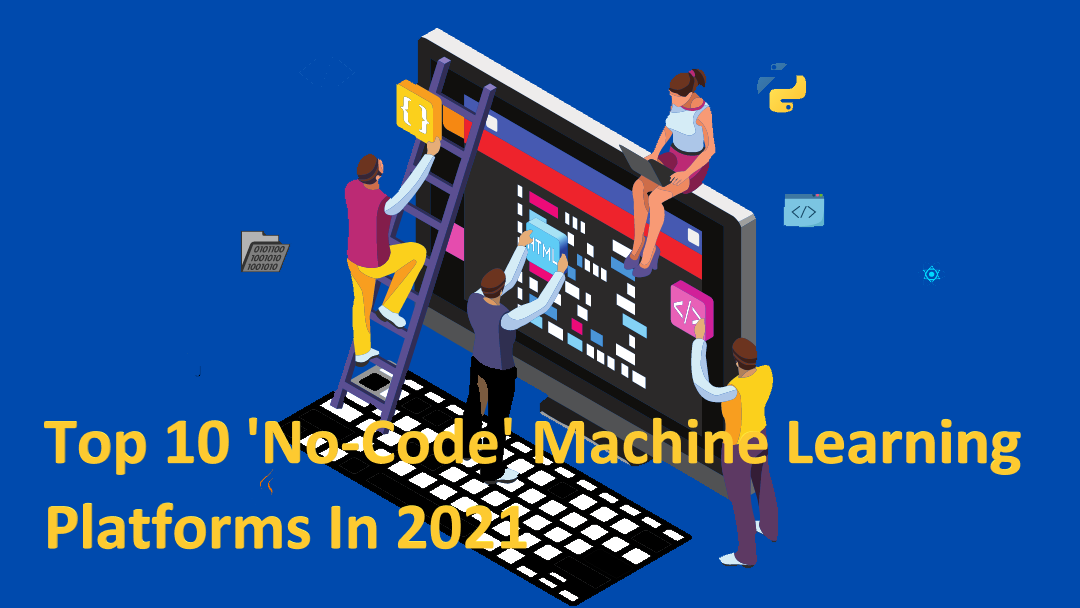 In the mid of this decade, a wave of No-Code Machine Learning Platforms is coming. Many businesses have turned their market strategies, focusing on influencing artificial intelligence to develop software-based products. No-code AI platforms will ramp the development process multi-fold as they can turn complex tasks related to design and development with approachable solutions and streamline interactions.
This direct method has earned quick popularity, and Artificial intelligence is set to take on strategic significance in helping businesses grow. The AI workflow in development improves in-house activities and diminish expenses exponentially. Compared to building AI-enabled applications according to traditional methods becomes costly, complex, and time-consuming.
The traditional methods are not adept enough to overcome the complexities of handling data. It also increases the gap between clients and the developer team. But No-Code Machine Learning Platforms can help regain confidence among the company.
This no-code ML are suitable for those with a non-technical background. These platforms are the only possible tools to build applications without even using high-level coding, which results in a developing method that is more agile and far more fruitful.
What is a No-Code Platform?
The primary influence of expanding the AI and machine learning area is to make coding as simple as possible, helping small and big businesses develop complex applications with as little efforts as possible. And because the industry is moving towards no-code AI, ML, and deep learning, it's crystal-clear supremacy for AI in the future, creating the essential requirement for No-Code Machine Learning Platforms to further the mobile app development.
Software development has evolved exponentially over time. A previous couple of years have been fruitful, and No-Code Machine Learning Platforms are on the rise to contest its former strategies. Within the past, primarily, this functionality was only limited to business applications like Microsoft Excel. The concept then got introduced into application development, and now it's progressed to achieve AI with machine learning.
There has always been a high demand for developers because companies lack the adequate technical talent required to develop mobile apps. Those companies that cannot rent or hire contract-based developers, or people who want to save more of their time in development, are increasingly getting used to no-code platforms for machine learning.
This increasing popularity has attracted a lot of attention from big tech companies, and they now stand tall utilizing these technologies to reign over the mobile app market. It also enables companies and small business professionals with minimal or no coding experience to create applications and fill their talent gaps.
Working of No-Code ML Platforms 2020
It is a software development tool requiring little to no coding to build applications and related development strategies. A No-Code Machine Learning Platforms enables the practice of visual interfaces with minimum logical reasoning and drag-and-drop characteristics, preferred more than general coding languages and their medium.
These autonomous programming tools allow users who haven't learned the precise understanding of coding or software development to create applications for particular purposes like mobile apps.
Also, these programs have grown increasingly popular as a swift and candid option compared to conventional software development services. Professional and non-professional developers can utilize a no-code program to make various complex apps that meet business demands for growth, autonomous methods, and increasing digital transformation.
List of the Top No-Code ML Platforms 2021
Create ML
It is mainly utilized by mac users to train and test custom machine learning methods. It can easily recognize images, translate text to get a meaning, and relations among numerical values.
It can build an ease-of-use app interface to robust on-device models with machine learning techniques. It can run single projects using several datasets offering advanced training and testing of the models.
Data Robot
It is one of the most productive and popular end-to-end enterprise AI platforms, providing quick and straightforward mobile apps deployment with precise predictive models.
DataRobot is capable of handling powerful AI-based apps at the enterprise scale, also of in-tune supporting the process of preparing, building, monitoring, and deploying software.
BigML
An open-source no-code ML tool, utilizing ML in application development, commodifies ML as a service for business development. This tool only requires a few fresh clicks to create a productive ML or deep learning model.
Google Cloud AutoML
A no-code Auto ML tool helps with the advanced training of high-quality custom models with minor efforts and machine learning skills. It enables developers with limited or no machine learning expertise to train and create high-quality models, especially for their business needs.
It only takes a minute for developers to build custom machine learning model for themselves. It is effortless to utilize AutoML with Google's ML capabilities to create custom training models for ML and then integrate them into applications and web sites.
Fritz AI
Fritz AI supports iOS, Android, and SnapML, Lens Studio to create machine learning adaptable applications. It can also develop a model of development Studio to train and test custom solutions. Or you can go straight in with pre-trained models to ease business development processes.
Google ML Kit
Google ML Kit, a mobile software development kit, bringing Google's machine learning expertise to support Android and iOS app development.
It only utilizes a few code lines for achieving its tasks without any expertise in machine learning.
Microsoft Azure Automated ML
An Automated ML tool perfect for training and testing models developed through machine learning capabilities. It influences users to find and identify solutions through a machine learning pipeline.
It is best suitable for practising models in data science with immediate problem-solving.
MakeML
This No-Code Machine Learning Platforms is utilized to build object identifiers and partitioned neural networks. It also makes the process of setting up training models more effortless and more straightforward.
It is a traditional tool for building datasets and requires no python code.
RunwayML
It is a no-code tool for students and artists, making machine learning techniques conveniently available for students and creative professionals for a wide range of activities.
It can train any many of your models to produce images and recognize items in the pictures.
Obviously AI
A no-code machine learning tool best suitable for business analysts. It drives data science effortlessly, allowing anyone to process accurate
predictions with analytical data by asking and resolving natural language queries.
Wrapping Up No-Code ML Platforms 2021
As far we have learned about No-Code Machine Learning Platforms, what are they, how they work, having a clear comprehension of these, stating that mobile apps with AI capabilities are the new future. It also offers hopes for those who are from non-technical background and will open countless possibilities for them.