4 Reasons Why You Should Consider PSD to WordPress Conversion for Your Website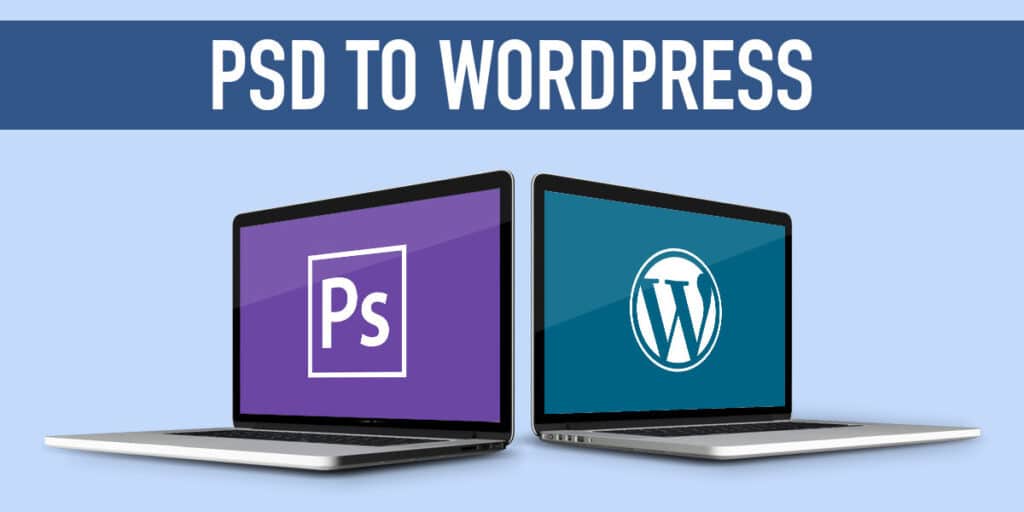 There are a bunch of great reasons why you should consider WordPress for your website. First of all, there are huge market share stats to consider. WordPress is the most popular content management system on the web today with nearly 40% of all websites using it.
WordPress offers many benefits, including easy integration with social media and a large user-base to support you while you're building your site.
Next, WordPress is open source and free to use which makes it great for businesses that may not have the funds for a software package they don't fully understand. And, don't forget the SEO benefits. WordPress is very SEO friendly and this makes your site much more likely to rank in Google.
When you're building websites, you're faced with a decision: start with a clean canvas, or go the pre-built route. In the past, this meant having to hire a designer to create a strictly cosmetic website or building from scratch in HTML or another tool.
However, that line is getting blurred now that you can hire a designer to build a website (in Photoshop) and then convert those PSD files into HTML.
How PSD to WordPress Conversion Can Benefit Your Website?
PSD to WordPress Conversion is a great choice if you are looking to convert your PSD files to WordPress themes. There are many reasons why you should consider PSD to WordPress conversion. First, WordPress themes are available in different themes categories, which means you can find the right one for your site design.
Secondly, PSD to WordPress conversion is a great choice if you are looking to convert your PSD files to WordPress theme design quickly.
Thirdly, PSD to WordPress conversion is a cost-effective option, because it allows you to save some money. And lastly, PSD to WordPress conversion is a good choice if you are looking to make your website design look more professional.
1. WordPress is Easy to Use
WordPress is the most popular blogging platform on the planet. It is one of the most powerful and feature-rich platforms on the internet that has been used by millions of users to share content online. WordPress is used by millions of websites including all the biggies like TechCrunch and Mashable, and the amount of wordpress users is ever increasing.
WordPress is an open-source blogging platform with over 24 million websites running on its platform, but did you know that it is not the only blogging platform available?
There are many other blogging platforms out on the web today, and you can decide which one to choose for your WordPress blog. WordPress has been around since 2003, but there are many other blogging platforms available today that are equally as good, if not better, than WordPress.
Some people try to go for the easy way out without checking that their website is actually user-friendly. They fail to realize that conversions are higher with a better user experience, and they ruin their websites with various issues. They have to suffer for it, and the consequences can be damaging.
2. Pixel Perfection
Thanks to their pixel-perfect layouts, PSD sites look a lot more professionally finished than WordPress sites. They also look better on search engine results pages. This is why it is such a shame that not enough PSD sites are converted to WordPress and the ones that often do not use a similar pixel-perfect approach to design.
What are the advantages of converting your WordPress website to Pixel Perfection? Let me explain. To start with, Pixel Perfection is a premium WordPress theme for WordPress websites. It is a unique WordPress theme if you ask me. In addition, if you need a free and reliable theme, Pixel Perfection will suit your needs.
The term "Pixel Perfection" may be unfamiliar to you, but it could well be the secret to your success with PSD to WordPress conversion.  The term "Pixel" refers to the smallest unit of measurement in the design world.
Designers and web developers measure their design work in pixels, not inches or centimeters. A pixel is not the same as an inch but is equal to the space between the pixels on a computer screen.  So, a design of 20 pixels wide by 10 pixels high would be 20 inches by 10 inches. A design of 20 pixels wide by 20 pixels high would be 40 inches by 20 inches.
3. Your Site will Load Faster
Your site's loading speed is a crucial factor in the visitors' success. If it takes too long to load, your visitors will leave your site in frustration. For this reason, you must make sure it loads without delays.
There are so many advantages to switching from a static site to a dynamic website. The most obvious advantage is that your site will load faster. It's a common misconception that a static site will load faster than a dynamic site.
In fact, every site on the Internet is loaded in the same amount of time, regardless of the content. Additionally, static sites require that each page have a unique address. Dynamic sites can be served from a single address, and each page can be optimized for the absence of a domain name.
If you are looking for a website design that is easy on the eyes, load more quickly and securely, and more able to handle the growth of your business, then you may want to consider taking a look at WordPress.com.
There are many benefits to WordPress over a more traditional website design, including a larger pool of site builders to choose from, a better user experience, easier content creation, and more.
4. Time and Cost Effective
You're working on creating a new website for your business, and you want it to be the best it can be. You've definitely come to the right place. WordPress is a powerful, free content management system that enables you to effortlessly create a website for your business.
WordPress is easily customizable, easy to learn and enables you to publish all types of content. WordPress also gives you the power to manage your business without spending a fortune and without the hours of training and technical expertise.
Conclusion
As a website designer, you will certainly have to find time to do all the necessary tasks related to website creation. One of the most tedious, yet important, tasks is the conversion of your website from one design to another. That's because you will have to use a tool that provides you with all the necessary data, such as background colors, characters, colors and other layout options.