6 Useful Tips for Off-The-Chart Instagram Growth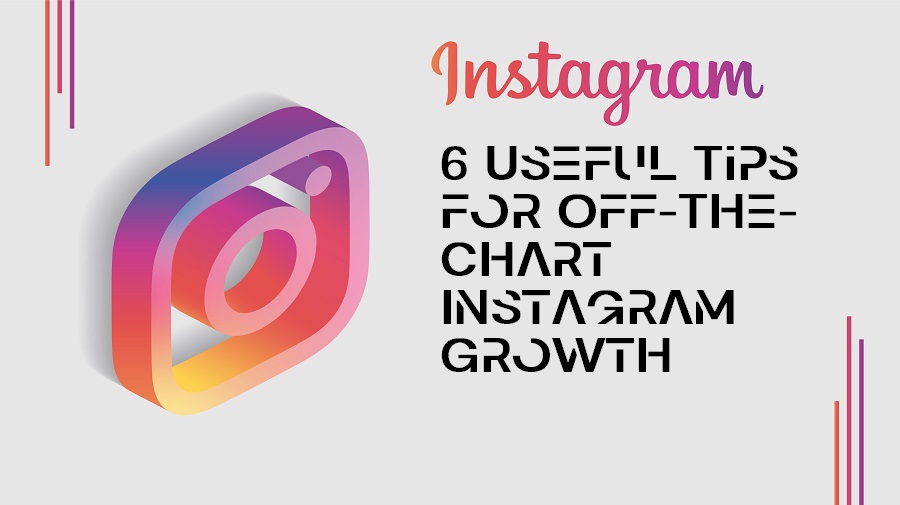 If you're looking to take your Instagram game up a notch, you have to keep up with the latest trends and find a way to connect with your audience on a deeper level. Instagram is not just about pushing promotions and publishing content without any strategy whatsoever; it's about engaging, communicating, and educating your audience.
Very few business owners understand that and that's why they struggle to reach substantial success on this visual social media channel. Instagram gives you all the tools to succeed, and you just have to deploy your strategy properly. Luckily for you, we will show you exactly how you can do that.
Make Use of Tools
—————————–
Thanks to tools like hashtag and font generators, embellishing your posts with a unique flair is now easier than ever before. Not only do they help make your messages more recognizable but they can also help you reach a wider audience by increasing the visibility of your post.
Furthermore, hashtag generator tools offer suggestions for commonly used hashtags according to your industry that will fetch you more engagement, while font generator tools let you choose from an array of fonts that make your message stand out. Choosing the right combination of tags and fonts when posting can be the key to success in this digital age.
So if you are looking to wow your audience, make sure to find reliable tools online, such as Pathsocial free IG tools to help you out. In addition to the hashtag and font generators, they also offer other tools that enable you to download and view content anonymously, helping you to keep an eye on the competition without a hitch.

Connect, Connect, Connect
—————————–
You are not a solo player in your niche; other brands are striving to succeed, just like you. And there's nothing better than achieving greatness with someone who understands your challenges the best.
Engage with other brands and incentivize them to work with you on a collaboration project where both of you can showcase your niche expertise, provide consumers with previews of new products and work together to conquer the industry. For this type of project, there needs to be a lot of trust involved. Select a partner you know will stick by your side and will not use you just to obtain exposure.
Carefully organize with your collaborator in regards to the content—which pieces will land on your Instagram Story and which will land on theirs. After that, ensure that the content is always new, relevant, and informative.
If you have a hard time finding collaborators, take to LinkedIn and start networking. You will be surprised just how much brands are looking to find a partner to join their journey.
Post Only High-Quality Content
—————————–
You probably heard "focus on quality" so often about your visual content, but that's not exclusive to that type of content. Instagram allows you to delight and inspire your audience with the caption features. Each visual experience can be elevated with the right copy, so don't forget to focus on the written part, not just on the cameras and lenses.
Going on, it might be a good idea to take a break from launching promotions from time to time. In fact, 81% of consumers need to form a bond and develop trust in a brand before they make a purchase. With that in mind, you would be making a big mistake if you failed to communicate on a human level with them.
Try to share your thoughts on a particular trendy event and join a fight for a social cause. Your Instagram audience will love that you take the time to focus on real real-world problems rather than just pushing promotions.
Stories Are Still the Bread and Butter of Instagram
—————————–
Instagram Stories are still one of the best ways to engage with your followers. They allow you to make polls and Q&A, and add location tags, hashtag challenges, and quizzes, making it easy to interact with your community. In addition, Stories are a great way for people to get a behind-the-scenes look at what you're up to in real time.
Using quirky stickers, color filters, and captions that show off your personality can be fun to bring viewers into your life. Experimenting with various strategies in Instagram Stories can help enhance relationships with current followers as well as attract new ones.

Take Advantage of Instagram Live
—————————–
Instagram Live is a fantastic way to engage with your followers in real time. With Instagram Live, you can start a Q&A session that encourages consumer engagement. Additionally, you may offer special discounts or giveaways while streaming live, making followers that connect feel valued and appreciated.
Use Influencer Marketing
—————————–
In today's rapidly advancing digital marketing world, using influencers to promote your brand as a way to gain significant visibility and recognition is unparalleled by other marketing efforts. You can partner with individuals or companies that have worked hard to cultivate strong relationships with their followers and leverage that community support to boost your own business growth.
Doing so will allow you to extend your reach and maximize returns by tapping into established networks of potential customers who enjoy engaging with your chosen influencer.
That being said, be wary of influencer and their fees. The higher the following they have, the higher the price you will have to pay for their services. In most cases, opting to work with a micro-influencer is the option, as they will dedicate a lot more time to your brand and develop a comprehensive strategy to help you boost your online presence. Still, if you have the budget and think you will benefit from a macro influencer, enlisting one is your prerogative.
In Conclusion
If you want to conquer the world of Instagram, the tips we outlined above will greatly benefit you and set you on the right track toward success. Always have the right tool at your side, and if you want to grow rapidly, consider enlisting a professional Instagram celebrity to help you with that process.